When I was younger I dreamed of a Disney Wedding. I wanted so badly to get married at the Walt Disney World Wedding Pavilion, with all the glitz and glamour that goes along with a Disney Wedding. But, when Chris and I were engaged we quickly came to the realization that our dream was not going to work for our families, no matter how we spun the tale. So, we are now approaching our 10 year wedding anniversary and have been busy planning a Disney Fairy Tale Weddings Vow Renewal to celebrate! I couldn't be more excited!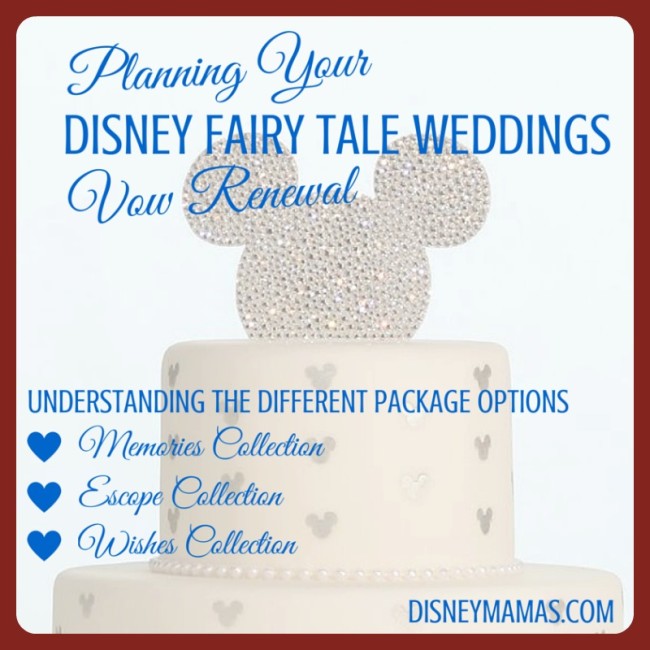 We first began talking about this during the summer of 2013 while attending a friend's wedding and decided it was something that was very important to us. We didn't, however, want this to be another wedding. We've already had one, and as lovely as some people's vow renewal ceremonies are we just didn't feel that it was appropriate for us. So, we started doing research into the different options that Disney Fairy Tale Weddings offers.
First, there are 4 different destinations you can choose from when planning a Disney Fairy Tale Weddings Ceremony or Vow Renewal: Walt Disney World, Disneyland, Disney Cruise Line or Aulani. We toyed briefly with the Disney Cruise Line option, but since our anniversary falls the week of Thanksgiving, and there are three educators (myself included) in our party we knew that would be very limiting. We settled easily on Walt Disney World, and then began looking in to the different options available there.
Disney Fairy Tale Weddings has three different package options at Walt Disney World: Memories, Escape and Wishes. Each package level has vastly different requirements, and is primarily dictated by budget and/or size of your wedding.

Memories Collection – Walt Disney World
For some, the only way to say "I do" is surrounded by the people who mean the most. With the Memories Collection, we invite you to host a beautiful and intimate ceremony with up to 4 guests, in addition to the happy couple. Celebrate in your own exclusive and exquisite way with a small but stirring affair perfect for the couple who wants a simple wedding or to reaffirm their commitment to one another by renewing their vows.
Starting at $2,495 this is the most economical package offered by Disney Fairy Tale Weddings at Walt Disney World. The 2016 package includes the following:
A Disney Wedding Coordinator to help with all the details of your event.
2 Resort location options for your ceremony: Conch Key Marina at Disney Grand Floridian Resort & Spa or Luau Beach at Disney Polynesian Village Resort
A bridal bouquet from 6 floral styles: Classic Rose; Gerber Daisy; Roses and Hydrangea; Roses and Lilies; Bright and Bold; or Orchid and Maile Lei Set
Solo violinist to play throughout the ceremony.
3 hours of continuous limousine transportation OR an in-room Romantic Celebration filled with Disney surprises.
One hour of photo coverage and 20 5″x7″ prints.
Memories Collection ceremonies are designed to accommodate up 4 guests, in addition to the couple. Packages can be booked 6 months prior to your date, and require a minimum 2-night stay at a Disney owned and operated resort hotel. You can book your room through a travel agent, online or by phone, and will simply provide your wedding planner with your reservation details. Memories Collection ceremonies are scheduled Monday through Friday at 9:00am, 11:00am, 1:00am or 3:00am.

Escape Collection – Walt Disney World
Imagine your wedding day surrounded by those who matter most, as you celebrate your union with 18 of your closest family and friends at a small, elegant affair. Perfect for the couple who wants something intimate, we've hand-selected floral, photography and transportation and paired them with a Cake & Champagne Celebration to create options that make planning a breeze. We strive to help by offering exceptional expertise and personal care, from arranging a beautiful ceremony to putting the icing on the cake.
Starting with 2016 the Escape Collection has been broken down into two catagories: The Premium Escape Collection and the Deluxe Escape Collection. The Premium Escape Collection starts at a base price of $6,000, and the Deluxe Escape Collection starts at a base price of $5,000. Both  collections include significant upgrades to the Memories Collection. This collection is designed for parties of 18 or smaller, in addition to the couple, and is perfect for a small family gathering. Escape Collection events include:
A Disney Wedding Coordinator to oversee the details of your event.
4 ceremony locations to choose from: Disney's Wedding Pavilion; Canada Terrace at Epcot; Sea Breeze Point at Disney's Boardwalk Resort; or Wedding Gazebo at Disney's Yacht Club Resort. Disney's Wedding Pavilion and Canada Terrace are available under the Premium Collection, while Sea Breeze Point and the Wedding Gazebo at Yacht Club are available as part of the Deluxe Collection.
A bridal bouquet and groom's boutonniere, available in one of six styles: Classic Rose; Petite Posy; Truly Tropical; Cascading Beauty; Contemporary Calla Lily; or Whimsical Garden.
Solo violinist to play at your event. Additional enhancements are available.
1-hour Cake and Champagne Celebration immediately following the ceremony
2-tier wedding cake and either Fairytale Cuvee sparkling wine or non-alcoholic sparkling cider. Cake is available in your choice of 4 styles: Mickey's Delight; Elegant Scrolls; Petit Nouveau; or Roses and Drapes. Enhancements are available.
2 hours of photo coverage and an album of 20 5″x7″ prints. Enhancements are available.
4 hours of limousine service. Choose from different transportation options, including Cinderella's Carriage, as an additional cost.
With the Escape Collection you can also add on special guests, such as Mickey and Minnie, or themed Disney entertainers, such as Major Domo, to your celebration for an additional cost. Escape Collection events can be booked up to 9 months in advance of your date, and require a minimum stay of 4 consecutive nights at a Walt Disney World Resort hotel. Like the Memories Collection events, you have the option of booking through your own travel agent, or directly through Disney, and are not required to book a specified number of resort rooms.


Wishes Collection – Walt Disney World
When the moment you've been dreaming of finally comes true, it is thrilling, joyful and truly unforgettable. With the Wishes Collection, we aim to help you make your dreams come true. Your wedding day should be as exquisite and unique as you are, from the flavor of the cake to the location of your ceremony. Let us help you customize your wedding so that your special day is everything you never knew you always wanted.
A Wishes Event has a base price tag of $12,000 dollars, and the sky is the limit for upgrading your event package. These events are created to serve anywhere from 20 to 150+ guests and can be designed to truly make all of your fairy tale dreams come true. Included in a base Wishes package are the following:
A Disney Wedding Coordinator will work closely with you to design your dream day, handling many of the details on your behalf.
There are several different ceremony locations available for your Wishes event, including Disney's Wedding Pavilion and several pavilions in Epcot. However, many locations are designed only to hold a specific number of guests, or are an upgraded cost.
Reception locations are numerous, and pretty incredible. Based on your guest count and your budget choose from standard locations such as ballrooms and restaurants, to off-the-wall locations such as The Great Movie Ride and The Living Seas.(Personally I would be all about The Great Movie Ride!)
All floral, food & beverage, cake, decor, music, entertainment, photography, videography and more can be custom created to fit your taste and budget. You simply work with your coordinator to design your dream event and let them do the rest of the work!
Wishes events can be booked 12 months in advance, and due to the popularity of locations there is often a lottery system in place for selection of dates and venues. When planning a Wishes event you will need to work directly with the Walt Disney World Resort to book your resort stay, and set up a room block for your guests. While your guests can choose to book a package with a travel agent, you are required to fulfill a minimum of 25 nights of hotel stay in order to received one complimentary night stay  at the resort of your choice.
For our ceremony we booked an Escape event. We knew we would have a small group (at the time didn't know how small), but more than a Memories event could accommodate. Additionally, we liked the features of the Escape event. Everything we could need was included, and it would be an enjoyable event without feeling like a second wedding (which we did not want). Wishes events just included too much, were too high a cost and we knew we wouldn't hit the minimum guest count of 18. It's one thing to invite your immediate family to an intimate event, but quite another to invite all your friends and extended family as well. A Wishes ceremony would have simply been too much in every aspect.
Over the next weeks I'll walk you through our planning process with Disney Fairy Tale Weddings, so be sure to stop back!