If you have a child between the ages of 5 and 16, chances are you have at least heard of Minecraft or more likely, struggled with how much time your child spends playing it.  I am one of those parents!  I spent hours weighing the benefits of Minecraft (learning about architecture, circuitry,  design, etc) with the basic fact that it is, at its core, a video game.  That was, until I found the McMagic.us servers, a complete 1:1 recreation of the Walt Disney World Resort.  Magic Kingdom, EPCOT, Disney's Hollywood Studios, Contemporary, Polynesian, and Grand Floridian Resorts are there now and work has started on Animal Kingdom, Typhoon Lagoon, Blizzard Beach and much more.  You can even ride the monorail from the Transportation and Ticket Center to the resorts or the Magic Kingdom.  In the parks you can get autographs from the characters and ride the rides.  And when I say complete 1:1 recreation, I am not even slightly exaggerating.  Use your bow and arrow to shoot the targets in Buzz Lightyear Spin and compete against other players online.  Enter the Hollywood Hotel and experience the Tower of Terror including the library preshow, or rock out to the Rock 'n Roller Coaster soundtrack.  Attend Jedi Training daily, experience Wishes every night at 9pm and even attend special events like Star Wars Weekends, Mickey's Not So Scary Halloween Party, and the Very Merry Christmas Party to name a few.  The administrators, cast members and interns are true Disney fans and have created a safe and magical environment for your Minecraft enthusiast that even parents can appreciate!   I love this server so much, I contacted the administrators and asked them if they would mind sharing some of their insights into why, and more interestingly, how they created McMagic.us with our Disney Mama's readers and they were more than happy to oblige.  So without further adeiu, here is The End, one of the adminstrators of McMagic.us.
"At around five this afternoon I jogged from just in front of the Hall of Presidents to the foot of Thunder Mountain where I met a guy who I know only as "DaFuze". Once there, we chatted for a while about how the queue had recently been changed to be more interactive, and wondered how the usual guest would look at what we were seeing and react to it. Here's the kicker: DaFuze was doing this from the Netherlands, I was communicating with him from the east coast of the United States, and the Thunder Mountain we were standing on was built of hundreds of different-colored cubes on our computer screens.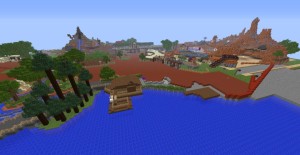 Since 2009, Minecraft, a game about moving blocks around a digital world, has captured the attention of a generation. The premise of the game is much like that of a bin of LEGOs: build something. Anything. Whatever your imagination can come up with. This means that if you were to, say, decide that a block was one meter (about three feet) to a side, you could recreate almost any building, structure, or series of structures from real life on a one-to-one scale.  All of Disney World, for instance.Approaching its second year of operation, 
mcmagic.us
 is the largest and most complete to-scale model of Walt Disney World in Minecraft. The scope of the project spans three parks, four resorts, and thirty ride experiences complete with music and text narration. It sees over a thousand unique visitors each week and is operated by an international team of Minecraft pros with a drive to recapture some of the wonder of the real place.  Still…all of Walt Disney World. We get asked the questions "How?" and "Why?" a lot.
"It's kind of fun to do the impossible" –Walt Disney
Walt Disney World is easily one of the most popular vacation spots in the United States. Therefore, it shouldn't come as a surprise that it's also one of the most documented. Next time you have a spare moment, type Disney World Blueprint into Google, and you might be surprised how much comes up. When recreating a park attraction, research usually starts with a group scavenger hunt to locate blueprints with an accurate measurement scheme, followed by a quick pass of the build location with Google Earth's measurement tools. Once we know where a building is, we start by outlining the outermost edges of the façade, followed by whatever information about the walls we can find. From there it's off to Bing Maps' Birds-eye view to get an idea of the 3-D shape of the building.  And then the real fun begins.
Using a collection of images and YouTube videos, the ride sets slowly fill the build. Minecraft's built-in train, model circuit, and musical note features allow effects, music, and dialogue to be added, and various lighting options are used to set the right atmosphere. Build times vary from ride to ride, with some, like Thunder Mountain, taking three weeks, and others like Under The Sea, taking three days. At this rate it takes about seven months to replicate an entire park.
"You can design and create, and build the most wonderful place in the world. But it takes people to make the dream a reality."—Walt Disney
The park aspect of 
mcmagic.us
 is split over two servers; one where the rides are built safely and privately, and another where they can be enjoyed by guests. Because it is a public internet server, it can be accessed from anywhere with an internet connection, at any time of day, at no cost other that the price of a Minecraft account (less than $30). Other than riding the rides, guests have access to builder-run tours, shows, and fireworks displays. The server has a few advantages over the real parks as well: the food is free, the lines are short, and an easy-to-learn warp system means that eager guests can get from the front of EPCOT to the entrance of Test Track in a matter of seconds.  But the reason we built the parks is usually apparent in the first minute or so that a person arrives on the server when we read their first line of text chat. It typically reads like "Wow, it's like I'm back there!" It's this element of nostalgia that we're aiming for; Disney is a wonderful place, and if we could, we'd spend many, many more hours there than anyone could realistically afford. 
mcmagic.us
 allows guests to do just that.Walt Disney once said, "Whatever you do, do it well. Do it so well that when people see you do it they will want to come back and see you do it again."  At 
mcmagic.us
, we take these words to heart—not just in terms of building an accurate Disney World recreation, but also in making our guests feel like they're stepping back into their own memories.For more information on the mcmagic servers, visit our website at www.
mcmagic.us

For more information about Minecraft, visit 
www.minecraft.net
About the author:
End is one of four administrators on 
mcmagic.us
, where he works with a construction team of fourteen builders from the United States, United Kingdom, Italy, and Netherlands to build a functioning to-scale model of Walt Disney World. Since he joined the team in 2011, he has helped oversee the construction of two parks and built scale models of Spaceship Earth, the Land Pavilion, and the Great Movie Ride. When he isn't on 
mcmagic.us
, he works as a technical writer and leads a small creative writing circle in Philadelphia."
This slideshow requires JavaScript.