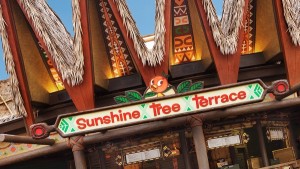 On April 17, 2012, Orange Bird returned to Sunshine Tree Terrace in Adventureland at Walt Disney World's Magic Kingdom. He appears on the signage as well as cute little cups and merchandise.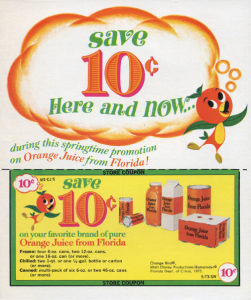 In 1969, the Florida Citrus Commission agreed to underwrite a "tropical bird show" at the developing theme park. The show became the Tropical Serenade (Tiki Bird Show). In return, Disney created Orange Bird to serve as the official mascot for the FCC's promotional campaigns. Orange Bird was even a walk-around character in the early years.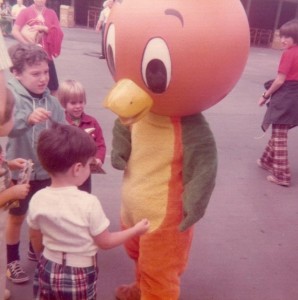 An educational film, Foods and Fun: A Nutritional Adventure, was released in September of 1980. In this film, Orange Bird helped teach the importance of good nutrition and proper exercise.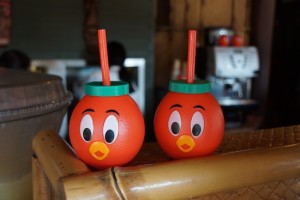 Advertisements for the Florida Citrus Commission featured Orange Bird and Anita Bryant. They even released a record album telling the character's story. (Check out the jazzy video someone made below.) When Florida Citrus Commission and Disney broke ties in 1987, Orange Bird disappeared.
Thanks to our awesome Japanese Disney fans, Orange Bird experienced a revival at Tokyo Disneyland. In 2004, the park released merchandise featuring the little guy around Orange Day, which was a huge hit. And soon, he began appearing on US merchandise as well.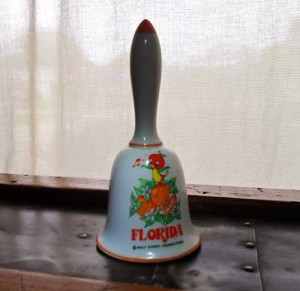 Here's one of my little Orange Bird treasures. Since it has the Walt Disney Productions copyright, I know it's at least older than 1984 when the company's name changed.
The Orange Bird: