This past week, my family visited Colorado's Rocky Mountain National Park. While we were enjoying alpine slides, a cog train, and an areal tram, I thought of a Disney project that would have been very similar to the attractions in the Rockies – a ski resort in Mineral King Valley.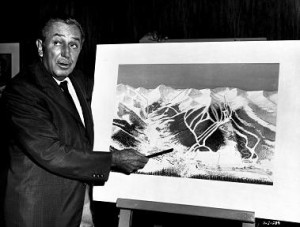 While filming Third Man on the Mountain, Walt's curiosity took a hold of him and skiing became the subject of a new project. While visiting Switzerland during filming, he began surveying ski instructors and tourists and studying traffic patterns on the slopes in order to create the best ski resort in America – if not the world.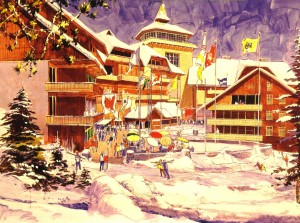 The new project bug lead to commissioning Economics Research Associates to survey potential locations such as San Gorgonio Mountain, Mineral King Valley, Aspen, and Mammoth Mountain. The choice was narrowed to Mineral King with its proximity to Southern California, five-mile runs, and four-thousand foot drops – ski elements comparable to Switzerland's best slopes. Willy Schaeffler, a Bavarian ski expert, was hired to aid in developing the project. The resort plans included an alpine village, an ice skating rink, hotels, restaurants, a train depot, and Disney style entertainment.
Believe it or not, the US Forest Service decided that Mineral King should be developed and started taking bids. Disney's bid of $35,000,000 was accepted and the location only needed a commitment for a near-by state highway to be built in order for the project to begin. Governor Edmund Brown supported the highway and a press conference was held on September 19, 1966 to announce the development, that would be called Walt Disney's Sky Crown resort. But, due to conservationist opposition, Congress voted to make the Mineral King area part of the Sequoia National Park, thus eliminating the possibility for development.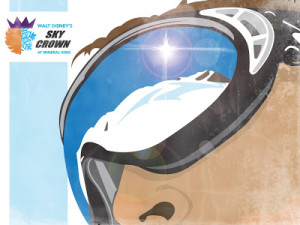 Thankfully, Imagineers never let a good idea rest for long and one idea that was developed for Mineral King was completed for the opening of Walt Disney World – the Country Bear Jamboree!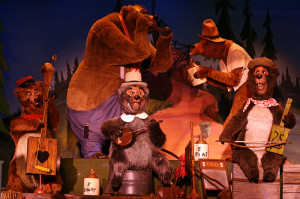 Sources:
An American Original: Walt Disney by Bob Thomas
The Walt Disney Family Museum
Google images – (c) Disney