My family loves spending the holidays at Walt Disney World; what's better than spending the happiest season of the year in the happiest place on earth! Each year we try to spend either the week of Thanksgiving or a week in December at Disney, and each trip we plan one of our meals at Liberty Tree Tavern so we can enjoy a traditional holiday meal during our trip. We have all come to love our time at Liberty Tree Tavern, and it has become one of our favorite Disney holiday traditions.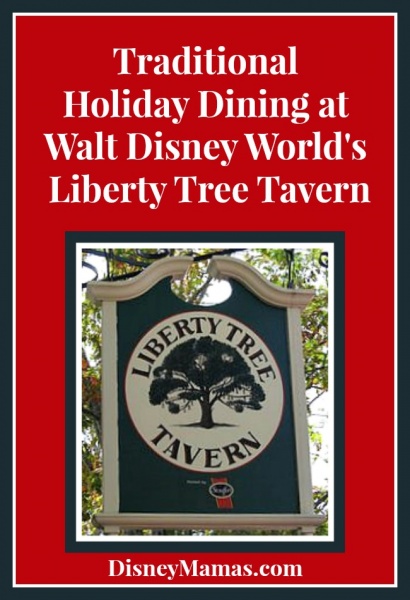 Located in Magic Kingdom's Liberty Square, Liberty Tree Tavern looks like it belongs in Colonial America. The architecture reflects the colonial love of Greek Doric columns and a gabled roofline, the exterior colors are clean and crisp with traditional blue and green accents, and the windows allow passersby a glance into the restaurant. Inside, each of the six dining rooms is dedicated to an individual who was influential in the United States infancy: Benjamin Franklin, Betsy Ross, George and Martha Washington, John Paul Jones, Paul Revere and Thomas Jefferson. The decor of each room differs to reflect the character and history of the particular individual making each room a mini-history lesson. During the holidays the restaurant is adorned with greenery and other colonial style decorations.
But, the menu at Liberty Tree Tavern is what makes the establishment such a holiday staple.
Liberty Tree Tavern is a bit unique in its menu approach. At lunch, guests have the option of ordering a la carte or ordering the All-You-Care-To-Eat Patriot's Platter while at dinner only the All-You-Care-To-Enjoy option is available. There is, however, an Allergen Free Menu at both meals that is a la carte (and features my personal favorite, the Freedom Pasta).
If you are looking for a traditional holiday meal look no further than the Patriot's Platter offering. It is a holiday meal with all the trimmings, and no one will go hungry. The Patriot's Platter features roasted turkey breast, carved pork loin, tender pot roast, mashed potatoes, steamed vegetables, herb stuffing and the most amazing macaroni & cheese you will ever taste. To finish off your meal enjoy Ooey Gooey Toffee Cake with caramel sauce and vanilla ice cream for dessert. All the holiday deliciousness with none of the cooking, clean-up or leftovers!
If you prefer a la carte style offerings be sure to make your reservation for lunch and choose from the Patriot's Platter, or several different entree options including the amazing Freedom Pasta with chicken or shrimp, pot roast or an entree salad. Kids can enjoy roasted turkey, pasta, pot roast or macaroni & cheese. Those with allergen concerns can enjoy the Freedom Pasta (unfortunately it cannot be made Gluten Free), Cheeseburger or Colony Salad. Be sure to speak with your server regarding your specific allergen needs to ensure your choice is suitable.
Liberty Tree Tavern offers this menu year round so you can enjoy a traditional holiday meal at Magic Kingdom no matter which holiday you're celebrating – Thanksgiving, Christmas, Hanukah, Kwanza, Martin Luther King Day, Memorial Day, Independence Day, Labor Day, or even just "Thursday".
---
For more spots to have a holiday meal at Disney,
check out the other great posts from the Blogorail!
---