Living in Florida I literally live in flip flops. In fact I have often been told that flip flops are the glass slipper of the south. I would say 90% of the time you will find myself, and my daughter Julia in flip flops-whether running errands, touring the parks, or walking our dog!
Speaking of our adorable pug Eloise-she is lucky she is so incredibly cute, because she has destroyed 20 pairs of flip flops between the two of us.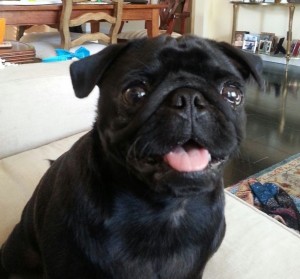 With the destruction of so many of our flip flops, I was thrilled to find out that Havaianas was opening up at Downtown Disney.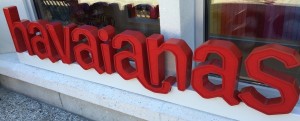 The majority of our flip flops are, or were, Havaianas, until Eloise destroyed them. My mom and Julia were the first to check out the store, bought two pairs, and within 1 month Eloise destroyed them. I know, I know, we need to get better about keeping them away from her. We will, but in the meantime, Julia was down to zero flip flops so I made an "emergency" visit!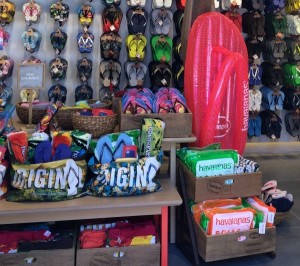 The store is perfection for flip flop lovers. There is literally a flip flop for everyone, plus every occasion!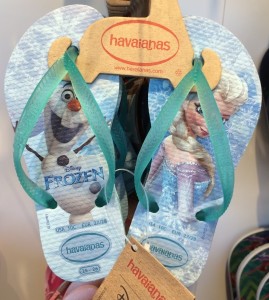 It goes without saying the first flip flop to catch my eye was this pair. Julia is starting to move away from being decked head to toe Disney, but I knew she wouldn't be able to resist this pair. Actually I wanted a pair for myself. Sadly very few of the Disney ones come in adult sizes. And unfortunately, but no big surprise with the love of Frozen still going strong, they did not have Julia's size in stock.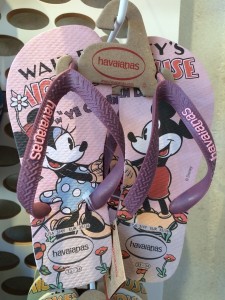 This adorable pair caught my eye, and an added bonus they came in women's sizes as well. I bought a pair for Julia and myself-they will be perfect for our upcoming Disney cruise.
The selection of Disney flip flops is somewhat overwhelming. The prices for the Disney flip flops range from $18 to $22. There are way too many to post, but here are a few of my favorite!
Seriously, can you get over the cuteness. Look at that close up of the Mickey hand!
In addition to Disney styles there are plenty of other styles to choose from for both children and adults. Prices range from $18 to $70.
Havaianas has thought of every possibility when it comes to making sure customers have the most perfect pair of flip flops for them. You can design your own flip flops!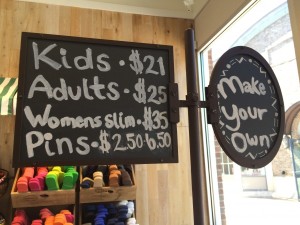 It was a pleasure being in the store. They say you learn something new every day, and that was certainly true of my visit. I was eyeing this raft.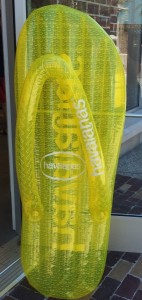 Julia had mentioned it to me, and I had said I didn't think Havaianas sold rafts. Turns out I was wrong!
Every year in Australia there is a challenge to get as many Havaianas floats out on the ocean. You can read about it here! And you can even own your own float for $25.
Next time you are in Disney World make sure to stop by Havaianas in Downtown Disney-you are sure to find your perfect pair!
Question: Do you wear flip flops when you visit the theme parks?
The best way to purchase everything you see in this post is to come visit Disney World, and personally visit Havaianas. You can also visit Havaianas online.