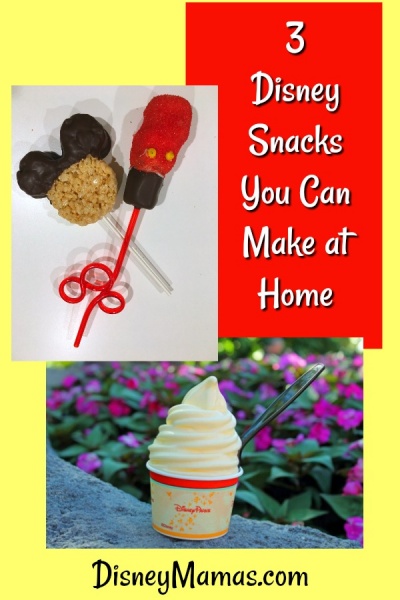 Let's be honest for a minute…how many of you visit Disney Parks because of the food? Admit it. It's okay, I won't judge. In recent years snacking around Disney has become a way of touring, and once you're home you find yourself daydreaming of your favorite Disney snack…or two…or three… Luckily, many of the famous Disney snacks can be recreated at home. While some require several ingredients and steps others are pretty quick and simple – perfect for a Disney Movie Night as a family or a kid's party. Today let's look at my 3 Disney snacks you can make at home that are fairly quick and painless to whip up!
1.Mickey Marshmallow Wands
Mickey Marshmallow Wands are a favorite in our house. They became the snack of choice for my oldest when he was 2 or 3 and now my youngest is getting in on the marshmallow goodness. In the parks, they are a pretty cost-effective snack, especially since the trio of large marshmallows come on a Mickey straw that doubles as a souvenir to bring home. When it comes to whipping them up at home it's very easy, and they can be customized to suit whatever your specific needs by using different colored melting chocolate, sprinkles, or piping on a quick face. You can pick up a package of 12 Mickey straws at Target for a few bucks if you don't have any laying around the house, which also makes for a great party favor for a birthday!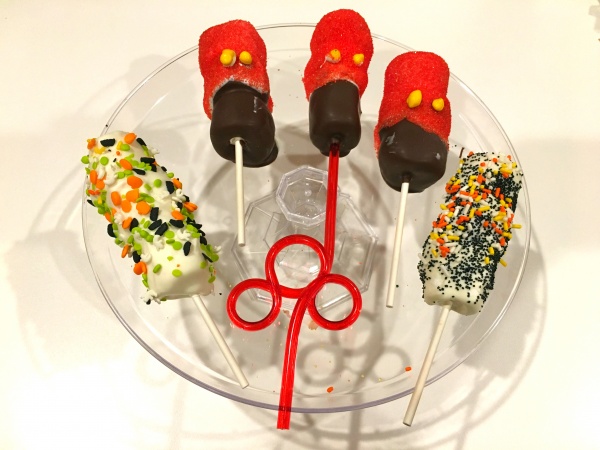 To recreate the basic Mickey Marshmallow Wand at home is a bag of large marshmallows, some melting chocolate in milk and white, some red sanding sugar and some yellow jelly beans or m&m's, and of course the Mickey Straw. Stick three marshmallows on the end of the straw and dip completely in milk chocolate (melt per the package instructions). All that to set completely, then melt some white chocolate and dip just the bottom two marshmallows in white. Roll the white portion in red sanding sugar, add two yellow buttons and set to dry on a piece of wax or parchment paper. Once they are dry you can serve them like that or wrap them in baggies to send home with friends!
2. Mickey Rice Krispie Treats
The Mickey Rice Krispie treat is my personal favorite quick snack at any Disney Park. Sometimes I have them for breakfast…because I'm on vacation and the calories don't count. They are also very simple to make at home. You make them the same way you make any rice krispie treat but you cut them out with a Mickey cookie cutter! How easy is that! You can jazz them up the same way as the marshmallows with different chocolates, designs, and toppings. The sky is the limit! If you are looking for a specific character design to fit a theme just do a quick search and you will be rewarded with dozens of different designs from Disney Parks that feature different characters or holiday themes. My personal favorite is the winter one where the front has been drizzled in white chocolate, then blue sanding sugar with a snowflake piped on the front.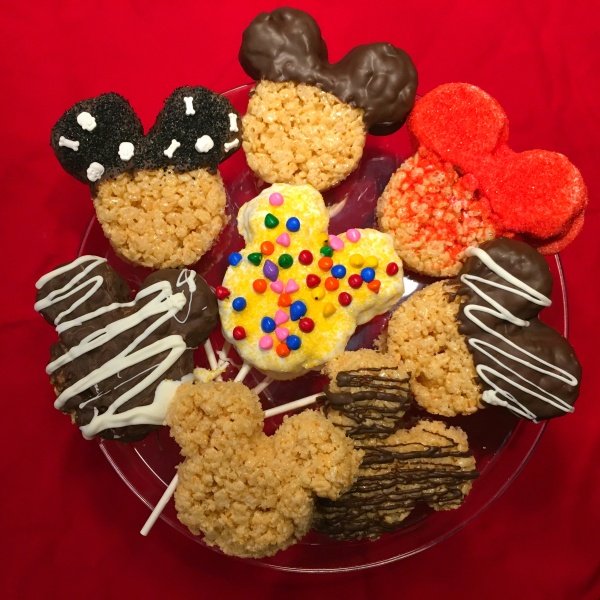 To recreate these at home start with a box of Kellogg's Rice Crispy cereal and follow the instructions on the box. Once your mixture is the right consistency spread it out on wax paper to about an inch to an inch and half thickness and cut out with your Mickey cookie cutter. Insert a stick about an inch and half at the base and allow them to cool a bit. Then you can leave them plain, dip the ears in chocolate, drizzle them with chocolate, add candies, sugars or designs or whatever else you want! Wrap these in baggies to keep them fresh. Pair them with a Mickey Marshmallow Wand for a great edible party favor.
3. Dole Whips
Dole Whips are one of the most famous Disney Snacks anywhere and are actually pretty simple to recreate. There are many different recipes out there, some coming from Disney and others fan created, and you can even buy the actual Dole Whip mix online in huge bags. The easiest way to make them, however, is with one of the Disney provided recipes and takes only 3 ingredients and an ice cream or frozen yogurt maker. I did a whole post on making Dole Whips a year or so ago. I made traditional Dole Whip, Dole Whip Popsicle's and Dole Whip cake. Definitely, check it out if you're a Dole Whip fan. My family definitely whips these babies up every once in a while when we need a little touch of Disney!
Knowing how easy it is to make some of my favorite Disney snacks at home makes the time between visits just a little more tolerable!
---
For more Disney snack ideas,
check out the other great posts from the Blogorail!
---