Welcome to this month's Blogorail Yellow Loop. Today we are sharing ideas to celebrate Star Wars Day.
---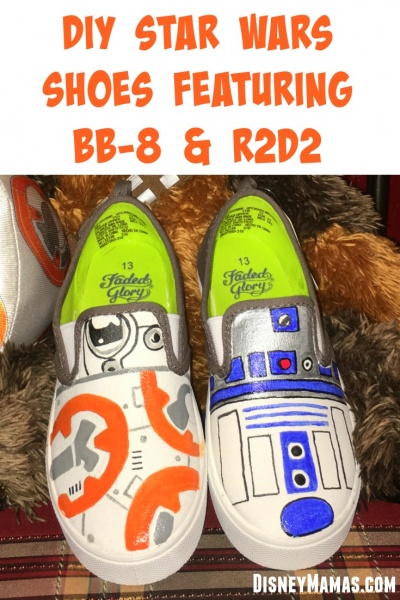 My 6-year old son Connor's wardrobe currently consistes of about a thousand Star Wars shirts. Seriously. The kid is a walking billboard for The Force. Unfortunately he has outgrown his Star Wars Vans and the new Star Wars Sketchers just don't fit his feet well, so he asked me if I would make him a pair of shoes with BB-8 on them. We took to Pinterest for some inspiration where he feel in love with a pair that featured both BB-8 and R2-D2, and my weekend project was born. These DIY BB-8 shoes were surprisingly simple to paint, and I hope they inspire you to give painting your own shoes a try!
I started out with a pair of cheapy-cheap slip-ons from Walmart. Seriously, they were under $6. If you are new to painting shoes, or your kids feet grow fast, it is a lot easier to drop $6 on generic shoes than $50 on a pair of Vans. Then I hit up Hobby Lobby for paint. Now, my friend Cristin teaches art and her kids always enter the Vans Custom contest. She recommended that I purchase Golden Fluid Acrylics for my shoes, but they are fairly pricey. Since these are for Connor and I know he will grow out of them by the fall anyway I opted to get some acrylic fabric paint instead. The fabric paints were under $2.50 each so not too expensive, plus they will last me several more uses.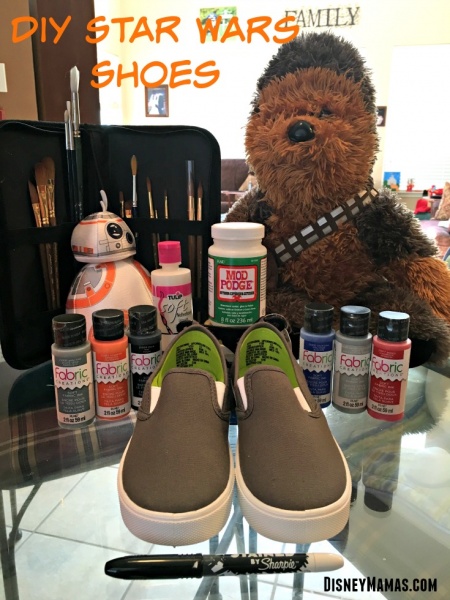 Since Walmart didn't have white shoes I grabbed some dark grey shoes. I painted the front section of the shoes white prior to sketching on my design. It took three coats of paint to get a nice even white. Make sure you allow each coat of paint to dry completely before adding the next. Refer to the instructions on your paint bottle for accurate drying time. Even if you don't need to paint the shoes for color, its a good idea to paint them with a base coat of paint regardless, as it will give you an even surface for paint. Tip: you can keep your paint brush sealed in a ziplock bag between coats rather than washing it. I hate working with a wet paint brush, so I always go this route and then wash it at night so it can completely dry overnight.
Once your shoes have dried completely sketch on your design lightly with an HB pencil, or a water-soluble marking pencil for sewing. Be careful with a regular pencil, as it won't really erase off the paint, and will be difficult to cover over. I used a flexible straight-edge for straight lines, and this BB-8 markings picture for his designs. I also used an image from Etsy for reference. I had planned to create an original design, but Connor fell in love with these and begged me to just make them.
Paint using one color at a time, and allow to dry completely before moving on to another color or adding an additional coat of paint. Use a Sharpie Stain marker to do any outlines or detail work required.
Once you are satisfied with your paint job follow the instructions on the paint bottles to set the colors, and then allow to dry for the stated amount of time. Once dry apply a layer of sealer to your shoes. You can use Scotch-Guard, Acrylic sealer, or Modpodge Outdoor. Allow the sealer to cure for the amount of time specified by the package and then you're done! I recommend reapplying the sealer every couple of months to keep the paint as fresh as possible!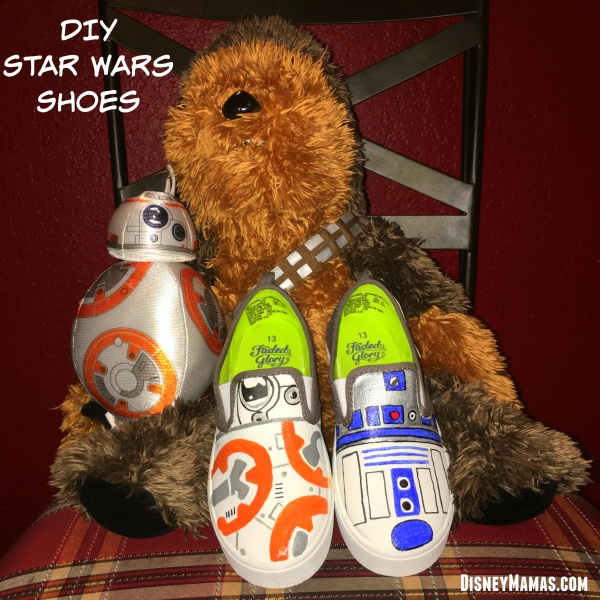 I found the following blog post incredibly helpful in creating my shoes! Empress of Dirt: How to Paint Shoes
For more ways to celebrate Star Wars Day,
check out the other great posts from the Blogorail!
---
Here is the map of our Magical Blogorail Yellow | Celebrating Star Wars Day Loop: