Welcome to this month's Blogorail Yellow Loop. Today we are sharing Halloween craft ideas.
---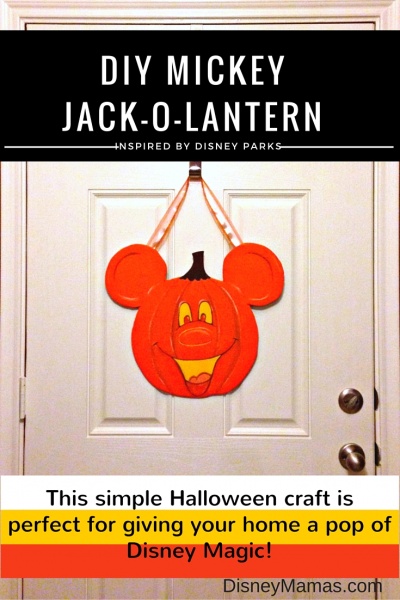 As a teacher I never get the chance to visit Disney Parks during the Halloween season, so last year I decided to bring a little bit of Mickey's Not-So-Scary Halloween Party to our street with a Pumpkin Mickey door decoration. I'd see so many adorable pictures of the signature Mickey Jack-O-Lantern decorations at Disneyland and Walt Disney World that I can honestly say I was a bit decor-smitten with him. So, I grabbed some 1/4″ plywood, a jig saw, sandpaper, paint, sealer and a photo for reference and I got to work. I loved the result and the entire piece took me only a few hours to complete. And, if you want a more child-friendly project, you can use posterboard instead of plywood.
First things first, please don't be intimidated by the jig saw! I teach high school technical theatre, and as such I teach teens to use jig saws all the time. Believe me, if they can do it so can you! So, go out to your local hardware store and pick up a jig saw of your own. If you are at all into crafting you will develop a love for it! Do a little research and find one that suits your needs.
Okay, that's out-of-the-way. On with the post.
Start with a piece of 1/4″ plywood that is roughly 2 feet by 2 feet. Using a photo as reference, lightly sketch the pumpkin shape on to the wood (I recommend a piece of vine charcoal, but a pencil will work too). If you aren't great at drawing circles find something around the house to use as templates for the face and ears, and then adjust the shape as necessary. Once you are satisfied with your drawing use your jig saw to carefully cut the outer shape out. Be sure to always cut away from you, and watch the placement of the jig saw cord and your supporting hand. Once he is all cut out sand the piece well so that you have a smooth surface for painting (don't forget the edges). You can use an electric palm sander, or you can wrap a piece of sandpaper around a scrap of wood and do it that way. When sanding work in a circular pattern. If you are making this out of paper instead of plywood just draw your Mickey onto the paper and cut it out.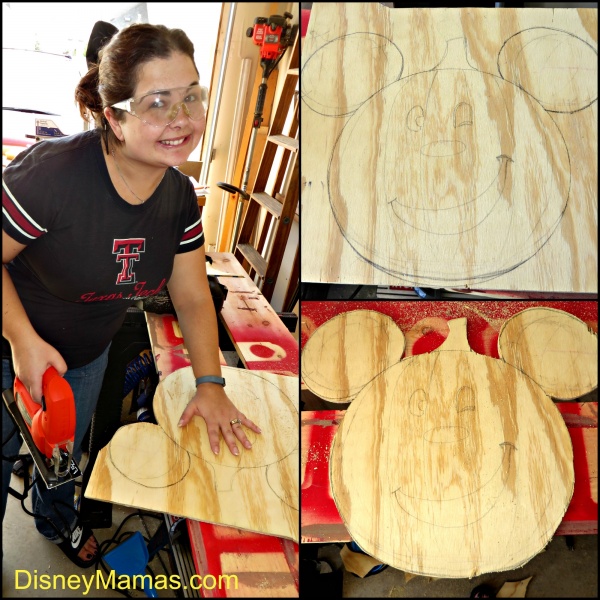 Now sketch in the face if you haven't already and prepare to paint! I used acrylic craft paints purchased at an art supply store. They are more viscous than standard acrylic paints and house paints, are much less expensive. I picked up an orange, yellow, white, black and brown for this project, as well as a black paint pen. Paint the entire piece orange to start and allow it to dry. Generally the pencil outlining Mickey's face will still show through the first layer of paint, but you may need to darken the drawing. Give the wood several coats of the orange paint until you are satisfied with the appearance. Next, use your yellow paint to fill in the eyes and mouth, and outline the nose, of your Mickey Jack-O-Lantern. Add additional coats of yellow until you have achieved the desires coverage. Outline the facial features with a black or dark brown fine tip paint pen, and use a narrow brush to add white highlights to make your Mickey Jack-O-Lantern appear a bit more realistic and dimensional. Paint the stem brown adding black and white to create highlights and shadows. Once you are satisfied with your paint job use a sealer for outdoor use to seal in your paint and make your Mickey Jack-O-Lantern more weather resistant. For the paper version, you can then either draw the face directly on the paper, or use another piece of paper, cut them out, and glue them in place.
Add hanging hardware to your Mickey Jack-O-Lantern and suspend him on your front door in whatever manner you wish! A paper version should be laminated, and then attached to the door using painters tape.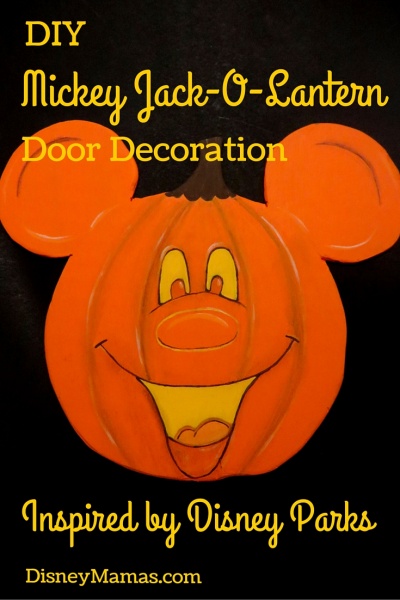 There you have it! A simple way to bring a little Disney Magic to your Halloween decorations! If you create a Mickey Jack-O-Lantern door decoration please stop by our Facebook page and share a picture of your work, or tag us on Instagram at @DisneyMamaLin
For more Halloween craft ideas,
check out the other great posts from the Blogorail!
---
Here is the map of our Magical Blogorail Yellow | Halloween Crafts Loop: