What seems like forever has finally arrived!  It is now 75 days before your sail date (if you are sailing on your first Disney cruise) and time to make that final payment.  After the initial shock of seeing again exactly how much this trip is costing, you will suddenly realize that this is where the fun actually begins!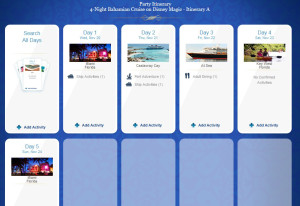 First things first!  If you can make your final payment the day before it is due, do it!!  Why?  Because not only is final payment due at 70 days before sail date but you can start booking excursions, adult dining, cabanas, etc. at the same time.  For Disney Cruise Line, 70 days prior to sailing begins at Midnight eastern time so if you made the final payment in advance, you can log in to your account at that time and start planning, hopefully getting a head start on all those other cruisers who are wasting precious time sleeping peacefully in their beds.  Now I know what you are thinking…what exactly am I planning?  The things at the top of my list are…
Cabanas
If you are on a cruise that stops at Disney's Private Island Paradise, Castaway Cay, you may want to consider renting a private cabana for your time there.  On Castaway Cay there are 20 private cabanas divided between the family and adult-only beaches.  Each cabana is 325-square feet and includes a private deck, hammock, shower, refrigerator, locker, non-alcoholic beverages, suntan lotions and towels.  The cost is $499/day and can accommodate up to 6.
The private cabanas are VERY popular.  If you are interested in booking one then you will need to try to book yours as soon as you log in.  However, be warned, guests who have sailed on Disney Cruise Lines before are automatically enrolled in the Castaway Club and depending on their level (silver, gold and platinum) can pay and begin booking at least 10 days before first time cruisers.  Factor that with the limited number of cabanas that are on Castaway Cay and you may find that there is no availability.
Adult Dining
Once you determine if a cabana is in your future, your next stop needs to be adult dining.  Depending on the length of your cruise and the ship you are cruising on will determine your dining options.  The Magic and the Wonder offer Palo and the Dream and Fantasy offer both Palo and Remy's.  Regardless of ship, all offer dinner nightly and on sailings of 4 nights or longer there is also a brunch option.  Due to the fact that brunch is only offered on sea days, you may want to lock in that option first and then move on to dinner.  The best nights for dinner are when the ship is at sea and are the first to fill up.  Try to avoid scheduling dinner on nights that have other special events like Pirate night unless you make your dinner reservation early, around 6:30p which would leave you plenty of time to get the kids and head up to the pool deck.
Brunch and dinner at Palo is $25/pp while brunch at Remy's is $50/pp, including champagne, and $75/pp for dinner.
The Rest
All that is left to do now is plan any excursions or spa treatments you would like to enjoy while on your cruise.  Excursions vary by sailing and can accommodate a large number of people so you have some time to make your final decisions on exactly what you want to do.  The spa often runs specials onboard, so I would recommend not booking these experiences until you get onboard.  We will be discussing this and more in Part 4: Embarkation.
Anything booked prior to and during your cruise will be charged to your Onboard Account so you won't be asked to pay anything at time of booking.  So, are you excited now?  Increased anticipation is a common side effect of the final booking process.  Fortunately there are things you can do to make the wait a little more tolerable which we will cover in Part 3: Before You Go.  Until then, what excursions are you looking most forward to?
You may also like: So You Booked Your First Disney Cruise, Now What?, Part One