You finally found the ship, sail date and itinerary perfect for your family's busy schedule.  Disney Mama Lin's family and my family are about to sail together on our Caribbean cruise on the Wonder in a few days so we have been doing more than our fair share of planning and prepping and are sharing all of it with you.  We hope you enjoy our new mini-series and find it helpful when planning your cruise!
Part 1 – So you paid your deposit…what's next?
Patiently, or more accurately, impatiently waiting for final payment date so you can start booking adult dining and excursions is the name of game.  A fun thing to do to occupy your time is join a group of cruisers booked on the same ship and sail date.  You can usually find them on Facebook.  It is a great way to meet new people and your kids can identify who they may be playing with in the kids clubs.
Start planning outfits and ordering custom shirts, dresses, pillowcases, cabin door magnets…whatever you can imagine.  This is another great way to make your cruise special.  Customized clothing makes for great family pictures.  There are many inexpensive options to buy or make and it is a great excuse to spend more time on Etsy and Pintrest.  And did you know if you drop off a pillowcase or photo mat in a Ziploc bag to guest services when you board it will be returned to you at the end of the cruise signed by your favorite characters?  Just specify princesses or Fab 5 and you will go home with a great souvenir for your kids (2/cabin limit).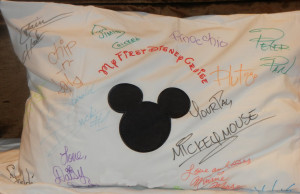 Another thing that is unique to Disney Cruise Line is the Fish Extender or FE.  What is a Fish Extender you ask?  It is a simple gift exchange with other cruise families and is a lot of fun for the kids.  Participation is voluntary and you only have to give gifts on one night of the cruise, on a night of your choosing.  If you do decide to participate, this is a great time to start planning your gifts, or making them if you are crafty.  We will discuss our Fish Extender experience in depth in a later post.
Finally, don't forget to order your Disney Cruise DVD.  It is a great way to learn about the ships and get excited about what's in store for you on your cruise.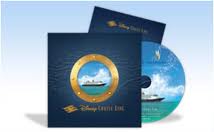 That should keep you busy until Part 2 – Time for Final Payment.