Welcome to the next stop on Magical Blogorail Green. Today we are talking about Epcot's Flower & Garden Festival.

---
We just returned from our Spring Break pilgrimage to Walt Disney World where we spent a day and half just exploring the Epcot International Flower & Garden Festival. We enjoy looking at the flowers, but we LOVE testing the cuisine in the many Outdoor Kitchens that pop up around Epcot during the festival. So join me in my Flower & Garden Festival Food Recap!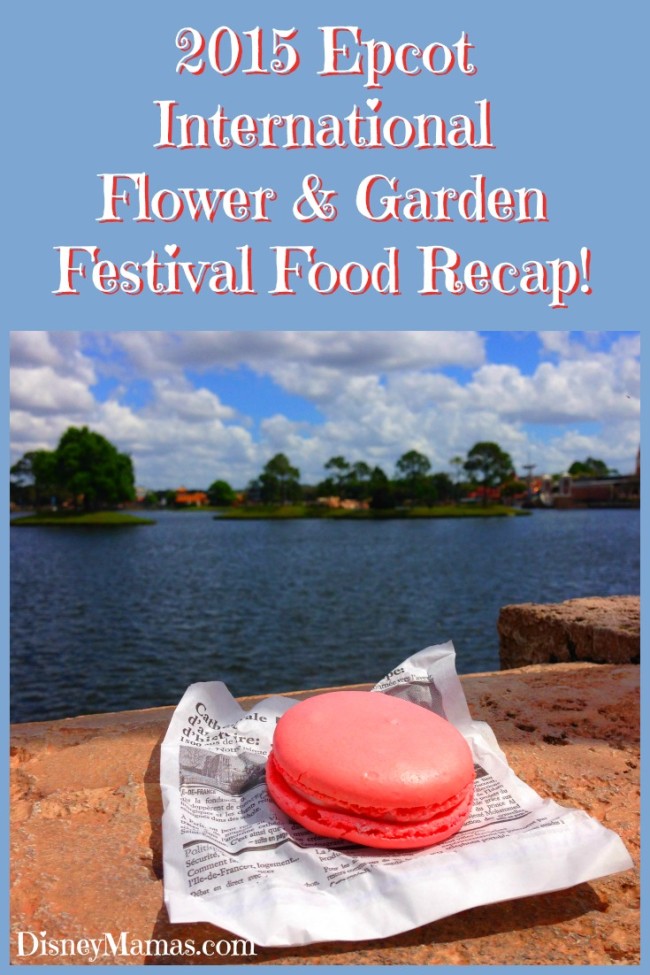 We kicked off our trip on Monday by visiting Epcot. My husband and I had a plan to start at Pineapple Promenade and work our way as far around World Showcase as we could, until we were too full to eat anything else, then picking up where we left off on our return visit on Friday. We grabbed a Flower & Garden Festival Passport for our son to use, and set out on our quest. It was a good plan, and delicious too!
At Pineapple Promenade I was really excited to try the new Pineapple Dog, a spicy hotdog featuring Pineapple Chutney and Sriracha Mayo. It.Was.So.Good. The hot dog itself was mildly spicy, but nothing too difficult to handle. The mayo had a cooling effect, but also a nice kick from the Sriracha, and the chutney had a nice flavor that was enhanced by crumbled veggie chips. The veggie chip crumble did a lot to enhance the texture of the dish as well. The bun was not a standard white bun, and if I had to guess was a potato bun. I didn't think to ask! This is the one dish that I sampled again on our return visit later that week.
Actually, that's a lie. I also had to have another Frozen Desert Violet Lemonade. But I knew I'd be having a few of those. The Frozen Desert Violet Lemonade was my FAVORITE thing from the 2013 festival, and I was literally counting down the days until I got to experience it's deliciousness again. It is simply amazing and not to be missed!
Making our way counter-clockwise, our next stop was Jardin de Fiestas in the Mexico Pavillion. I passed on dining at this location the first day but my husband grabbed a Mexican Sangria, which he said was good but nothing spectacular. When we returned on Friday we sampled the Tacos al Pastor, which was so yummy we hopped right back in line for a second one. The Taco al Pastor was topped with the most delicious salsa verde imaginable. You could really taste the tomatillo and cilantro flavors, and they gave the taco an incredible depth. The pork was also cooked to absolute perfection!
Our next stop was Lotus House in China, where there were several things I was anxious to sample: The Beijing-Style Candied Strawberries, Vegetable Spring Rolls and Oolong Peach Bubble Tea. The Vegetable Spring Rolls were good, but there wasn't really anything that set them apart from those at any Chinese restaurant. They were a nice size though; 2 full-sized spring rolls in the order, and served with what I believe was the same Sriracha mayo as the Pineapple Dog. I was not a fan of the Oolong Peach Bubble Tea. It was basically a milk tea, and there was absolutely no peach flavor at all. If you look at the pictures on Disney Food Blog the drink says it is thick, and teh pictures show two different popping "bubbles". Maybe I had a new cast member, but mine was thin, thin, thin and only had the black bubbles. I expected more of a tea, but this was just bland and had a very odd flavor overall. I'm a big fan of bubble tea, and this was really disappointing. The star of the Lotus House was definitely the Beijing-style Candied Strawberries. They were amazing.  The strawberries were perfectly ripe, the dish had just the right amount of sweetness, and the crunchy candy coating was a nice texture. Don't try to bite one off the stick though!
At the Florida Fresh Outdoor Kitchen where my husband tried the Shrimp and Stone Ground Grits with Andouille Sausage, Sweet Corn, Tomatoes and Cilantro, and Connor and I shared the Watermelon Passion Fruit Slush. Chris said the Shrimp and Grits was amazing, with just the right amount of spice balanced with the coolness of the tomatoes and cilantro. Connor and I enjoyed the Watermelon Passion Fruit Slush, but it doesn't hold a candle to the Dessert Violet Lemonade! One of the best parts of this pavilion is that it features a lovely seating area with a few picnic tables, a few high tops and a nice grassy area. We really enjoyed relaxing here for a few minutes before continuing our trek around World Showcase.
From there we skipped over Primavera Kitchen in Italy because we didn't really see anything that really appealed to us there (shocking I know, but we try to eat a relatively dairy and gluten-free diet), and went on to The Smokehouse in American Adventure. Living in Texas we are huge fans of barbeque, and we knew from our previous visit that this outdoor kitchen would not dissapoint. Between this trip and our trip later that week we tried the Pulled Pig Slider with Cole Slaw, the Beef Brisket Burnt Ends Hash with White Cheddar Fondue and Jalapenos and the R.C. Sweet Tea. All three were delicious, and the sweet tea was quite refreshing. I personally give a slight edge to the slider, as it had just the right amount of sauce and spice. The brisket was good, but some bites were better than others for sure. I'm not sure how I missed the Smoked Debreziner Sausage with House Made Kraut and Mustard though…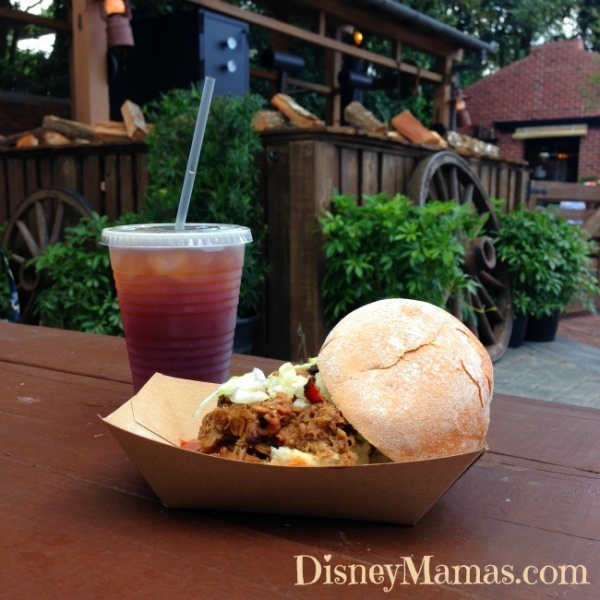 Next up was a return to another one of my favorite outdoor kitchens from 2012, Hanami in the Japan Pavilion. This is where you will find the famed Frushi dish, and we ordered two to share. There is just something about these little fruit and rice rolls that is both delicate and refreshing. The rice is slightly sweet but most of the flavor comes from the bits of melon, pineapple and strawberry that make up the center of this sushi-style dessert. Plus it's served with gobs of fresh whipped cream. Frushi truly is a Flower & Garden Festival must-do.
At Fleur de Lys Connor and I were eager to try the Macaron Guimauve a la Fraise, or Strawberry Marshmallow Macaron. It was incredible! I could have eaten a dozen of them, and am a bit sad that I didn't get at least a couple of extras to go, but Macarons are pretty delicate and I was also afraid the humidity would cause them to go a bit chewy if we tried to carry them around. They were a soft, crunchy, heavenly little dream of a bite. And look how gorgeous they are!
After that was a quick stop at Taste of Marrakesh where I grabbed a Mint Iced Tea, which is the same one that they serve at Spice Road Table. I'm sort of an iced tea addict. It was as cool and refreshing as ever. I had wanted to try the Pistachio Baklava, but following the sweetness of the macaron in France I decided to forgo it in favor of the tea, especially considering our next stop had several dishes, both sweet and savory that we were eager to sample. Overall not a lot to write about here.
Now we were on to Botanas Botanico, the single new outdoor kitchen at this year's festival. Botanas Botanico features dishes with a Venezualan influence, and the menu is fairly extensive. It is also another pavilion that features adequate seating and speciality gardens. Chris had a list of things to try, so he hopped in line while Connor and looked around at the baby pineapples, quinoa and more before taking a seat at a nice table with chairs. Our mini-meal included the following items: Seafood Ceviche, Cachapas with Farmer's Cheese and Coconut Tres Leches cake. Chris enjoyed the Seafood Ceviche, made of Shrimp, Scallops and Grouper with Mango and Avocado, but said he preferred the Shrimp and Grits at Florida Fresh. I loved the Cachapas with Farmer's Cheese. Loved it. It is basically a sweet corn cake topped with a light white cheese that balances the sweetness in the corn perfectly. I didn't really want to share. We all three enjoyed the Coconut Tres Leches cake, which was moist and heavy with plenty of sweet whipped cream to top it off.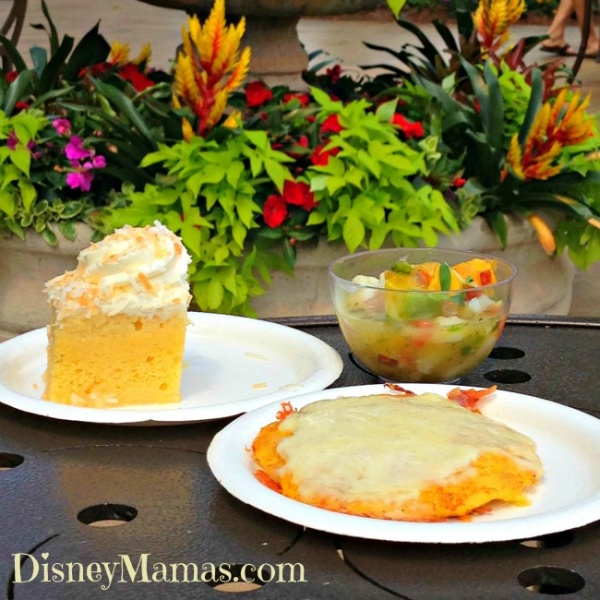 And this pretty much rounded out our 2015 Epcot International Flower & Garden Festival culinary adventure! I'd list our top three food items as the Frozen Desert Violet Lemonade, Tacos al Pastor and Beijing-Style Candied Strawberries, but almost everything we tried was delicious! The festival runs through May 17th, so you've still got plenty of time to get to Epcot for a visit! If you've visited the festival this year please drop us a comment and let us know what your favorite item was, or if you are dreaming of a visit what item sounds most appealing to you!
Here is the map of our Magical Blogorail Green | Epcot's Flower & Garden Festival Loop: