Welcome to the next stop on Magical Blogorail Blue, where we are discussing ways to stay fit and healthy at Disney Parks! Today we are discussing dining with food sensitivities at Walt Disney World.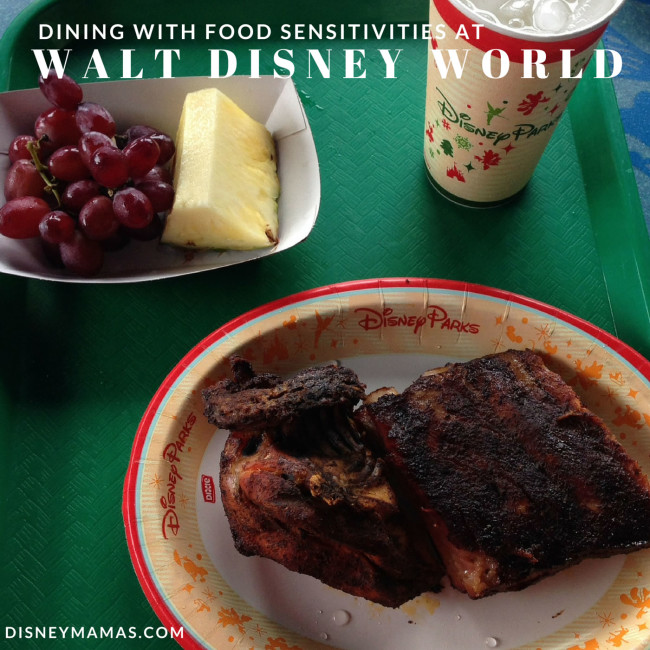 I've always considered myself to be a bit of a Disney Foodie. I love trying new restaurants, new snacks, and new menu items when on vacation at any Disney Destination; it's half the fun of going on the trip! In fact, let's be honest. Dining around Walt Disney World is basically a sport. So, when my husband and I found out over the summer that we both suffered from quite a few food sensitivities, we knew that our next trip to Walt Disney World was going to be a different experience, and we were just going to have to adapt. What I found on that trip, however, is that dining with food sensitivities at Walt Disney World is not nearly as difficult as we had anticipated!
During our trip I discovered that at least one quick-service dining location at each Disney Park at Walt Disney World has been provided with a special menu, and a special kitchen location, to prepare food for guests who suffer from food allergies or food sensitivities. While we didn't dine at each of them, we did visit Cosmic Ray's at Magic Kingdom, Flame Tree Bar-b-que at Animal Kingdom and ABC Commisary at Hollywood Studios. Today I'm just going to walk you through my experiences with these three locations, but be assured that dining at many of Walt Disney World's table-service locations is just as simple and efficient.
Our best experience of the three was at Flame Tree Bar-b-que, where the manager met us at the counter with his complete book of menu items. Each page detailed a specific menu item, listed all ingredients, highlighted common allergens (gluten, wheat, dairy, egg, soy, etc.), and then also had a listing of suggested modifications to eliminate the allergen/sensitivity. This included suggestions of different sides, different sauces and seasonings, and different cooking techniques. He took the time to really understand what our individual food sensitivities were, and made us feel completely at ease with what we were ordering for lunch. Our food was prepared quickly, and it was delicious. What did we order? The half chicken & ribs combo without bar-b-que sauce, and we swapped the side of fries for fresh fruit. It was yummy. 🙂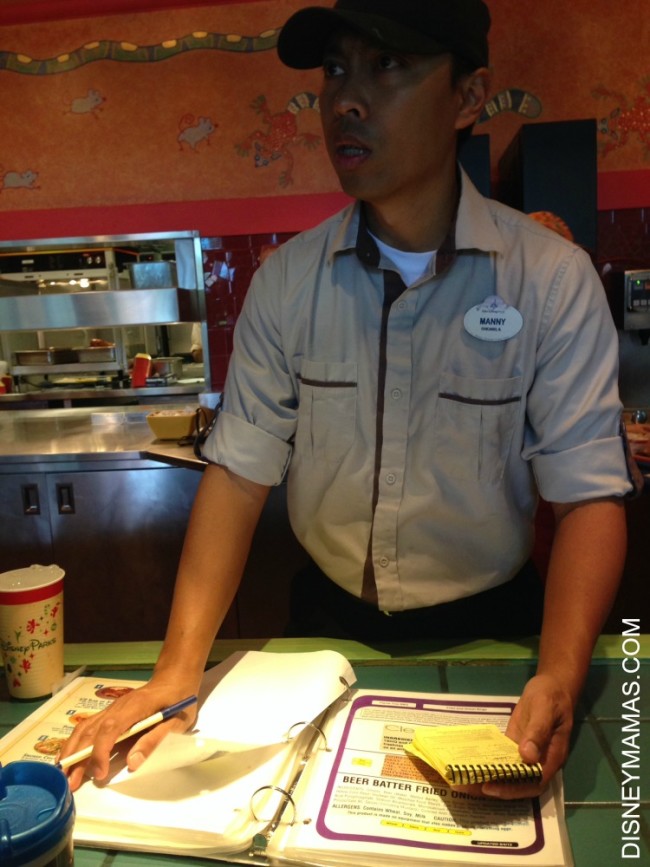 Cosmic Ray's is your safe option for allergen/sensitivity dining at Magic Kingdom. But, be warned, it could take you a while to get your food so plan ahead. At Cosmic Ray's you request your allergen-free menu at the ordering station, which can create quite a backlog of guests waiting to order behind you. They will ask you to step to the side until a manager comes out to meet with you (which can take some time), and the manager will take your order on a special notepad, then stick you back in the ordering line and assist the cashier in putting the order in with the allergen/sensitivity noted. Your receipt will have a sticker on it that indicates that it is an allergen order. Then you wait. Since all food from the Allergy Menu is prepared at a separate kitchen station from the regular menu you can potentially wait quite a while depending on how many orders were in front of yours. This was a bit difficult, especially since the set-up at Cosmic Ray's has you ordering different types of entrees at different stations in the restaurant. The rest of our party had had their food for quite some time before my husband and I ever received ours.  But, that being said they clearly take their allergy menu seriously, which is a really great thing. The only downside is that they don't quite understand the difference between an allergy and a sensitivity at Cosmic Ray's.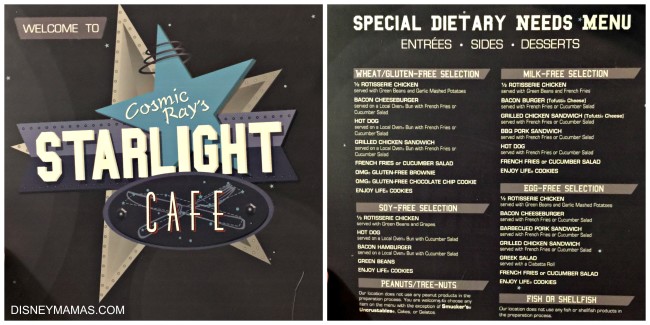 My initial experience with the ABC Commissary at Hollywood Studios was pretty much even with the experience at Cosmic Ray's, except they did not have a manager come out and take my order. Turns out this was definitely a negative, as I had ordered a hamburger (no cheese due to dairy sensitivity) on a gluten-free bun with a side of fruit instead of french fries. I ordered from the provided allergy menu and made sure to stress to the cashier that I had a dairy, gluten and white potato sensitivity, and in turn the cashier assured me that the order was put in correctly, the sensitivities noted, and that it would be prepared according to the instructions and order. Well, when I received my meal I had a cheeseburger on a gluten-free but with french fries. And it took ages to actually get my food. Luckily my food issues are sensitivities and not full-blown allergies, but I did let the manager know that had it been a true allergy they could have created a very undesirable situation that could have, and should have, been easily avoided. They corrected my order, and I can honestly say that their gluten-free bun for the burger was among one of the best that I have had. We also dined there a second time during our trip and had a much better experience.
While we didn't get to experience it, Sunshine Seasons is the home of the allergy menu for Epcot. I have dined there several times in the past, and have always been impressed with their selection. I know that they have grilled fish entrees, roasted chicken, a large salad bar, and many more options.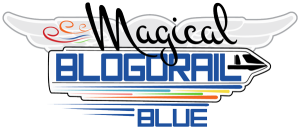 Thank you for joining Magical Blogorail Blue this month. We will be back next month with all new loops and themes. Keep checking in with our blogs in between loops to keep up to date with the newest posts, photos and stories. If you are looking for more Disney magic you can make your way over to The Magical Blogorail website to see all our members and their blogs, as well as all our previous loops.
Here is the map of our Magical Blogorail should you happen to have to make a stop along the way and want to reboard: