As we approach Memorial Day, I started thinking about all the patriotism shown by the Walt Disney Company – Walt lying about his age to be an ambulance driver in WWI, using the studios talent to create propaganda on the home front, educating our soldiers, and sending its own staff to the front lines. My favorite thing that came out of the Studios was insignia for the troops during WWII.
Soldiers wrote letters to the studios requesting character insignia for their units – the requests were overwhelming. In response, a special five-man crew of artists met the demand for designs, without charge to the soldiers. "They meant a lot to the men who were fighting", said Walt. "How could you turn them down?"
Artists drew up about 1,200 insignias for the U.S. military, mostly for Naval units. Almost every Disney character was used in the project, except Bambi, with Donald Duck as the most requested character. The most famous insignia created were the ones for the Sea Bees and the Flying Tigers. (Somewhere my family has some Seabees pins from my Great-uncle – guess I should track those down…)
A pre-WWII logo for Floyd Bennett Field depicts Mickey Mouse flying atop a goose-bomber in front of a silhouetted Statue of Liberty. This one can be seen briefly in King Kong. Even though this was not designed by Disney, it's assumed this design instigated the requests for similar logos after the start of the war.  
It's so much fun to look through the images – try googling them – to see the wide variety of characters. This is just a sample: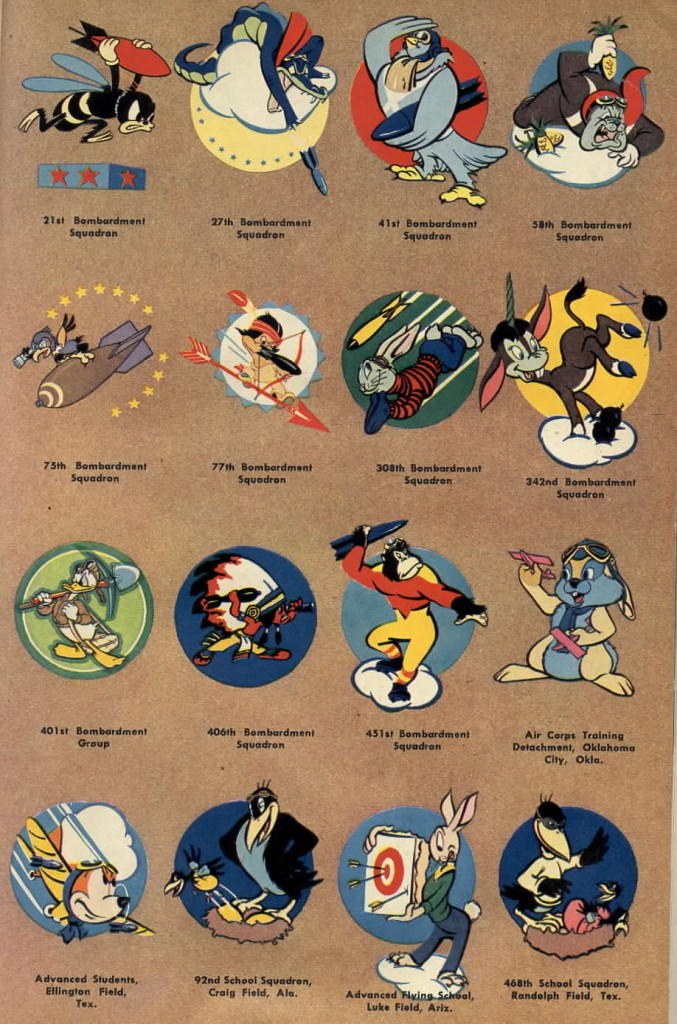 To see more, check out the Toons at War blog or Service With Character: The Disney Studio and World War II Kindle book by David Lesjak.