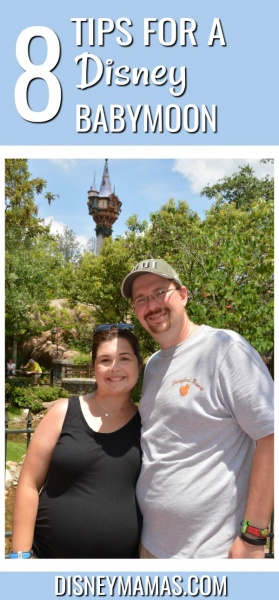 When my husband and I found out we were expecting our oldest we knew the perfect way to celebrate our soon-to-be-expanded family was to take a special Babymoon trip to Walt Disney World. When we found out we were expecting baby #2 we did it again; this time as a family of three! Between the two Babymoon trips we have beautiful memories of two special times in our family life. I can honestly say that a Disney Babymoon is a perfect way to spend some time together prior to welcoming a new addition to your family, and I've got a few tips to help make your Babymoon as perfect as possible.
1.Pick your resort with YOU (and Baby) in mind!
Regardless of which Disney Resorts you have stayed at previously, look at your Babymoon from a different perspective. Pick a resort that will minimize walking distance, has added transportation options and has some nice places to relax. For example, we love Kidani Village and Caribbean Beach, but for our Babymoons we knew that the potential walking distances at these resorts was more than I wanted to have to handle after a long-day at the park and with swelling ankles. A few great options are Port Orleans French Quarter for a moderate, Contemporary Resort (or any Monorail resort really) or Wilderness Lodge for deluxe. Truthfully, any Deluxe with the exception of Animal Kingdom Lodge is not a bad choice. Avoid values resorts if possible, as they simply don't have the added comfort, many have double beds, and transportation can be very difficult.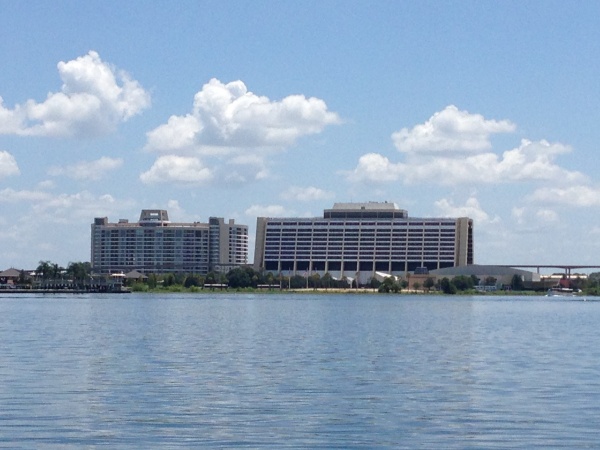 2. Simplify Your Park Touring Plans.
Are you traditionally a park hopper? Love the thrill rides? Want to hit the parks from rope drop to Kiss Goodnight? Simplify your touring and your expectations for your Babymoon. I love park hopping, but the added stress and bus transfer time wasn't worth it for our Babymoons. Taking it easy in one park each day was perfect, and we found that not worrying about moving back and forth made the trip less stressful overall. When it comes to rides always err on the side of caution for more thrilling attractions, and talk to your doctor before your trip to see if they have any limitations they want you to consider. Remember, the safety of your little one are more important than your traditional rope drop ride on Expedition Everest. Have realistic expectations of what you can and can't/shouldn't do on this trip and remember you will be back again (and +1)! And don't fret if you miss rope drop or decide to cut the day short and head back to the resort to relax – it's OKAY to do so!
3. Plan a Table Service Meal Daily!
Trust me, even if you are a hard-core counter-service lover please, please plan at least one table-service meal a day. Your body will thank you for the ability to sit and recharge while eating a bit healthier. There are healthy options at some counter-service locations, but overall the healthier, fresher fare is easier found at Disney's many table service restaurants. Not to mention the menu offers more variety which can be helpful if you are experiencing cravings. I had days where all I wanted was a cheeseburger and then days where I would kill for a spinach salad and a roll. Additionally, If you are dealing with Gestational Diabetes (like I was) I found the table service restaurants much better fit to accommodate my dietary needs than quick-service locations.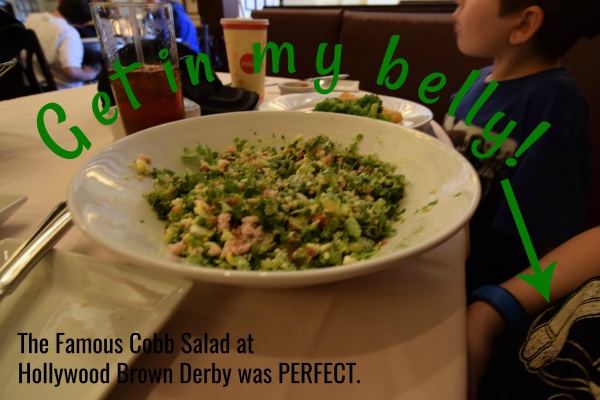 4. Stay Hydrated!
Remember, when you're pregnant you need at least 10 cups of water a day, up from the normal 8, in regular circumstances. When you are sweating your booty off at Disney you need to increase that even more! Carry a water bottle at all times and stay hydrated! All counter-service locations will give you a cup of free ice water (or just ice) if you ask, so don't be shy and keep drinking it up! I munched on ice chips constantly, which was very refreshing and kept me hydrated. Again, listen to your body and if you ever feel yourself feeling faint or light-headed, or even hungry, sit down and drink some water first. Take a 5 minute body check and see if you need more water, a real rest, or some protein. Then drink a little more water. And, bonus tip, take a bathroom break BEFORE you get in line at any attraction. 🙂
5. Listen to Your Body and Take Breaks as Needed
I'm one of those people that hates going back to the resort for a mid-day break, but on both of our Babymoon trips I found myself doing so a little more. It was much easier when we were staying at the Contemporary the second go around. My husband would take our oldest to the pool and I would take a nap or just lay out by the pool. You could even schedule yourself a massage at select Disney Resorts and REALLY take a break! If you don't want to head back to the resort take a break by having a meal or snack inside, relaxing during one of Disney's stage shows (preferably one where the benches have backs) or finding a bench in a quiet area of the park and just people watching for a while. On our trip with our oldest he enjoyed playing Sorcerer's of the Magic Kingdom with Dad while I relaxed on a bench in a nearby area.
6. Do Something Special to Make the Trip Memorable
Commemorate your trip by doing something new or special. On our first Babymoon we choose to do the Pick-a-Pearl in Epcot's Japan Pavilion, and on our second trip we had an amazing meal at Hollywood Brown Derby and let our oldest do the Pirate's League Makeover at Magic Kingdom. Neither were huge expenses but both were a lot of fun for us and things we will remember from those trips. You could also splurge on a dessert party or specialty cruise, take one of Disney's guided tours (some are a lot of walking), enjoy a meal at a restaurant you wouldn't normally choose like California Grill or Hollywood Brown Derby, or treat yourself to a spa experience and enjoy some special pampering.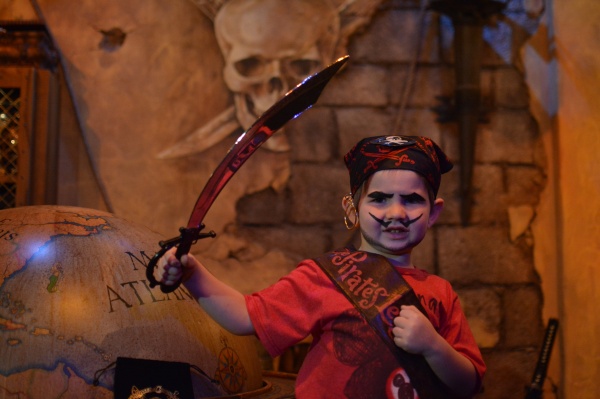 7. Purchase Baby's First Christmas Ornament
We purchased a Baby's First Christmas ornament for both of our boys on our Babymoon. Since the Baby's First ornaments don't have a year you are able to customize with the year that your little one is due, and if you are travelling in the same year you will be welcoming your new addition, or around the holidays there will be dated ornaments available as well. Consider grabbing a stocking and a cute onesie and plush while you're at it and stock baby up for the holidays! We also purchased our seconds first Halloween costume on our second Babymoon for him (yes, we went twice that year!).
8. Consider a Pregnancy or Adoption Announcement or a Gender Reveal
For our second Babymoon we decided that we would take a picture to announce our pregnancy while at Walt Disney World. I had originally ordered a shirt through Etsy and planned to have Mickey assist in the announcement but the shirt was terrible and we had to go with a last minute Plan B. So, we bought four sets of Mickey Ears and took some beautiful pictures on the brand-new Hub Grass. If we had known our little ones gender at the time we would have made it a gender and pregnancy announcement, but we went with traditional black instead. I've also seen gender announcements online using Mickey balloons, Mickey and Minnie plush and Disney cupcakes, pregnancy announcements with a variety of "Future Mouseketeer" t-shirts and Disney characters, and so much more. It's a fun way to share some special news!
Side Note : Please don't think you can only do a Babymoon if you are pregnant! I highly encourage anyone expecting a new addition to the family to take a trip as you are and celebrate you and your current family! Welcoming a baby by birth, surrogacy or adoption is amazing and life changing, and you will not regret making some special time before your family expands to create lasting memories.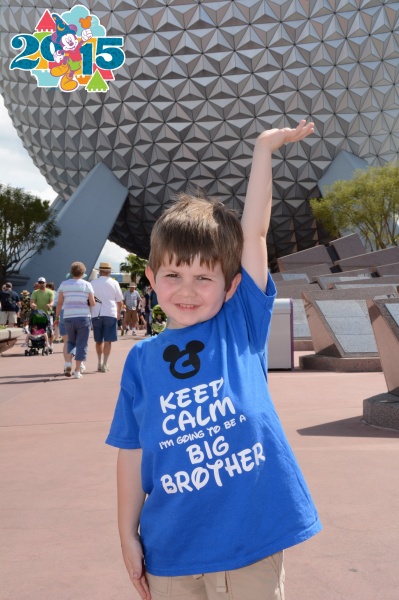 ---
For more on this really awesome topic,
check out the other great posts from the Blogorail!
---