Welcome to the first stop aboard Magical Blogorail Orange. Enjoy the ride as we share our favorite Disney On Broadway musicals! I am your first stop on this week's Magical Blogorail! For my 14th birthday my parents took me to see the national tour of Disney's Beauty and the Beast on Broadway when it came through Minneapolis, and it forever changed the course of my life. The production inspired me to pursue a career in technical theatre as a scenic designer, and led me to ultimately use my skills to inspire a new generation of designers as a high school technical theatre teacher. I owe a lot to Beauty and the Beast!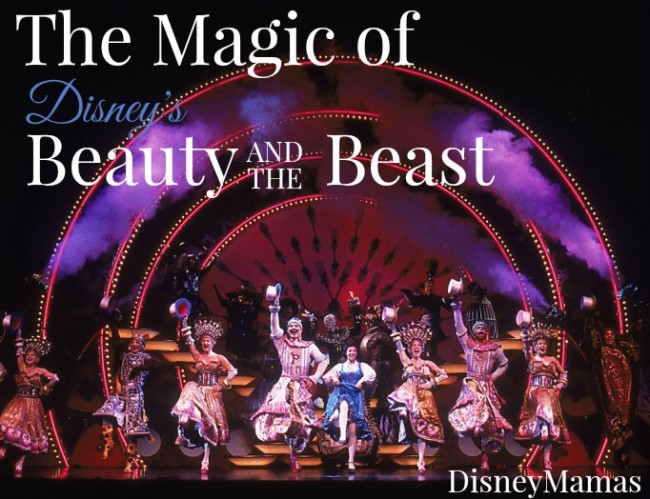 Twenty years ago Disney Theatrical Productions danced it's way on to the stage for the first time with Beauty and the Beast on Broadway, and it never looked back. Beauty and the Beast was a much needed catalyst in a time when attendance at Broadway shows was down and things weren't looking great for live theatre. However, Disney's presence was not particularly welcomed with open arms. Despite the cool reception no one could deny that the production of Beauty and the Beast was bringing in an audience. In that year (1994) the production was nominated for nine Tony Awards, winning the Tony for Best Costume Design, and nominated for ten Drama Desk Awards. In 1998 it went on to win the Laurence Olivier Award for Best Musical for it's original production in London. And just for the record, Hugh Jackman (yes, THAT Hugh Jackman) originated the role of Gaston in the Australian production of the show. But enough about that!

I was a huge Disney fan, and a huge fan of Broadway musicals. So, when I heard that Beauty and the Beast was beginning its first National Tour in Minneapolis there was no question that I would be in attendance. When I opened the tickets for my birthday I'm sure I performed some sort of bizarre song and dance (I was a bit of a dramatic child) that is forever burned in my mom's memory. After the longest three months of my life (did I mention I was dramatic) November 15th, 1995 finally arrived and we were off to an evening at the theatre (said with a hoity toity British accent like Rose's mom on Titanic).  I still remember walking into the historic Orpheum Theatre in downtown Minneapolis as if it was yesterday. For one, theatres in Minneapolis and St. Paul are gorgeous. These are true playhouses of the theatre age, and have been kept up beautifully. The lobbies are full of gold leaf work, statues, marble, the whole nine yards. We walked in, greeted by the theatre staff all decked out in their premiere shirts, with light-up roses in hand, and quickly purchased our souvenirs. (My sister wanted a light-up rose, while I opted for a program and a First National Tour t-shirt which is still in my closet, and a baseball hat that has a rose and says Actress). We were dressed up for the evening out and giddy with anticipation.
The production was breathtaking. The magic of Disney seamlessly merged with the magic of live theatre. I had entered the theatre expecting entertainment, I left with a new life goal.  I couldn't tell you who the actors were, or describe the scenery in detail, but I left the theatre that night knowing one thing for sure.  That night a dream was born within me. I was to one day play Belle, and I knew I could make it happen (ah, the naivety of being young).
This is just the set for their Tony Awards performance, imagine what the entire thing looked like!
Yes, in middle school I dreamed of being a Broadway performer.  I was a decent dancer, and quite the singer, and dreamed of performing in Broadway musicals in front of huge audiences every single day (what 14-year old drama queen Future Broadway Star doesn't, really?).  However, dance can be a pretty dangerous sport, and a few major knee surgeries later I was forced to  realize that my Broadway aspirations were simply not in the cards.  My. Life. Was. Over.
When Beauty and the Beast, came through on its second tour I saw the production in a different light (so to speak). Somewhere between the dancing tableware and singing candelabra a new dream was born within me…perhaps more of a slight modification to the original dream.  Rather than focusing on the acting, dancing and singing I paid close attention to the sets, costumes, lights and special effects. It was this performance that really steered me towards a future in scenic design and theme park design, with an ultimate goal of working for Walt Disney Imagineering.  I shifted my theatre focus from a general study to a study focused in scenic design and production.  I loved the puzzle of figuring out how to stage a production, how to account for all the design requirements and space/budget constraints, and truly enjoyed the build process of constructing a show from the ground up.  It was my ambition to put as much care into my designs as a Disney Imagineer would put into theirs.  I wanted to be an integral part of weaving a story and piquing the audience's imagination, transporting them to another time and place.
My current stop on this journey has me teaching Technical Theatre and Design in a public high school.  I am quite fortunate in that our theatre facilities are top notch, rivaling many professional theatres.  I also have a co-teacher that dreams as big as I do and we make a great team pushing the limits of what "high school theatre" looks like.  There are many accomplishments that I am proud of, but I am most proud of my ability to lead a group of high school students in the design, construction and implementation of our show sets.  Many people (we'll call them the naysayers) question our ambition, reminding us that "it's only high school."  To them we simply smile, get back to work, and watch their awestruck eyes on opening night as the kids which we have lead, proceed with pulling off the "impossible."  After all, "It's kinda fun to do the impossible."

Walt Disney once said, "Of all the things I've done, the most vital is coordinating those who work with me and aiming their efforts at a certain goal".  I consider this my teaching philosophy, and I use it in my classroom daily.  I know that if I cannot get my students to work together and with me to accomplish our production and academic goals then I am not effectively fulfilling my job requirements.  I want them to each take pride and ownership of the work we are able to accomplish together, and I want them to feel free to contribute their ideas to our projects.  By working together with my students we have levitated a Beast, made it rain (actual wet water) onstage, built sets that rotate and morph from one location to another, sent Peter Pan to new heights, and even picked up an award or two along the way.  I know that a good idea is only as good as the level of execution one can accomplish, and that by working together to achieve a common goal, we can achieve the highest level of execution possible.
Sorry, got off on a bit of a tangent there…oh yeah, Disney's Beauty and the Beast on Broadway…
Sadly, nothing can last forever, especially in show business.  The Broadway run of Disney's Beauty and the Beast came to an end in 2007 when Disney was getting ready to open The Little Mermaid in it's place at the Lunt-Fontanne Theatre. During it's Broadway tenure it went through three US national tours, the third one closing in 2003, which were as close to the Broadway versions as possible. Thankfully, Disney partnered up with NETworks, a theatrical production company that stages Broadway productions on tour, to present a re-imagined, and somewhat smaller rendition of the classic musical. This new production is lovely, but it will never live up to the prowess of the original. (To see if the production is coming to a city near you click here.)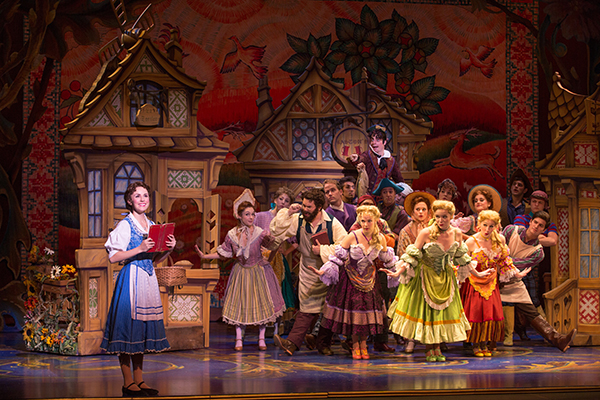 Photo Copyright NETworks Presentations
Beauty & the Beast was Disney's first foray into Broadway, but it certainly was not to be their last.  Paving the way for many hit shows in the twenty years since it opened, and (hopefully) countless more to come (we all know that Frozen is on it's was, and how about Baymax on Broadway anyone?).  The Broadway production of Beauty and the Beast had all of the Disney trademarks:  something for the kids, something for the adults, magic, spectacle, love, comic relief, transmogrification.  It will forever hold a special place in my heart.  My most fervent prayer is that some day, I will have the opportunity to inspire a 14-year old drama queen Future Broadway Star the way Disney's Beauty and the Beast has inspired me.
What has inspired you in your line of work?
Thank you for joining me today. Your next stop on the Magical Blogorail Loop is Capturing Magical Memories.
Here is the map of our Magical Blogorail should you happen to have to make a stop along the way and want to reboard:
1st Stop ~ Disney Mamas – The Magic of Disney's Beauty and the Beast on Broadway (You are here)
2nd Stop ~ Capturing Magical Memories – Into the Woods
3rd Stop ~ I Am a Mommy Nerd – Mary Poppins on Broadway
4th Stop ~ Disney with Babies, Toddlers, and Preschoolers – The Little Mermaid
Final Stop ~ Saving Up for Disney – Aladdin