Binaural recording: a method of recording sound that uses two microphones arranged in a manner to create a 3-D stereo sensation in which the listener feels he is actually in the room with the performers or instruments. This is often created using a mannequin head with a microphone placed in each ear.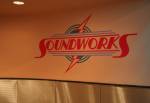 Disney's early experimentation with "Holophonic Sounds" came in the form of little stations that were located outside "The Monster Sound Show" at Disney – MGM Studio Theme Park.  "Sound Works" was the name of the hands-on interactive attraction in which you wore headphones and listened to sounds like getting a hair cut, a thunder storm, a plane flying, etc. Utilizing this technique with high-quality headphones, the sounds felt real – not just sounded real – as your brain translated what it was hearing into physical sensations.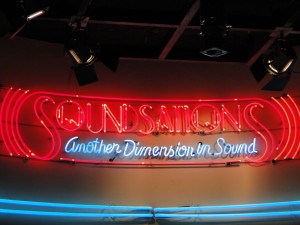 The audio was updated and the area renamed "Soundstations". In addition to the headphones, you sat in a sound-proof booth that was supplemented with speakers. In the new 3-D show, you played a talent executive getting ready for a meeting with "the big Cheese." As you are waiting, various people come in and out, doors slam, they talk to you, someone shoots an arrow by you, another person opens a window, and someone comes in and cuts your hair – and you swear you can feel the scissors. Pretty freaky when all you are doing is listening to a soundtrack.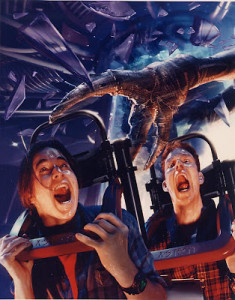 This experience was enhanced with the opening of the "ExtraTERRORestrial Alien Encounter" at Magic Kingdom in Walt Disney World. In this "theater-in-the-round" setting, an alien was accidentally transported into the room and before it could be sent back, it escaped! While the monster was free to roam about the room, it knocked out the electricity, walked on shoulders, breathed down your neck, and attacked a guard. The experience was quite terrifying as your chair used binaural sound to enhance the effect by allowing the creature to produce hot breath, growl, and move about the room. The wave of screams as it ran around the room just added to the intensity. I was a fan of  this attraction, but felt it should have been housed at The Studios instead of the Magic Kingdom. When a warning has to be placed outside the attraction's entrance to inform guests that it is not recommended for children under the age of 12, it means it's not MK friendly.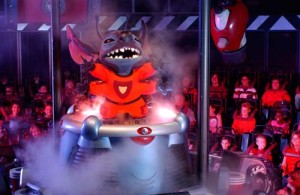 In order to make the show family friendly, Stitch's Great Escape! replaced Alien Encounter. An alien still escapes into the audience to wreak havoc, but this alien is "cute and fluffy" and more of a menace. The attraction is cute – especially if your kid likes Stitch, like my daughter, who was 10 at the time of our last trip.
I can't wait to see what magical ideas Disney Imagineering will unleash upon us in the future…