While preparing for the family vacation, I was thinking of the camping films and shorts produced by Disney. What I realized is how much Donald likes to camp…
…with Mickey and Goofy in the camper that I always wanted. I thought our pop-up camper was pretty cool as it had beds and a kitchen that folded out of its box-like base and it was easily pulled behind the 1972 Datsun station wagon. But Mickey's camper had a bathroom!…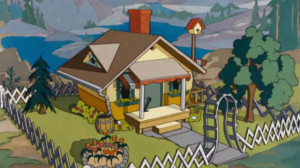 …taking the nephews on a scouting trek…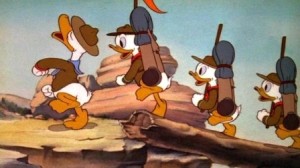 …and dining with Humphrey to the dismay of the park ranger (they really don't like you to feed the wildlife).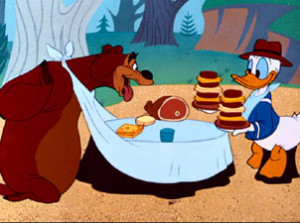 We spent many vacations at KOA campgrounds and most of them showed family films after nightfall. One such film we watched, projected upon the whitewashed, plywood screen seemed especially suited for the environment was "Follow Me, Boys".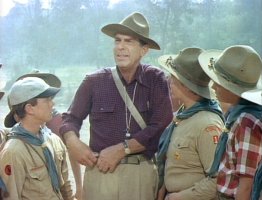 But, my favorite "camp" movies are the Parent Trap films – both the Hayley Mills and Lindsay Lohan versions. The scene in which the father's glamorous girlfriend is tricked into a camping trip is non-stop laughter in both versions of this story. (FYI – Joanna Barnes played Vicky Robinson, the girlfriend, in the 1961 movie and Vicki Blake, the girlfriend's mother, in the 1998 version.)
I think it's time to sit around the TV and dine on some delicious hot schmoes!