Back in 1995 a toy box full of charming characters entered our lives. With the debut of Pixar's Toy Story, the world fell in love with Woody, Buzz Lightyear, Slinky Dog, Rex, Hamm and a handful of Little Green Aliens, and we haven't looked back since. Disney and Pixar have been good to us, and over the years we have seen the additions of Toy Story 2 and Toy Story 3 to the featured film library, as well as two television specials; Toy Story of Terror and Toy Story That Time Forgot. Toy Story That Time Forgot premiered in December of 2014 as an ABC holiday special, and is being released on DVD and Blu-Ray TODAY! So, let's take a look at the Blu-Ray + Digital Copy of this addition to the Toy Story universe.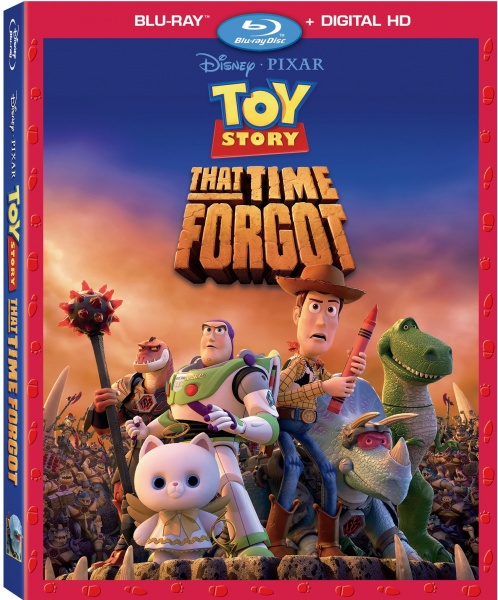 Synopsis:
Toy Story that Time Forgot finds the Toy Story gang in uncharted territory when one of Bonnie's post-Christmas playdates introduces them to a new gang of dinosaur action figures. This group, known as the Battlesaurs, is definitely in touch with their dark side. In a nod to the original Toy Story film, this fearsome group of dinos is unaware that they are toys and are ready to battle the other toys in a Gladiator-style arena showdown. Toy Story dinos Trixie and Rex are central characters in this film. Trixie grows close to one of the Battlesaur leaders, Reptillius, while poor Rex is being used as a unwillilng pawn by The Cleric. Trixie inevitably saves the day when she accidentally pulls the plug on the video game that Bonnie and her friend, Mason are playing, leading the two children back to the playroom and more imaginative play.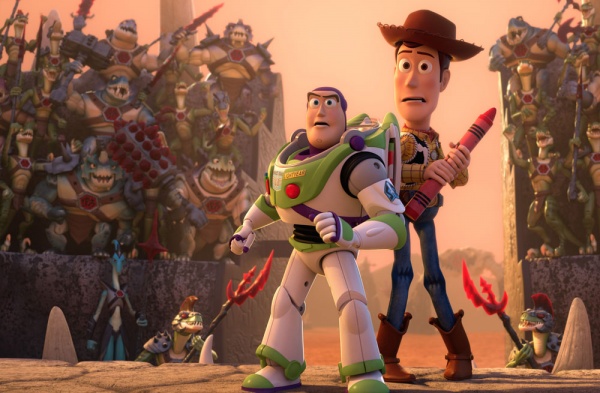 When the cartoon came out last December my son, then a fresh 5, was not a fan. He couldn't quite grasp the fact that the Battlesaurs were being mean to Buzz and Woody, two of his heroes. However, this year at 6 he enjoyed it quite a bit more. He found the antics of the characters to be entertaining, and over the past few days I've even seen the return of some of his own dino figurines. And, at 22 minutes run time it's the perfect length.
The film cast has remained much the same, still featuring the voices of Tim Allen (Buzz Lightyear), Tom Hanks (Woody), Joan Cusack (Jessie), Wallace Shawn (Rex) and Kristen Schaal (Trixie) to name a few. In my eyes this is an important detail. Having the original voice talents return for the television specials lends authenticity to the project.
The Blu-Ray includes many bonus features, including a free Digital HD copy of the film. Additionally there are two features introducing us to the Battlesaurs characters, deleted scenes, audio commentary, a Karaoke video of the featured song My Unexpected Friend. and a feature on the Toy Story presence at the 2015 Comic-Con.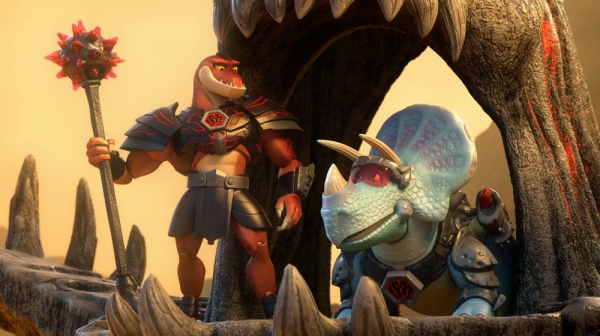 Overall, Toy Story That Time Forgot is a welcome addition to the Toy Story film library, and one that my family has enjoyed re-discovering. It will be joining the ranks of Charlie Brown Christmas, Shrek the Halls and Rudolph in our holiday film collection. You can pick up your own copy online or at retail stores near you!