Disclosure: Disney Mamas was provided with a copy of Disney Descendants to review and one to giveaway.  Even though this product was provided at no cost the opinions expressed below are always our own.  
My name is Angela and I like Disney Channel's Original Movies!! Yes, I may now be on the downside of 40, sure, I may have said I was only watching because my daughter wanted me to watch with her and yes I do sing along to the soundtrack of Teen Beach Movie. The truth is, these movies are very well done and fun to watch and the latest, Disney's Descendants, is one of the best.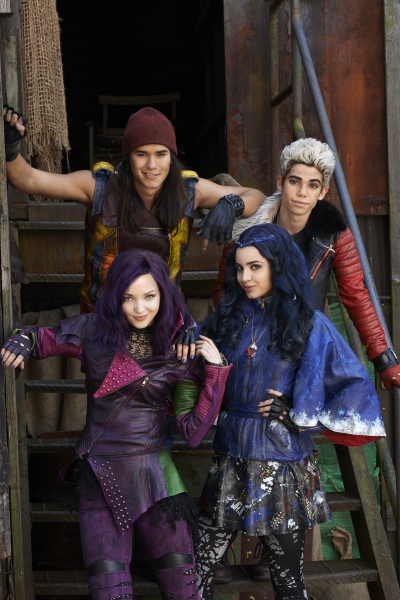 Disney's "Descendants," is a modern-day, coming-of-age adventure about the teenage sons and daughters of Disney's most infamous villains; Mal, daughter of Maleficent, Evie, daughter of the Evil Queen, Jay, son of Jafar and Carlos, son of Cruella DeVille. Many years ago, the kingdoms joined together to vanquish all Villains to the Isle of the Lost where they lived and raised their children so peace and harmony can reign. Fast forward to now, Prince Ben, son of Beast and Belle, is turning 16 and about to be coronated as King. His first proclamation is to allow the children of the Isle of the Lost to attend Auradon Prep, the boarding school for children of royalty, the sons and daughters of all of our favorite Disney Heroes and Heroines. Of course, Maleficent, being the evil hearted fairy she is, sees an opportunity for evil to return to the kingdoms and counts on Mal to set her plan into motion.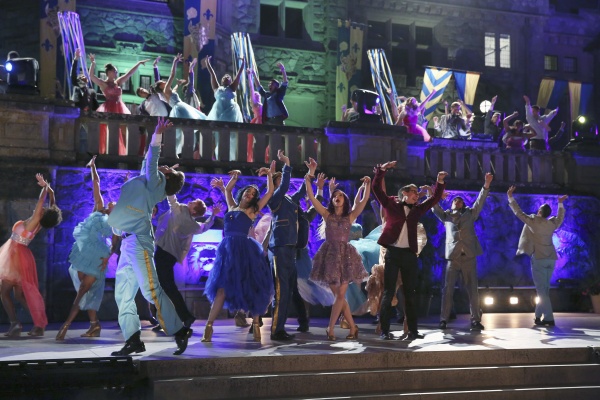 Descendants is directed by Kenny Ortega, the man behind the movie that started it all, High School Musical and stars some of the Disney Channel's brightest stars including Dove Cameron and Cameron Boyce who hold their own opposite veterans like Kathy Nijamy and the incomparable Kristin Chenoweth as Maleficent. The movie builds easily from the start, never gets bogged down and of course features some great musical numbers (um, hello…Kristin Chenoweth). The movie sends a great message without screaming it in your face and includes some fun nods and Easter eggs to the classic Disney movies we grew up with. You may find yourself watching it several more times just to try to catch them all (does the castle on Auradon look familiar? And don't miss Evie's purse and the security screens at the museum).
Not only do I believe that Descendants is one of the best Disney Channel Original Movies (tied with Teen Beach Movie), I also believe it will become the Disney Channel's next franchise spawning a sequel or two and be bigger than the High School Musical franchise which earned over a billion dollars for the Disney corporation.  My purchase of the DVD, Soundtrack and karaoke app have certainly helped to that end!
Now I  want you to experience the deliciously evil goodness of this movie too so we are giving a copy away!! Entry is easy via the Rafflecopter entry form below. This giveaway will end at midnight on August 14th, 2015. No purchase is necessary.
Be sure to like Disney Mamas on Facebook to hear the latest giveaways and Disney news!
*Winner has been notified. Per Texas law we cannot announce their name publicly. We thank you for your understanding!