The Good Dinosaur, the latest installment in the Pixar/Disney film partnership, comes out later this week and I was lucky enough to be invited to attend an early screening. It tells the unlikely story of Apatosaurus Brontosaurus Arlo and wild child Spot, as they journey across the American Midwest on their way home. This film, while visually stunning, didn't quite live up to the standards I was expecting. It was enjoyable and heartfelt, but lacked some story development and strong plotline. Children, however, will very much enjoy The Good Dinosaur for what it is; a simple story about love, family and learning to love yourself.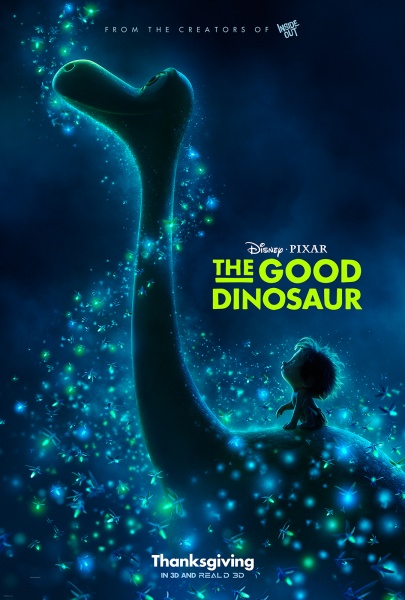 The plot of The Good Dinosaur is relatively simple. Children will be able to follow the story easily, while adults may wish for more "meat" to the journey. The overall plot is relatively predictable but it is well-done and emotional. I enjoyed seeing the characters interact in ways I was not expecting, which was the most refreshing aspect of the film. I also enjoyed seeing dinosaur's perform roles that we have as humans ,such as farming and cattle herding. It was unexpected and fun to see their interactions in this way. Despite some predictability the story has a lot of heart and a good message about finding your path, challenging yourself to be more than you are, and accepting others for who they are. The importance of family, both biological and created, plays an important role in the film as well.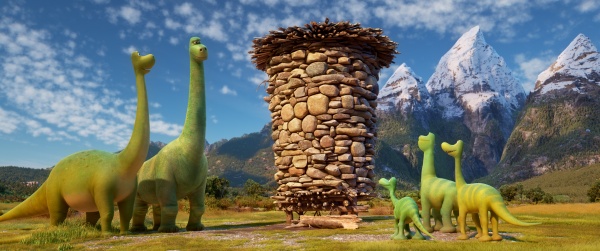 The plot has some distinctively sad and intense segments, very reminiscent of The Lion King. Young children may be scared of the more intense moments. My 6-year old son, Connor found himself reaching for my hand during the sad moments, and I caught him with his little hand covering his mouth during others. This is part of what I think I struggled with during the film. It seems to be geared towards the younger crowd with its simple plot and focus on family, but then they threw in these moments of fear and sadness that seem almost too much for the toddler set to handle. It didn't seem to take one clear path from beginning to end, almost as if it was unsure of its own identity as a film. In my opinion it is appropriate for kindergarten and up, but may be too intense for toddlers.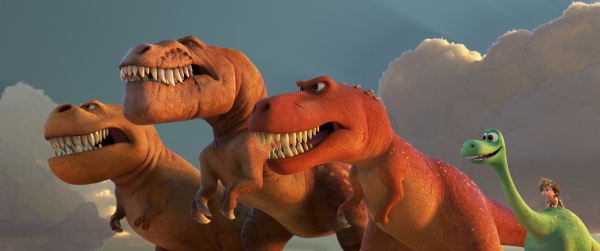 The characters in The Good Dinosaur are adorable. While Spot and Arlo are great, the T-Rex family was my overall favorite. Character development in the film was particularly strong for Arlo and his family. You feel a connection to them early on that does not waver throughout the story. I wish we were provided with more information regarding Spot and his past before meeting Arlo. His past was briefly addressed in a scene that had me watery-eyed, but I would have liked to learn more about him. The T-Rex family makes a relatively short but important appearance in the film, imparting some much needed wisdom to Arlo, and providing a voice of reason and logic to the story. Connor really enjoyed the role the T-Rex family played in the film and found them funny.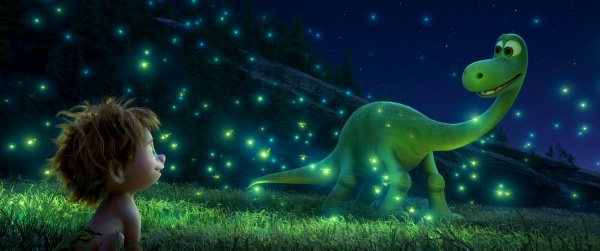 The animation on this film is outstanding. Seriously incredible. The animation of water alone is so photorealistic you truly question whether you are seeing animation or live environment layered with animation. The movement of the water is mesmerizing. Other landscapes feature the same hyper-realistic imagery and are breathtaking to view. The characters, on the other hand, are very much animated characters. Proportions are distorted, colors are bright and lines are smooth. They bear little resemblance to the more realistic human characters in Inside Out or even the more realistic animals in Up or Brave. There is a true juxtaposition between the environmental elements and the animated characters. This is what Disney's early 2000's film Dinosaur was aiming for, 20-some odd years later. It is worth seeing this film for the visual elements alone.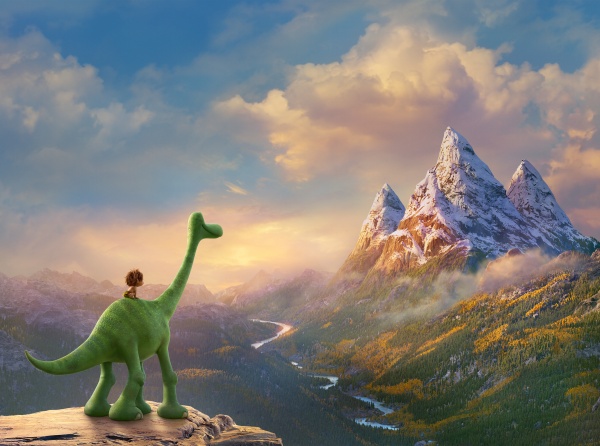 And whats a Pixar film without a short to start it off with? Sanjay's Super Team was well done, but not what I would expect from Pixar. Be prepared to discuss the Hindu religion with your children, should they ask any questions about what happened in the short. It is a sweet message, but not what I have grown to expect from Pixar. I'm not sure how I feel about the religious tone of the short film.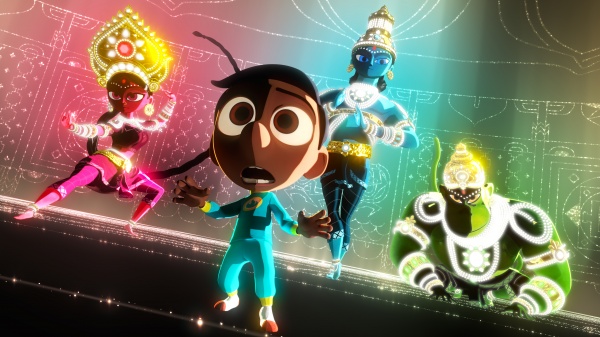 Overall, The Good Dinosaur is a cute story, but does not live up to what I have come to expect from Pixar Animation Studios. The animation itself is superb, among Pixar's best, but the story itself falls a little short. Children will like the characters, and Connor gave it a big thumbs up, but I feel that it has a very small age range to really appeal too. It will be stuck in the same lane as Cars 2, capturing kids from about 5 to 9 but not too far on either side of that marker. Plot issues aside, it is a great film for the family to catch during the holidays.