Disclosure: Disney Mamas was provided with a copy of Adventures in Babysitting to review and one to giveaway. Even though this product was provided at no cost the opinions expressed below are always our own.
Raise your hand if your kid has watched the recent Disney Channel Original Movie Adventures in Babysitting a dozen times or more! Like, on repeat. In the car. From Texas to Minnesota. And back again. Seriously, my son is a little obsessed with this movie, due in large part to the huge crush he has on Sabrina Carpenter, and also because it's a pretty darn cute film.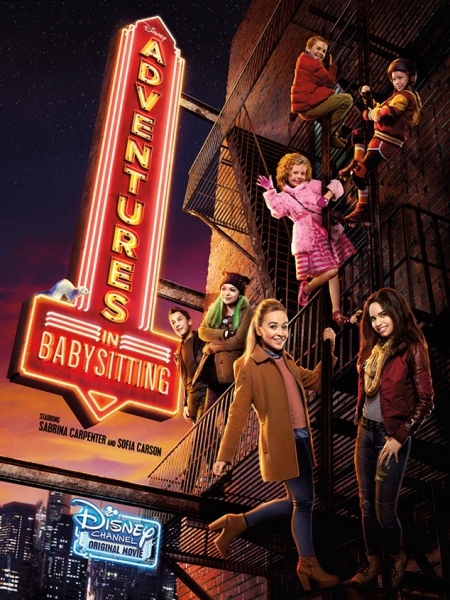 As a child of the 80's I was personally both excited and aprehensive about the release of Disney's version of Adventures in Babysitting. I understood that being a Disney Channel Original Movie it would probably be a bit tamer than the 80's classic, but I knew I was going to miss my Anthony Rapp, and wondered how far it would vere off the original. I was pleasantly surprised. I wouldn't classify the Disney version as a remake, more of a reboot; It takes the classic story but updates it for a more G/PG television audience. As far as DCOM films go, it ranks up there with The Even Stevens Movie for me, and was definitely worth watching.
The cast is led by Sabrina Carpenter (Girl Meets World) and Sofia Carson (Descendants) as babysitters Jenny and Lola. These ladies are fun to watch, and completely believable in their roles. Carpenter plays straight-laced, perfectionist Jenny, a babysitter in high demand, and Carson stars as Lola, a free-spirited artist in need of money. When a mix-up leaves Lola with Jenny's phone she agrees to take a babysitting job for a wealthy family. Cue the drama as Lola quickly realizes she is in way over her head, and enlists the help of Jenny and the children both of them are tasked in solving a crisis, all before the parents are home from their evening away.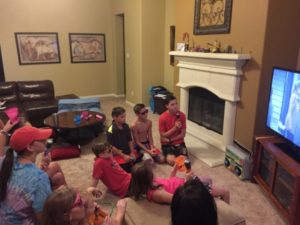 Our friends really enjoyed it as well.  The older girls liked making comparisons to the original while the younger ones were discovering it for the first time.
But the best part? I have one copy of the DVD to giveaway to one of you! Enter via the Rafflecopter link below, and good luck! You have 48 hours to enter!