For today's history blog I thought it would be fun to have a scavenger hunt. I've located Christmas scenes in classic Disney movies – not specifically Christmas movies or specials.
I'll start with The Adventures of Ichabod and Mr. Toad, in which we see Toad swinging from a Christmas Tree.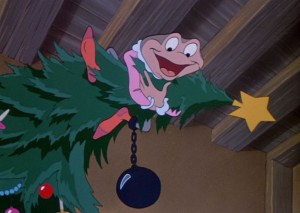 Next we have Peter teaching the Darling children how to fly in Peter Pan. Peter instructs the kids to "think of a wonderful thought," and they return with, "Like toys at Christmas? Sleight bells? Snow?"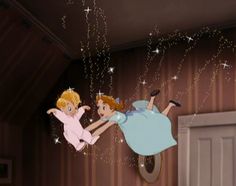 Lady and the Tramp has two unique Christmas scenes – the opening and the closing shots. Darling receives Lady for Christmas at the beginning of the film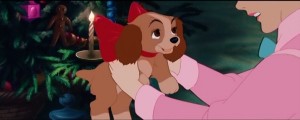 and then we see the pets and baby around the tree the next year as the story closes.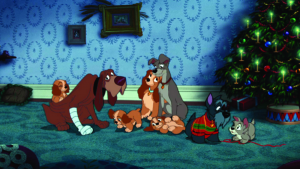 In 101 Dalmatians, the Radcliffes wait anxiously for their pets to come home, but as Anita continues decorates for the holidays they hear dogs barking – and then they receive the best present ever when their beloved dogs return with 84 extra puppies.
At the end of Toy Story, the toys listen attentively for the announcement of Andy and Molly's new Christmas gifts. Mr. Potato Head is quite happy to hear the receipt of a Mrs. Potato Head. But all the toys become concerned when they hear there's a new puppy.

Once life returns to "normal" for Lilo & Stitch's Lilo and Nani, we see them celebrate life at the end of the film: birthday, Halloween, Christmas….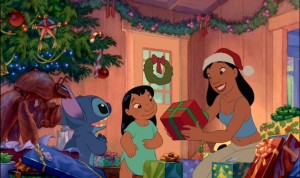 I find it was sad that the Narnians are cursed with "always winter and never Christmas" in The Lion, The Witch and The Wardrobe; but the curse begins to melt with the arrival of the Pevensie children witch allows Father Christmas to appear with gifts for everyone.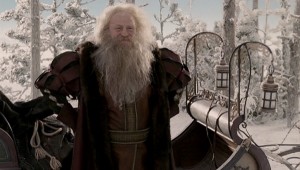 And the last image I could think of is in Wall-e. Wall-e's home is adorned with string lights, but the scene in which he embellishes Eve with a larger bulbed, colored set is simply sweet.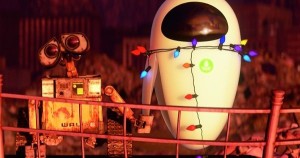 Now it's your turn. Please comment with other Christmas or Hanukkah (I could only think of Isabella in Phineas & Ferb who celebrates Hanukkah) scenes that have been included in Disney films. Remember, it can't be a Christmas special!
Have a wonderful holiday season and I'll see ya' next year with more Timekeeper Trivia!!