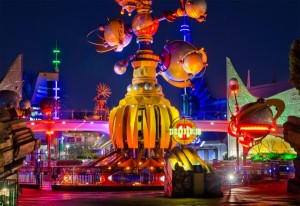 "A vista into a world of wondrous ideas, signifying man's achievements…a step into the future, with predictions of constructive things to come. Tomorrow offers new frontiers in science, adventure, and ideals: the Atomic Age…the challenge of outer space…and the hop for a peaceful and unified world."
Tomorrowland has been refreshed with two major renovations since its opening. The first was in 1967 when a pavilion was removed and the footprint of the land expanded. In 1998, "New Tomorrowland" debuted in retro-future shades of bronze, blues and greens – similar to Discoveryland at Disneyland Paris. This was to be an homage to Jules Verne and H. G. Wells, but Disneyland enthusiasts didn't care for it, so the white, blue, and silver color palette returned.
Here are the attractions as we enter the park from the Hub and walk around counter-clockwise:
Astro Orbiter (1998-Preset), Rocket Jets (1967-1997) (moved to over the PeopleMover), Astro Jets (1956-1967), World Clock (1955-1966)
Murals: North: Buzz Lightyear Space Theme (2005-Present) "New Tomorrowland" (1997-2005), South: Star Tours (1986-Present). These replaced "The Spirit of Creative Energies among Children" by Mary Blair (1967-1986/1997) (Sections of the Blair murals are covered in the new facades.)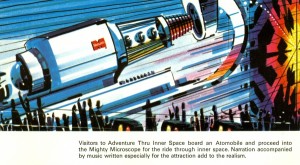 Star Tours: The Adventure Continues (2011-Present), Star Tours (1986-2010), Adventures Through Inner Space (1967-1986)
Space Mountain (1977-present): Return to white paint (2003-Present), Retro-future Scheme (1998-2003), Soundtrack & light show added in 1998
Magic Eye Theater: EO 2.0: A Classic Revamped (2010-Present), Honey, I Shrunk the Audience (1998-2009), Captain EO (1986-1997), Magic Journeys (1984-1986), Flying Saucers (1961-1966)
Redd Rockett's Pizza Port (1998-Present), Mission to Mars (1975-1992), Flight to the Moon (1969-1972), Rocket to the Moon (1955–1966)
Innoventions (1998-Present), America Sings (lower level) & Super Speed Tunnel/World of TRON (upper level) (1974-1998), Carousel of Progress (1967-1973)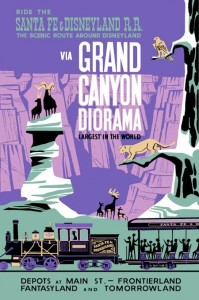 Tomorrowland Station (1958-Present) featuring the Grand Canyon Diorama (1958-Present) and Primeval World (1966-Present)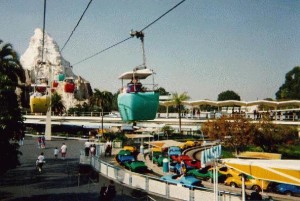 Skyway to Fantasyland (1956-1994)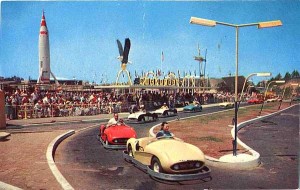 Autopia (1955-Present): Rails were added in 1965. The current track combines the sites of three older tracks.
Tomorrowland Terrace Stage (ascending/descending bandshell) (1967-Present) Topper changes through the years: Retro-original (2006), Club Buzz (2001), "New Tomorrowland" (1998), Coca-Cola (1996), 40th Anniversary (1995), 35th Anniversary (1990), Mid-century Modern by Rolly Crump (1967)
Finding Nemo Submarine Voyage (2007-Present), Submarine Voyage (1959-1998), Phantom Boats (1956), Tomorrowland Boats (1955)
Disneyland Monorail cars: Mark VII (2009-Present), Mark V (1987-2009), Mark III (1968-1987), Mark II (1961-1968) extended rail to Disneyland Hotel, Mark I (1959-1961)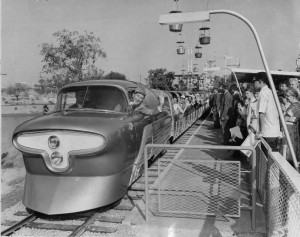 Tomorrowland Viewliner (1957-1958)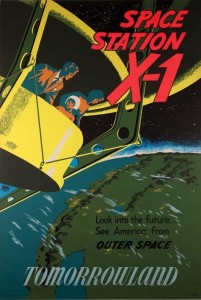 Satellite View of America (1958-1960), Space Station X-1 (1955-1958)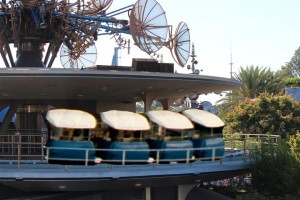 Rocket Rods (1998-2001) sporadically, PeopleMover (1967-1995)
Buzz Lightyear Astro Blaster (2005-Present), Rocket Rods queue (1998-2001), Circarama films (1955-1984)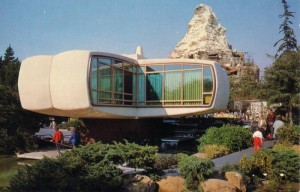 Pixie Hollow (2008-Present), Triton's Gardens (1996-2008), Alpine Gardens (1967-1996), Monsanto House of the Future (1957-1967)
Other Tomorrowland Exhibits Included:
Fashions and Fabrics Through the Ages (1965-1966)
20,000 Leagues Under the Sea (1955-1966)
Thimble Drome Flight Circle (1955-1966)
Hobbyland (1955-1966)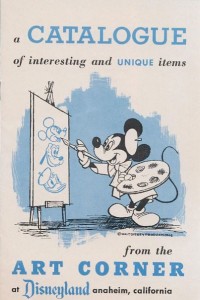 Art Corner (1955-1966)
Monsanto Hall of Chemistry (1955-1966)
Dutch Boy Color Gallery (1955-1963)
Aluminum Hall of Fame (1955-1960)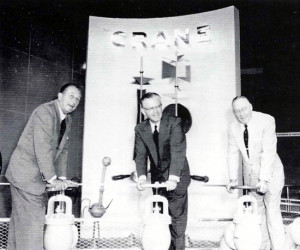 Crane Bathroom of Tomorrow (1955-1960)
The World Beneath Us by Richfield Oil Co (1955-1960)