I have this goal…I want to stay at every resort on Walt Disney World property, and I would like to do it in a relatively quick fashion. Generally speaking, we would stay at a different resort each year, but a few years ago I found a resort that I love, and since then we have stayed there three additional times.  Disney's Port Orleans French Quarter Resort has found it's way into our hearts.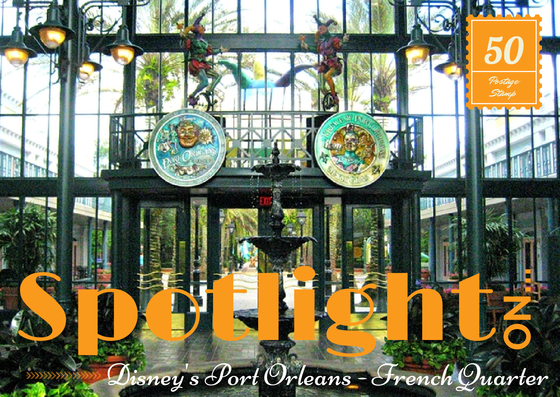 I don't quite know what it is about Disney's Port Orleans French Quarter Resort that I am so drawn too. Perhaps it is the size of the resort, it is much smaller than all of the other Disney Resorts with just over 1000 guest rooms (half the size of Disney's other Moderate Category Resorts). This makes it feel quite intimate, and removed from the hustle and bustle of the theme park world. Perhaps it is the property itself, with its cream, and green coloring, wrought iron details, and gorgeous grounds. Maybe its the proximity to Disney's Downtown area; you can take a relaxing boat ride down the Sassagoula River straight to the Marketplace. The overall atmosphere is wonderful too; the resort has a sort of old world romance about it with plenty of tucked away places and grounds to stroll through. I don't know exactly what it is, but there is just something charming about this resort.
In total I have stayed at Port Orleans French Quarter for the four times; more than any other Disney Resort. The first time was with a girlfriend for a friend's wedding in 2008, the second was in 2009 over the 4th of July with just me and my husband on our "babymoon", my third trip was our son's first Disney vacation at 13 months in 2010, and the last time was with a group of 26 high school theatre students and several chaperone's on our Disney Performing Arts trip in 2011.  No trip for the same reason, no trip with the same traveling party, but I know this resort is perfect for each traveling reason.  Since then we haven't made it back to Port Orleans French Quarter…and it's sort of breaking my heart.  and our upcoming trip will include our son.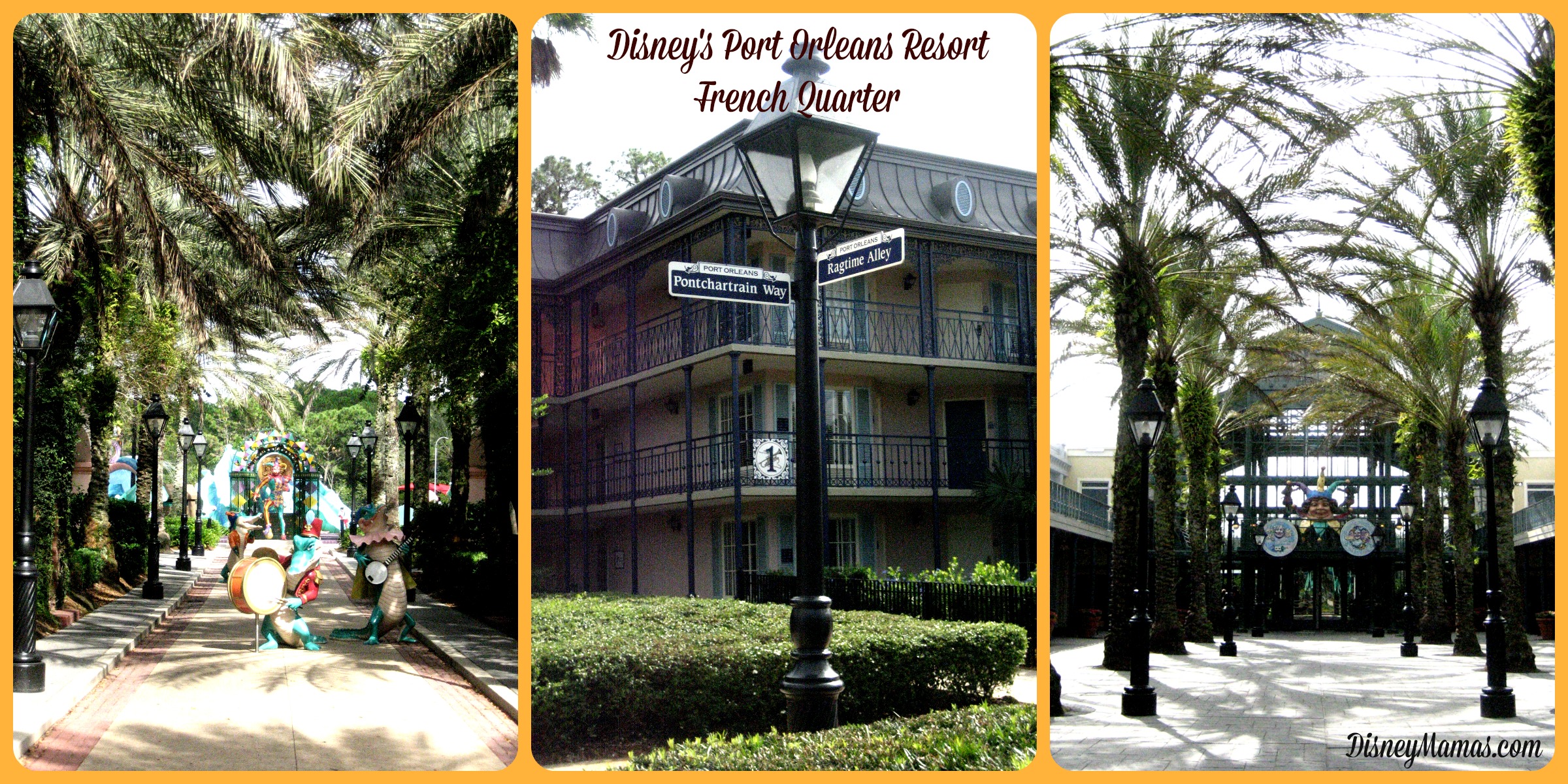 Here is a short rundown of why I think Disney's Port Orleans French Quarter is the perfect resort.
Size
I know I touched on this above, but it bears mentioning again. Of all the resorts we have visited, the size of this one is a huge bonus. You are never too far from the lobby, bus station, food court, pool, arcade, boat dock, etc. The entire resort is within comfortable walking distance, and believe me, being there at 7 months pregnant and in the dead of summer I would know! Other resorts on Disney Property are insanely huge, and while I enjoy them as well the size can make things difficult. For example, we stayed at Disney's Caribbean Beach Resort over Christmas in 2007, and while our room was supposedly near the food court building, we wound up driving our car over just to fill up our drinks. You can be on the other side of a rather large lake from the main pool, or dining areas, and while there is an internal shuttle, catching it can be next to impossible. At the end of a long day in one of the Parks, you want to be able to get to your room quickly. At Port Orleans – French Quarter you are dropped off right beside the Lobby area, the food court is in there for a quick refill, and when you exit the lobby area you are only a very quick walk to your guest room!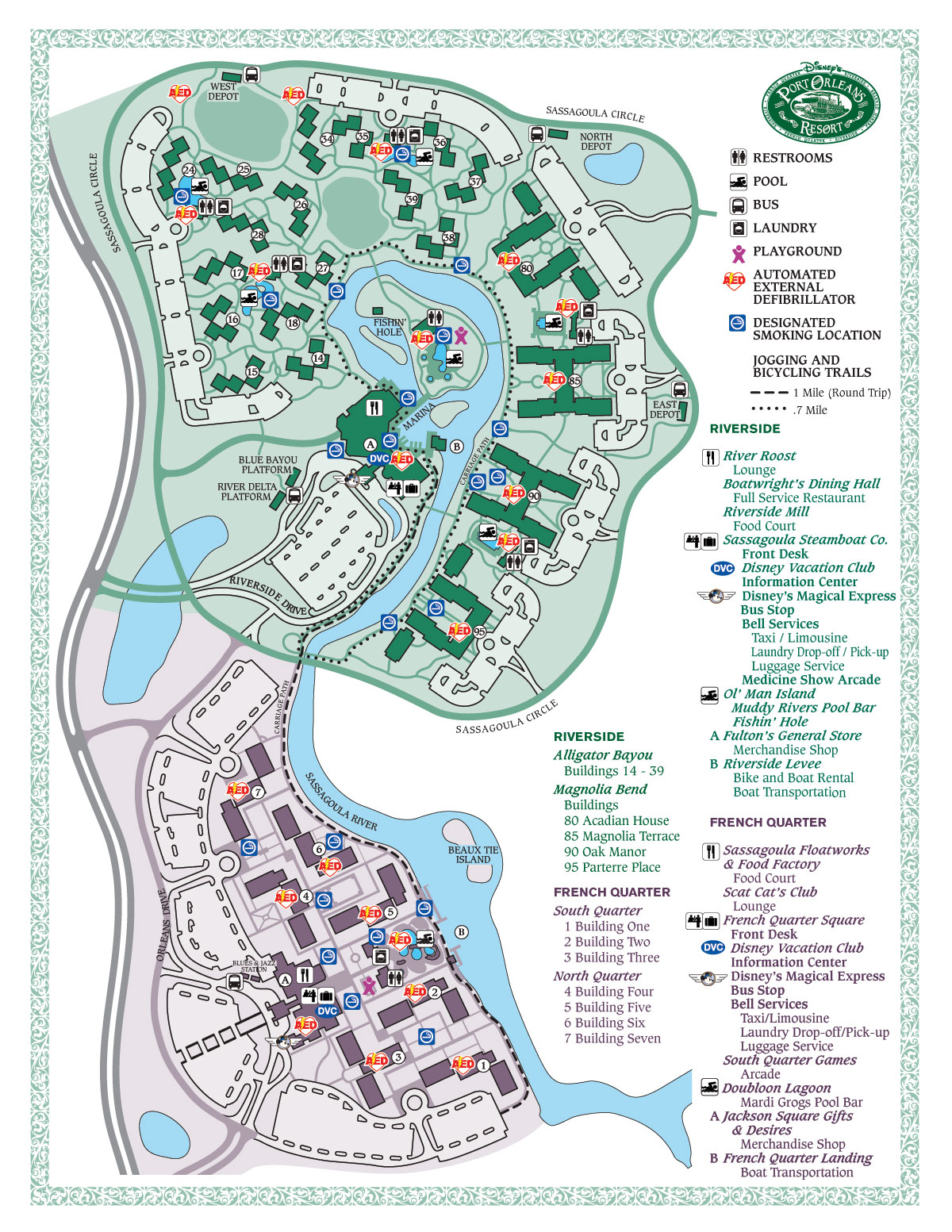 Atmosphere 
Again, I know I touched on this, but bear with me. This resort feels quiet compared to other Disney Resorts. Not creepy, where are the people quiet, but because there are fewer people it just never feels insane (this does not apply if you try to go to the food court for breakfast anytime after about 7:30AM, you are on your own then!). Even the pool area, which has a very cool slide, isn't particularly loud, and the play areas for children are a little farther from the resort buildings than at other resorts. They play some soft jazz music throughout the resort property and the resort often smells lightly of the magnolia trees planted throughout the property. This resort feels laid back and homey. You feel like you have some space to spread out and relax. The atmosphere is what I am looking for in a hotel stay.
Theming 
Styled after the historic French Quarter in New Orleans, LA, the resort buildings are surrounded by gorgeous wrought iron gates and balconies, there are numerous small fountains, cobblestone streets, "gas" lampposts, and each building features its own color scheme. With the above mentioned jazz music, the gorgeous landscaping, and the street signs featuring clever names (Jazz Alley and Rue D' Baga) you can't go wrong. The rooms interiors are simple yet elegant, with either two queen beds or a single king, dual sinks and a bathroom complete with a tub/shower combo. The colors inside the rooms are primarily deep purple and gold, with a few green accents – your basic muted take on the Mardi Gras colors. The pool area is particularly neat, and features a giant sea serpent complete with King Neptune, and an alligator jazz band. This resort still feels like Disney without being overly so. You will find hints of Disney everywhere, but it doesn't scream at you like the Value properties do. It is just a very pretty, well conceived resort.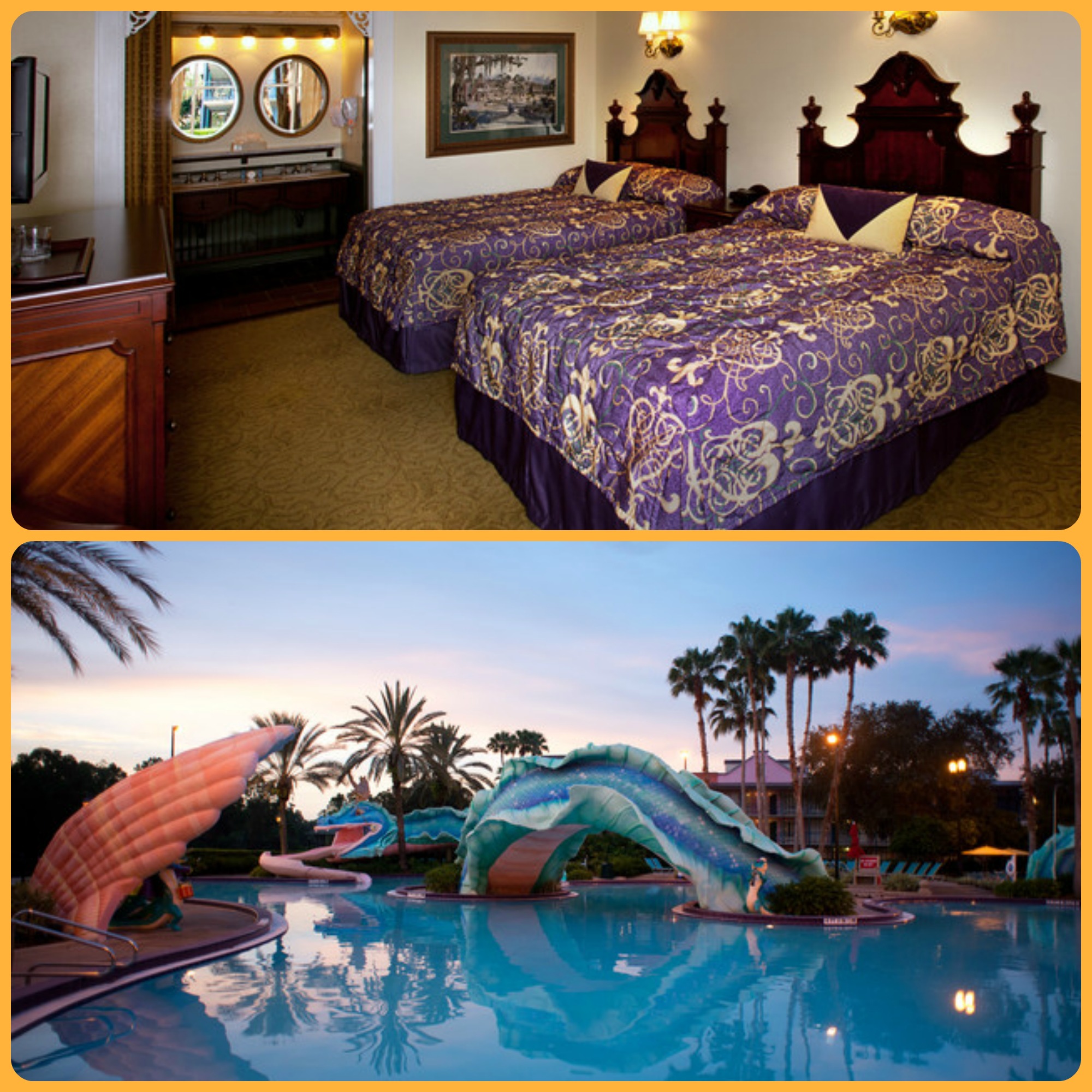 Now, I know what you're thinking…"But, Port Orleans French Quarter is never included in any of the Walt Disney World Special Offers".  And in general that is true.  In turn you have to consider that the size of this resort means that the rooms sell very well and there is never a need to discount the resort to boost sales numbers.  Plus, with fewer people at the resort there is less waiting for anything (buses, food, check-in), you are saving time in the long run!  I'll take that over a slight discount anytime.  Time at Disney is precious and there is never enough of it!
For more information on Port Orleans French Quarter please contact us at Once Upon a Time Vacations!