As a participating mom for this campaign with HP and MomSelect, I was provided with the HP Envy 5660 printer, along with ink and HP Social Media Snapshots photo paper at no cost in exchange for my review. All opinions are my own.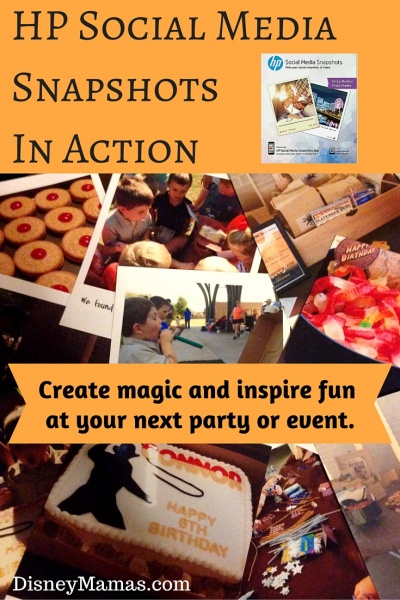 As a mom, teacher, blogger and creative I naturally love taking pictures, I love sharing my pictures on social media and displaying them around my house even more! So, when HP and MomSelect reached out looking for bloggers with upcoming events who would be willing to try out the new HP Social Media Snapshots product I quickly stepped to the plate!
The date of Connor's 6th birthday party was rapidly approaching, with an epic Indiana Jones themed adventure all planned out, and I knew his party would be the perfect place to try out the product.
HP Social Media Snapshots is a fantastic app that allows you to print pictures directly from your smart phone to any HP AirPrint enabled wireless printer; in this case, an HP Envy 5660 printer. It allows you to easily print images from your camera roll, Instagram, Facebook, Flickr or more, and you can enhance your images with text and several different frames (including a couple of Disney licensed options).
I love the sticky photo paper designed specifically for use with this app. It's like printing an old-school Polaroid that you can peel the backing off and use to decorate your space. And as a bonus if your kiddo sticks a picture somewhere you don't want they can be peeled off easily without damaging the picture or the surface (or at least that was my experience.)
At Connor's party we used the printer set-up to actively encourage parents to get involved. Guests were invited to take photos throughout the party, and then encouraged to print them out right there to take home as keepsakes. Parties are generally all about the kids, and this gave parents an incentive to enjoy the party and create something special to remember it by. I considered the idea my Parent Party Favors.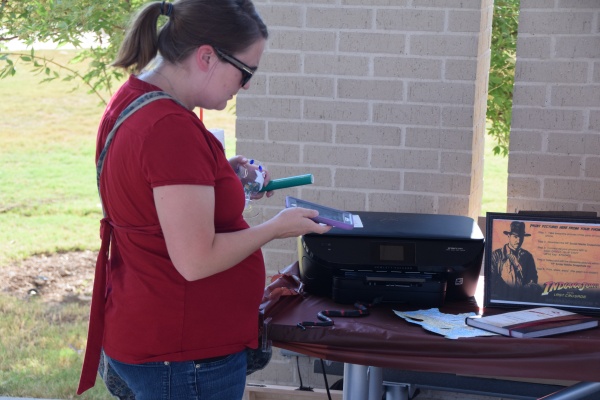 The HP Social Media Snapshot app is available through the 
Apple Store
 and 
Google Play
. Guests with IOS devices had no problem downloading, connecting and printing, but those on the Android platform had difficulty getting the app to send their images to the printer. Hopefully this is an issue that will be easily and quickly worked out.
For use at the party HP also sent me an HP Envy 5660 printer. I was thrilled when I found out that it houses its own AirPrint wireless functionality, thus allowing us to set the printer up at the park pavilion where we held the party with absolutely no problems.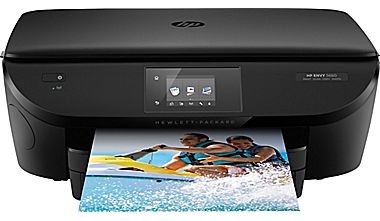 We made a sign instructing party guests how to connect wirelessly to the printer and where to find and download the HP Social Media Snapshots app. Everyone had fun printing pictures and taking home memories from the party. The printer itself prints clear and quick images. These were the kind of images you would expect from a typical one-hour photo operation, printed instantly from my phone, to a consumer printer, in a park, minutes after the image had been shot.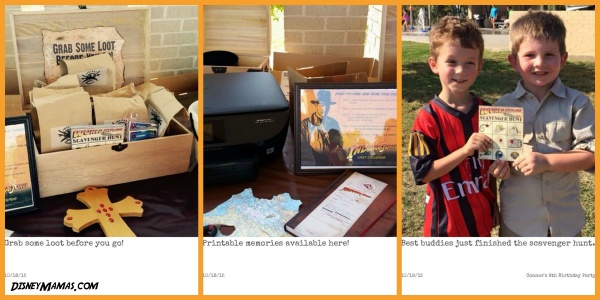 Overall I enjoyed playing around with the HP Social Media Snapshots app, but there are a few things that could easily improve the app's performance.
First, there are no built-in editing features for color adjustments. If I'm printing an image from Instagram this is no big deal, but I don't typically edit images in my camera roll. If there were some filters or color adjustment functions built i to the app I could print quicker without having to go to the camera roll and edit the images first.
Second, the text function is pretty basic. You are not able to center the text in the text box unless you use the space bar, and you are unable to change fonts or the font size. Each frame template has a preselected font and that's what you have to work with.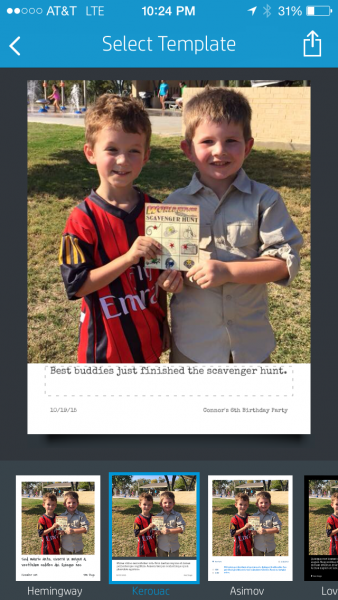 Those are the only two issues I had with the app, and neither are major at all.  Just a couple of simple things that HP could do to improve the app's functionality overall. Strangely, if you look at the screenshots in iTunes it appears that these are possible, but when I downloaded the app they are not, so perhaps they are in the works?
You can pick up your own HP Envy 5660 and HP Social Media Snapshots Photo Paper at your local Staples location. The paper runs $9.95 for a box containing 25 sticky-backed 4×6 sheets, and are BOGO free from now through October 31st, 2015 with the following coupon: HP Social Media Snapshots Photo Paper BOGO Coupon – Exclusively from Staples. That's a great deal. The HP Envy 5660 printer retails for $149.99.
HP would love to see what you are doing with the HP Social Media Snapshots app and Sticky Photo Paper. Post your pictures on social media using hashtag #StickAPic and be sure to tag @Staples. I can't wait to see what you're creating and sharing!