Disclosure: Disney Mamas was provided with a copy of Sofia the First: The Enchanted Feast to review and one to giveaway.  Even though this product was provided at no cost the opinions expressed below are always our own.  
If you have a little Princess in your house, chances are you are very familiar with Sofia the First!  Here in our house, we have been fans since the very first episode (even my 9 year old son sings along to the theme song) and have it set up on the DVR so we never miss a new one.  For those of you new to the world of Enchancia and Sofia the First, the show is about a little girl whose mom marries the local king, making her a Princess.  Because she wasn't raised as royalty, she is always learning how to be a good princess as well as sharing her more modest experiences and knowledge with her step brother and sister so that they can make better choices.  Many, but not all episodes, feature a classic Disney Princess who helps Sofia see the solution to whatever dilemma she finds herself in, and The Enchanted Feast is no exception.
In The Enchanted Feast Sofia's instincts keep warning her that the Royal Family's guest, Sascha the Sorceress, is up to no good but no one will listen.  When Sascha, who is really the evil fairy Miss Nettle, locks the Royal Family in the dining room, it is up to Sofia to save them.  With help from her furry friend Clarence the Rabbit and the one and only Snow White, Sofia discovers Sascha's true identity and recruits Cedric, the Royal Sorcerer to help catch the evil fairy and free her family.  Keep on reading to find out how you can win a copy for yourself.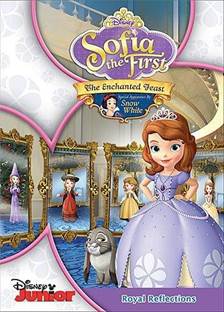 Synopsis: There's more than meets the eye when you join SOFIA THE FIRST for a royally scrumptious adventure! All the monarchs from Enchancia's neighboring kingdoms have come to watch a dazzling display of magic: First, Cedric will conjure up a fabulous feast. Next, he'll transform the banquet room into a hall of amazing "morpho-mirrors." But before the fun begins, wicked Miss Nettle (disguised as "Sascha The Sorceress") crashes the party with a scheme to steal Sofia's magical amulet. Can Sofia foil the bad fairy's plan before it's too late? Perhaps…with help from Snow White, who reminds her it's important to trust your instincts. Sparkling with music and excitement — plus four more spellbinding episodes — THE ENCHANTED FEAST may be the fairest of them all!
In addition to The Enchanted Feast featured episode, this DVD also includes four additional Sofia the First episodes.
The Buttercups
Tea for Too Many
Great Aunt-Venture
Two Princesses and a Baby
Also included in this DVD release is a very princess-y Enchanted Hand Mirror…in purple, of course!
Giveaway Details:
One lucky winner will receive a copy of Sofia the First: The Enchanted Feast on DVD.
You can enter up to two times per person via different entry methods mentioned above. This giveaway will end August 13, 2014 at 12:00 AM PST.
The giveaway is open to residents of the Continental United States only, ages 18 years old and up.
Once all entries are verified to be in compliance with the terms of the giveaway, the winner will be drawn by Rafflecopter.  The lucky winner will be notified by email, and announced right here on Disney Mamas, so be sure to check back to see if you have won!  Make sure that you provide a valid email address that you check regularly.  The winner will have 48 hours to claim their prize via email.