Welcome to those of you joining me from Disney with Babies, Toddlers and Preschoolers and those of you just hopping aboard, I am the second stop aboard Magical Blogorail Orange. This month we are talking about Disney Cruise Line excursions! I'll be sharing my review of the Nautilus Undersea Tour on Grand Cayman.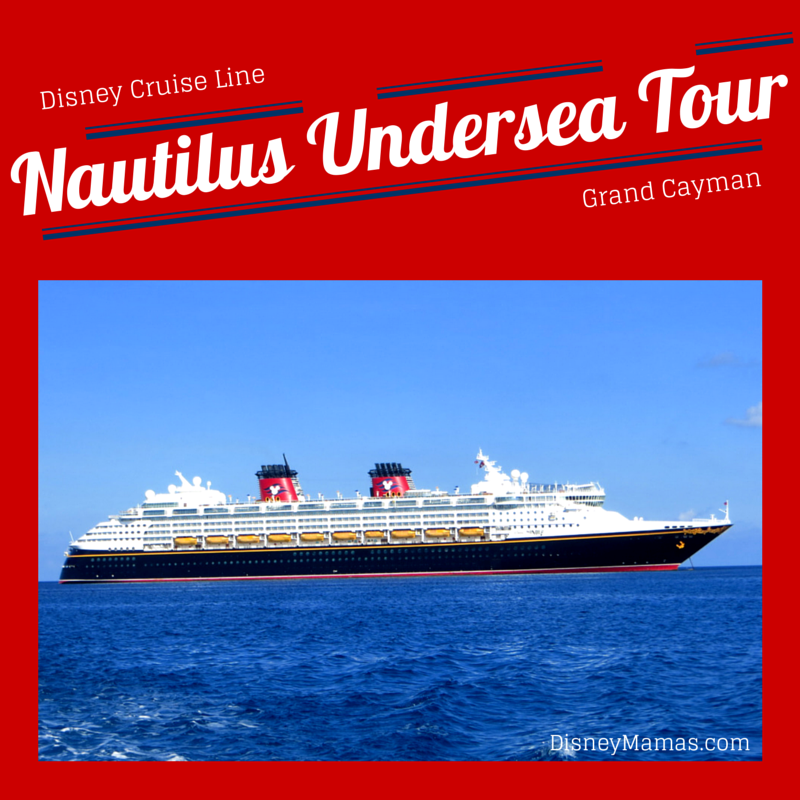 Last year we were able to take our son Connor, then 4 years old, on his first Disney Cruise, sailing out of Galveston, Texas. When we asked him if there as anything in particular he wanted to do during the cruise he didn't even have to pause to think. All the kid wanted to do was go in a submarine and see a shipwreck. So, my very fast excursion research began. I was thrilled to find that there are two different submarine style excursions offered on Grand Cayman: the Atlantis Submarine Expedition and the Nautilus Undersea Tour.
I found that there was not a lot of information about either excursion available for review on any website or blog, so I made do with the little information I was able to obtain and the descriptions provided by Disney Cruise Line. We settled on the Nautilus Undersea Tour for a couple of reasons. Most importantly, it specifically mentions shipwrecks in the excursion description which was the most important part of the excursion to Connor. Secondly, the Nautilus is a semi-submarine as opposed to the Atlantis which is fully submerged. If Connor were a tad older we would have been more inclined to take the Atlantis, but I wasn't 100% sure how he would react to the ocean yet, and felt more at ease only being most of the way under water. It didn't hurt that the Nautilus Undersea Tour was less than half the price of the Atlantic Submarine Expedition either.
The morning of our tour was bright and lovely, and Connor was beyond excited as he awaited our tender to shore. He could not stop telling the people around us that he was going to go on a real-life submarine. His excitement at the thought of being in a submarine and seeing real shipwrecks was contagious and people began engaging him in conversation, much to his delight. There is not a shy bone in his body.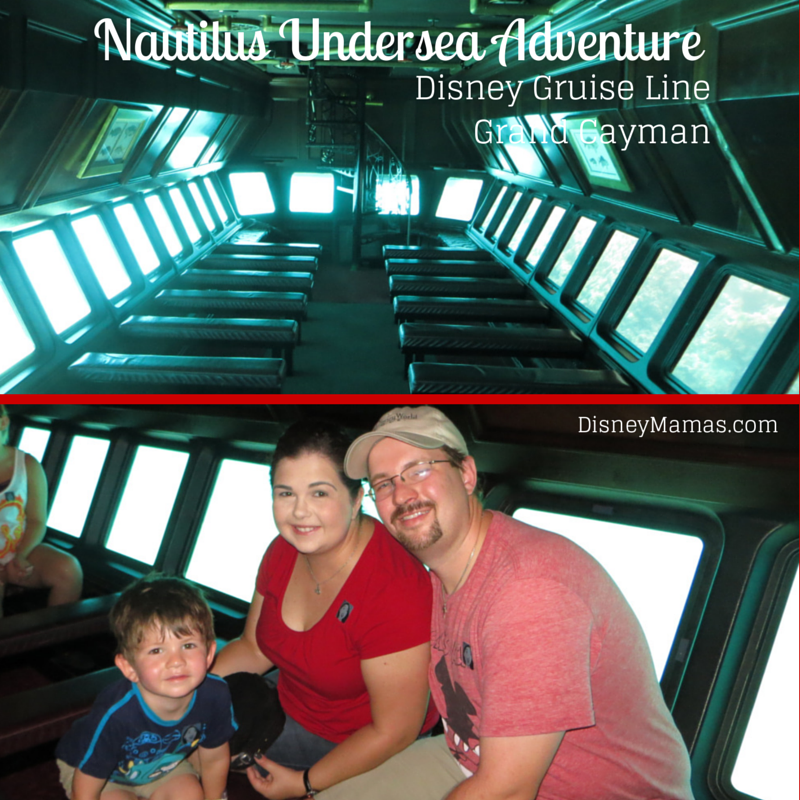 Once we boarded our tender ship to shore it was a short ride to port, and then a short ride to the Nautilus, which was docked at a small restaurant. The van that transported us was air-conditioned and fairly clean, and the drive friendly. We've been on other excursions when the ride to the destination was terrifying, so this is definitely worth noting. Upon arrival we waited only a few minutes for the Nautilus to come to port and drop off its first load of passengers before boarding ourselves.
The interior of the sub was quite nice. In reality it reminded me of the interior of the old Nautilus submarines from 20,000 Leagues Under the Sea at Walt Disney World, though those subs had single seats rather than benches. Boarding the sub and descending into the lower level would be difficult for those that are mobility challenged, and is not available to those wishing to use a wheelchair or ECV. Particularly, the descent into the lower part of the ship is a narrow, iron spiral staircase. This Nautilus was done up in dark wood and brass, with benches that could accommodate 2-3 people each and large picture windows all around for easy viewing. There was a cooler of bottled water for those that wished for a drink. There is no bathroom on-board, so be sure to use the restaurant facilities prior to boarding.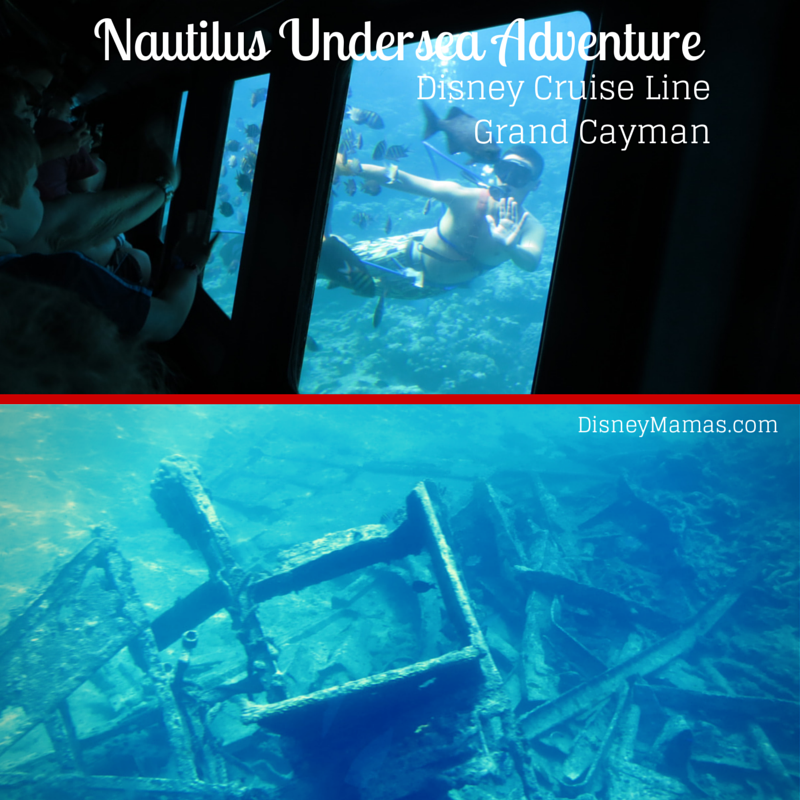 Our guide was fantastic, giving us the details behind the two shipwrecks and pointing out other interesting sea life and "tire gardens". The driver would periodically stop the boat and get out to feed the fish. The children, Connor, included would go crazy as the fish swirled all around the sub eager for a bite to eat. There were some very interesting fish, and some very plain ones. We even saw a few giant sea turtles. Much to Connor's dismay there were no sharks. 🙂
The tour lasted right at an hour, and was just right in length. We really enjoyed ourselves! We were sad, however, to return to shore and find that there are no Nautilus souvenirs available for purchase. Connor was a bit desperate for a toy submarine, and we spend the next couple of hours hunting aimlessly through Grand Cayman in search of one. In case you're curious, there are none to be found anywhere. But, despite our failed attempt to obtain a toy submarine we had a great time wandering through the streets and looking in shops before heading back to the Wonder for a late lunch and a swim!
A few details:
The Nautilus Undersea Tour costs $45 per adult, and $35 per child, ages 0-9.
All excursions taking place on a ship or boat require infants to pay per governmental regulations
Gratuities are not required, however they are greatly appreciated by the driver and guide. Make sure to bring some cash along.
There is a second Nautilus Undersea Tour that includes a reef snorkeling portion.
There was plenty of time to shop around the island once our excursion was completed.
Thanks again for joining me today! Your next stop on the Magical Blogorail loop is Adventures in the Great Wide Somewhere!
Her is the map of our Magical Blogorail should you happen to have to make a stop along the way and want to re-board: