I have a goal for the New Year; I am going to cook my way through the Disney Parks & Resorts.  I have a love of Disney (obviously), I have a love of recipes, and I have a love of cooking and baking, so I figured this was a natural extension and a great topic for a blog series.  I guess it's a bit Julie & Julia of me, but what the heck!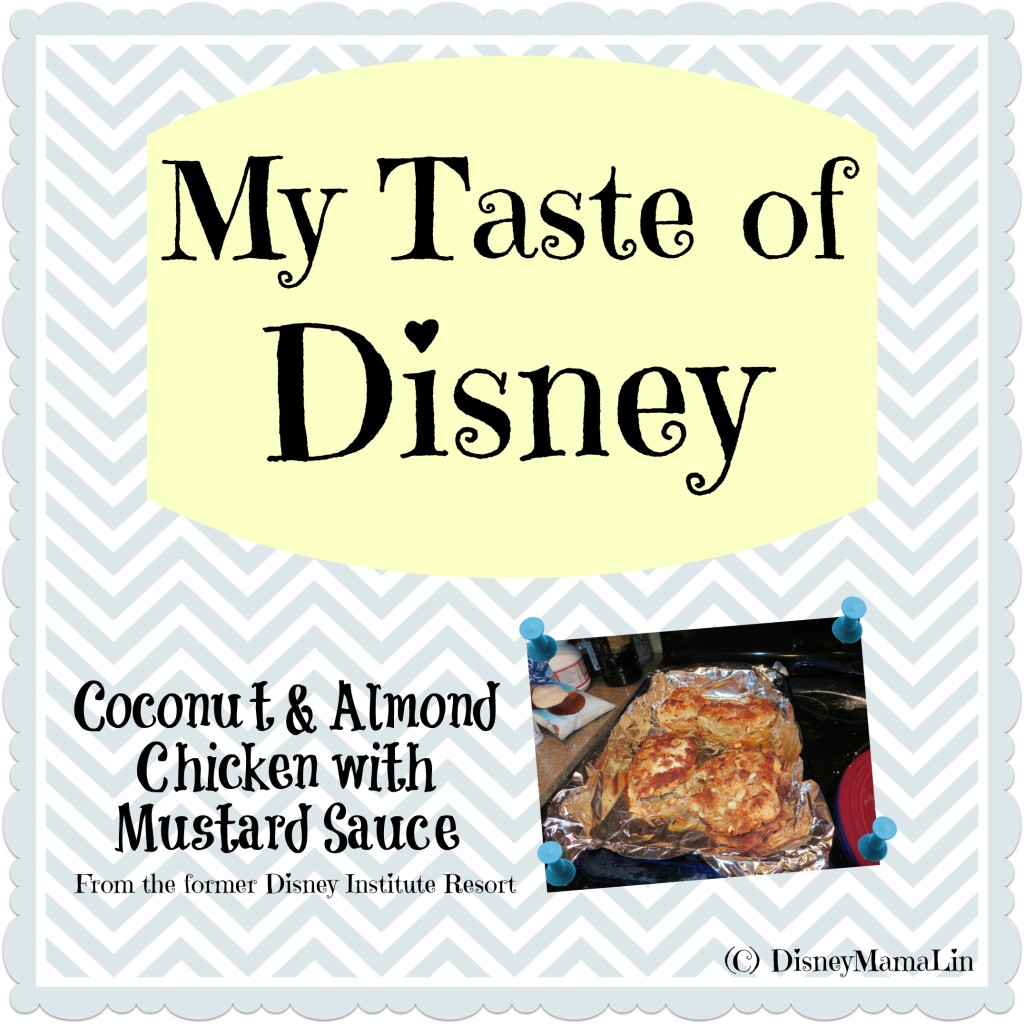 I thought I'd let my husband choose the first recipe, so I handed him my Cooking with the Disney Chefs cookbooks and he chose Coconut and Almond Chicken with Mustard Sauce from the Disney Institute Resort.  It seemed like a simple enough recipe for a weeknight, and the ingredients were things I already had on hand.
(Don't know what the Disney Institute Resort is?  Now Saratoga Springs Resort, the Disney Institute Resort was resort lodging for individuals participating in Disney Institute courses in the mid-1980's and 1990's.)
This is a simple chicken recipe, where the chicken is dredged, pan fried and then baked the rest of the way in the oven.  It was simple and delicious, and I'm telling myself that it was relatively healthy.
Ingredients for Chicken:
1/2 cup all-purpose flour
2 eggs, lightly beaten
1/2 cup plain breadcrumbs
1/3 cup shredded coconut
1/4 cup sliced almonds
4 chicken breasts, boneless & skinless.  Roughly 4oz each.
Oil for frying (I estimated that I used 4 tablespoons of coconut oil)
The chicken is dredged first through flour, then egg, and then the mixture of breadcrumbs, shredded coconut and sliced almond.
Once it is nicely coated I pan-fried it in a little bit of coconut oil, about 2 minutes on each side, until the top and bottom were a nice golden brown.  The recipe calls for vegetable oil, but I opted for a healthier alternative.
Then it finishes up in the oven, baking in a foil-lined 13×9 inch pan at 350 degrees for 15-20 minutes, or until completely cooked.
While the chicken was cooking I whipped up the mustard sauce.
Ingredients for Mustard Sauce:
2 tablespoons butter
2 tablespoons all-purpose flour
1 1/2 cups chicken stock
2 tablespoons heavy cream
4 teaspoons whole-grain mustard
salt and pepper to taste
The sauce starts with a simple roux (butter and flour whisked together until creamy).  Once nice and combined whisk in the chicken stock, and simmer for 10 minutes or so.  Then add the cream, and simmer another two minutes.
Remove the sauce mixture from heat and whisk in the stone ground mustard.
This sauce smells divine.  I would have eaten it on almost anything.
About the time the sauce is finished the chicken should be coming out of the oven.
Serve up the chicken breasts, top with the mustard sauce and serve with a veggie of your choice!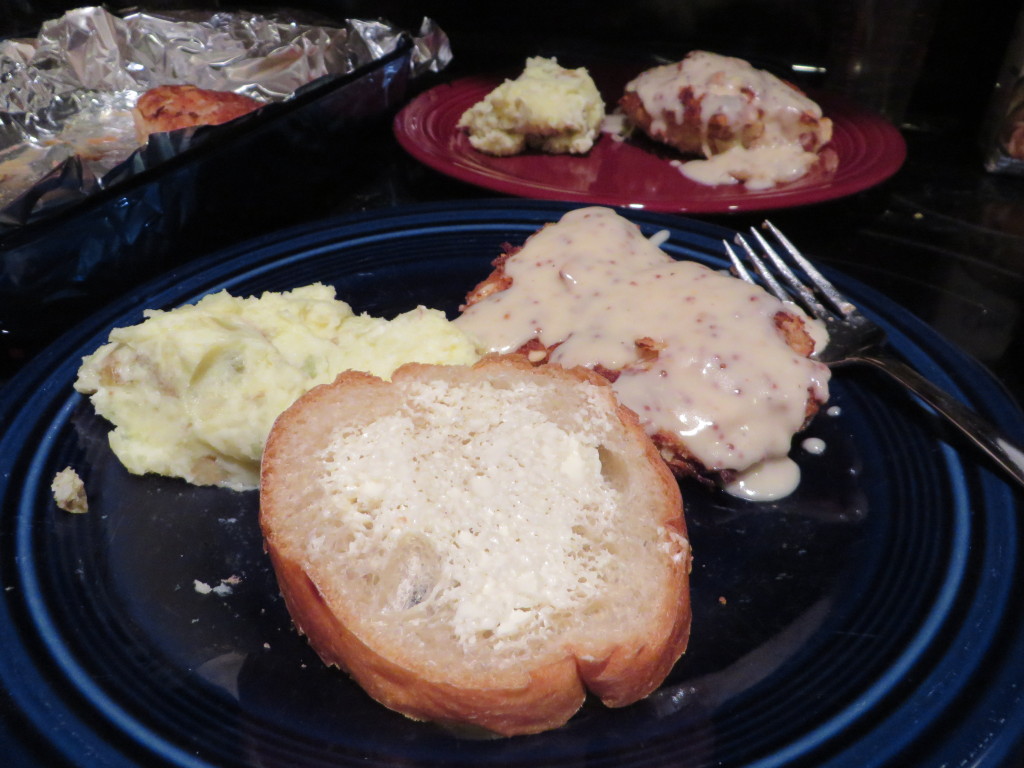 The chicken was nice and juicy, the pan-frying process really locked in the flavors of the coconut and almonds, and the mustard sauce was the perfect condiment.  The mustard sauce was more sweet than tangy.  Even our son, who does not usually eat mustard enjoyed it, and asked for a second round.
Both my husband and my son (who is 4, and by definition a picky eater) absolutely loved this dish.  My son exclaimed that we should have it every night.  I think that would be a bit of a stretch, but I will definitely be putting it in our dinner rotation.
Total time from prep to plate was less than 45 minutes, very manageable for our hectic weeknight schedule.
Now to decide what to make next week.  Any ideas?
Overall Disney Mama's Rating:
Ease of Preparation: Simple, quick and using ingredients that are easy to come by.  This is my kind of recipe!

Child Friendliness: The flavor of this dish is quite enticing for little ones, with the coconut gives it just a hint of sweetness.  I didn't tell my son that it was a mustard sauce, and instead called it a cream sauce, and he clearly didn't think twice about eating it.
Parent Friendliness: This dish was seriously delicious.  Any time I can find a recipe that my husband and I truly enjoy and that our son will still happily we consider it a success.  And this was by far one of the best recipes we have come across.
Value: Since most of the ingredients are pantry staples the value of this recipe is quite high; no need to make a special trip to the grocery store, or hunt for an obscure or expensive ingredient here.  Additionally, it is very filling, so simply pairing it with a single vegetable side works well.
Just a little tip:  If you want to purchase a copy of the cookbook, which I highly recommend, you can call the Walt Disney World Merchandising Line and do so over the phone.  The price for the print edition on Amazon is ridiculous.  You can reach them toll free at 877-560-6477.
Footnote:  There is a second Coconut and Almond Chicken recipe through Disney, this one from Kona Café at the Polynesian.  They are not the same recipe in the least.