A perfectly packed bag for the parks helps to make a perfect day in the parks.  I am always asked what do I prefer to take in the parks a diaper bag, cross body bags, hip pouch, or a back pack.  To be honest, it really depends on if you are traveling with children or not.  I personally don't like a hip pouch because it is harder to ride the rides with it across your waist.  I do prefer to pack a backpack and a small cross-body wallet purse.  I feel a backpack is a carry all bag that is more comfortable for your back, easier to carry, and large enough to carry all your needs.  I do carry separate cross-body wallet purse by Baggalini.
My Baggalini bag holds, all of our Keys to the World, photo id, credit cards (for just in case), cash, my phone, and gum (because you can't buy any gum in the parks).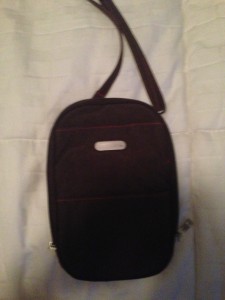 Being a mom, I always try to find ways to save money, especially before we go on vacations.  I have found many of the items that I need in the parks at Walmart, Target, and even the Dollar Store.  Poncho's are key essential items in the parks for those Florida pop up rain showers.  In the parks they can cost around $10, but I usually buy mine at the Dollar Store for $1 each and cut them to size for the kids before we leave.  I also have found the glow sticks, necklaces, bracelets, crowns, wands, and swords at the Dollar Store for $1 (most packs contain 1-6 items each).  These are great things to have for your kids while waiting for the parades, fireworks and evening shows.  I also usually pre-purchase our spray bottle fan.  We have purchased ours in the park for about $10 each.  But you can purchase them at Bed Bath and Beyond for $9.99 and use a 20% off coupon.
My backpack is like the hub of all things necessary for my family!  Of course you can purchase extra or forgotten items in the park, but I am mom of 3 kids and I feel I must be prepared.  Before I leave for our vacation in Walt Disney World/Disneyland I prepare a packing list. I use this list to make sure I don't forget items at home and also when I am in the hotel to make sure we are prepared for the day.  I essentially combine my backpack with my diaper bag for an easy carry all.  Here is a list of must have items and I have put an asterisk by the items featured in the photo.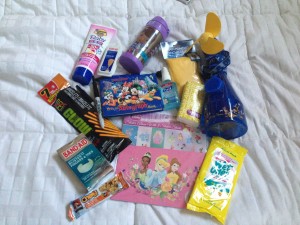 Baby Wipes (No matter the age they are always handy to clean up all messes.)
Diapers and Pull-Ups if needed
Changing Pad
Sunglasses and Hats
Extra change of clothes and flip flops (I prefer to pack flip flops to change my kids shoes before water rides.)
Towel (To dry off my kids after water rides, splash pad areas, and cover hot and uncomfortable park rental strollers.)
Hand Sanitizer *
Wet Ones (To clean up those sticky spots on the tables and fast wipe downs.) *
Charged Cell Phone
Camera and Video Camera with extra memory card
Autograph Books *
Sharpie Clickable Pens (The thin point pen is great for all character autographs) *
Band-Aids and Special Blister Band-Aids *
Water Bottles/juice box/capri sun (Especially in Animal Kingdom, no cups have straws or lids)
Sunscreen *
Snacks and bottled water (Yes you can buy them some in the parks, but my kids get hungry in line and just during odd times during the day.) *
Poncho's *
Spray Bottle Fans *