I am a superhero/comic fan by marriage.  Prior to meeting my husband my idea of a superhero was Adam West's Batman and Archie, Richie Rich, Casper and, of course, Walt Disney were the only comics I was interested in but all of that changed 12 years ago.  Now I can hold my own with most Comic Con attendee much to the amazement of my son's friends, so when given the opportunity to attend a screening of Guardians of the Galaxy, I jumped on it.  Not only is it THE movie my husband and son have talked about incessantly this summer, but it is the latest Marvel movie in the Avenger Universe and I couldn't wait to start the speculation on how it will dove-tail in the upcoming Avengers 2: Age of Ultron movie due out next year and it didn't disappoint.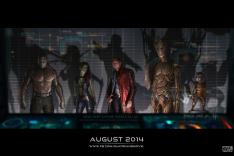 Guardians of the Galaxy is about 5 renegades from different worlds forced to work together to keep one of the Infinity Stones (an orb that is capable of destroying the universe) out of the hands of the evil Ronan.  Star-Lord (aka Peter Quill), a human who roams the galaxy scavenging for relics to sell to the highest bidder is the defacto leader of the group.  The remaining team consists of Gamora, an assassin sent to retrieve the orb from Peter, Drax the Destroyer, a warrior seeking revenge for his family killed by Ronan, and the unlikely duo of Rocket Raccoon, a devilishly wicked bounty hunter and Groot, a tree-like being who can only say 3 words…"I am Groot".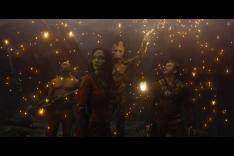 If you haven't heard of Guardians of the Galaxy, youare not alone.  Although it has a loyal cult following, Guardians of the Galaxy is not a mainstream title…at least not along the lines of Iron Man or the Avengers.  However, just because you may not have heard of it before doesn't mean you shouldn't see it.   Guardians of the Galaxy is one of those movies that you don't have to be a fan of the story, Marvel or space aliens to enjoy.   The movie begins with what I believe to be, although probably unattended, nod to classic Disney films but lightens up significantly from there.  As a child of the 80's I loved all the references to the decade and found myself dancing in my seat to the soundtrack.   The 3-D effects can seem a little gimmicky but that is truly the only knock I have on the movie itself.  It is warm, funny, and engaging all at the same time.  You find yourself cheering for this unlikely team to succeed, not just to save the galaxy but because you really want to see them together again!  Chris Pratt does a great job as Peter Quill but Rocket Raccoon (Bradley Cooper) and Groot (Vin Diesel) truly steal the show.  Rocket Racoon's CGI is so well done you find yourself totally believing that he is truly a living talking raccoon.  And although Groot has an extremely limited vocabulary, that doesn't stop him from expressing pure emotion which is amazing to watch.  If there is only one movie you can see this summer, make it Guardians of the Galaxy.  I promise you won't be sorry you did.
Rated PG-13, there is some language that may not be acceptable for younger children and mild violence but no blood and gore.