Welcome to this month's Blogorail Peach Loop. Today we are sharing ideas to help you decide what to wear to the Disney Parks. Welcome aboard!
---
How your family will be dressing for Disney is an important consideration when planning and packing for your Disney vacation! Cute and comfy is a must, but you also want to make sure that the whole family looks good for the thousands (I'm not kidding) of photos that will come home with you at the end. While a lot of people like to go all out with matching apparel for their vacations, it isn't right for everyone.  My family  falls into the "no matching outfits" group, but we still want to look coordinated so that our pictures turn out well. Over the years, we've mastered the art of matching without matching when choosing our Disney wardrobe. It's simple, looks great and saves us money since we don't have to buy a bunch of shirts we will either never wear again or won't pull out until our next Disney vacation.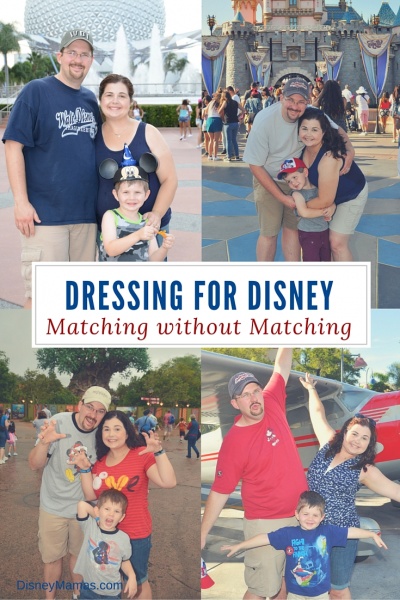 A little background: Fashion and I have never been good friends. I live quite happily in the basic jeans and t-shirts camp. I rarely dress up, don't own a single sundress or pair of yoga pants, don't have the time or energy to Disney Bound, and simply don't like matching family t-shirts. Don't get me wrong, there is nothing wrong with any of the above fashion choices when hitting the parks, it just isn't for us. However, I do want to make sure that the photos we take on our trips are ones we look good in and can happily display around the house so we have gone a different route in ensuring that our wardrobe is coordinated without being matchy-matchy or too much work.
The Breakdown: Dressing for Disney – Matching without Matching
What is matching without matching?
Matching without matching is a fairly simple concept, and something that developed out of my college costume design courses. When you design costumes for a large musical it is important the ensemble looks like the they all belong together without all wearing the same thing. I apply that to us when we are dressing for Disney with great success. All you need to do is pair your outfits together in ways that coordinate both colors, patterns and/or themes. It allows everyone to showcase their personal style in ways that look good on camera.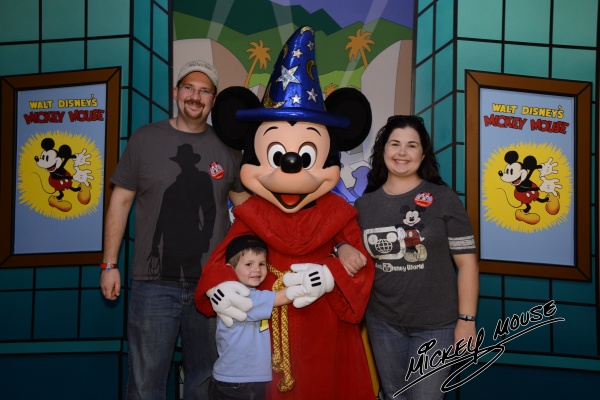 Start with the Kids
Kids wardrobes tend to be a little more  carefree than adults. Character t-shirts and graphic tees are common, and are perfectly acceptable for a Disney vacation. Start with the kid's clothes and build upon the colors and patterns that they already include. I always let my son pick out one or two new Disney shirts to add something fresh into his vacation wardrobe. As a general rule I pull a shirt that coordinates with the park we will be visiting on each day. For example, a Star Wars or Avengers shirt for Hollywood Studios, or Mickey or Peter Pan for Magic Kingdom.
Coordinating Styles
Next, pull out items in you and your spouses wardrobes that are park appropriate and feature colors and/or patterns that compliment those of your kids. Solid colors, small logos, phrases, and other like items work well without creating too much visual clutter. Pair a solid shirt for him and a cute patterned top for you in complimentary colors with cute character tees for the kids and you are good. Or, go with a theme and coordinate items that showcase a particular franchise, like Star Wars, but in both bold and more subtle ways.
Be Creative
Don't fall into a pattern of solids for every day. Mix it up. Wear a Disney shirt if you want too, just make it one you would wear again, or better yet, have one custom made by a local vendor or Etsy store that fits your Disney style. Check out instagram for some amazing Disney ideas and contact their websites. Don't be afraid to wear bold Minnie-inspired polka dots if your kiddos are showing off their Mickey-side, but put the hubby in a nice solid so that the patterns and colors have a nice balance.
Have Fun and Look Good
No matter how you dress for Disney, make sure your choices make you feel good! You want to look back at your memories and like what you see! Having everyone coordinate in some way, and putting just a little bit of thought in what everyone wears will make for much better pictures, not to mention a quicker morning when on vacation.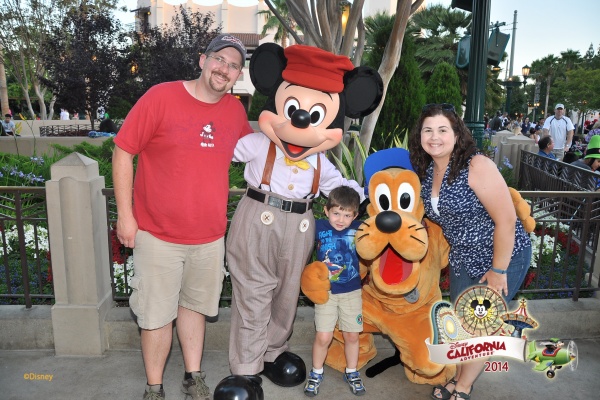 Stress-free Mornings
An added benefit of planning out how your family will dress for Disney is saving stress and time in the mornings. Everyone knows what to wear on each day of the trip. You can even pack days together in Ziplock bags and lay them out at night before going to bed.
When dressing for Disney it is completely possible to coordinate your families style without breaking the bank or your personal style rules! Just put a little bit of thought in to choosing outfits that compliment each other and you will both feel good and look great!
For more Dressing for Disney posts,
check out the other great posts from the Blogorail!
---
Here is the map of our Blogorail Peach | Dressing for the Parks