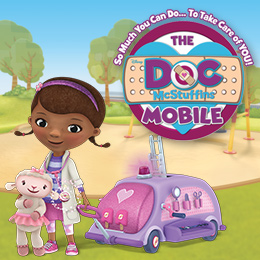 Doc McStuffins is taking her Clinic on the road this summer and visiting 10 US cities over the next couple of weeks.  The DocMobile tour kicked off on the 18th in Boston, and stops in New York's Times Square tomorrow.  See below for details on the remainder of their 10 City Tour.
Disney Junior is hitting the road with The Doc Mobile Tour! Join us for a fun event with Radio Disney Junior, where kids & families can experience Doc activities focused on healthy living and well-being.
Kids will see how "there's so much you can do…to take care of you," and they can also be just like Doc and bring their toy for a check-up inside Doc's mobile clinic.
My mom will be taking my Doc-Lovin' little boy, (I have to work), and I can't wait to hear what he has to say about the experience!