Welcome to this month's Blogorail Orange Loop. Today we are sharing stories and ways you can thank Disney Cast Members.

---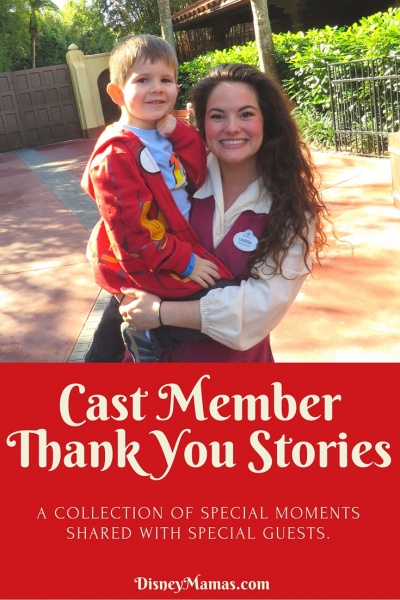 I have the pleasure of having many friends who are former or current Disney Cast Members. Rather than share ways to thank Disney Cast Members, I thought it would be nice to hear a few stories from them about instances in their Disney careers when they were thanked by a guest. These cast member thank you stories are heartfelt and sincere, and I hope they will inspire you to thank a cast member on your next to trip to a Disney Destination, or even your local Disney Store location!
Laurina S.
Magic Kingdom – Pirates of the Caribbean Attraction Attendant, Disney College Program 2014
While every "thank you" is greatly and equally appreciated, my favorite gesture of gratitude came from these little thank you cards. I can't explain how special it is to have a smiling child hand you one of these. It's just a little extra magic to help you get through your possible 12-14 hour shift. They are also a nice little reminder that you as a cast member play such a vital role in making people's family vacations unforgettable. I never even knew people did things like this until I received one! Now I can't wait to make and bring some for my future trips since I know how amazing it feels to receive one!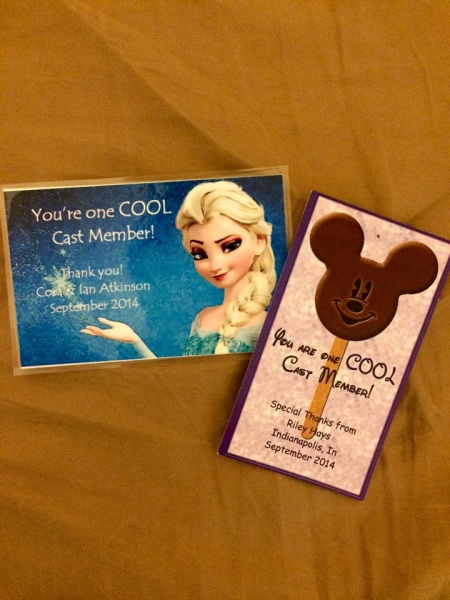 Mary W.
Disney's Hollywood Studios – Character Attendant, Disney College Program 2015
My role can be a very thankless job! Each day I get to make magical moments, but I also get a lot of people upset at me when the characters are done for the day. One of the best things about my day is when I get to make someone else's day. Most guests don't take the time to say thank you. But sometimes they do! While I do not have one story that stands out above the rest, when a guest stops and smiles at me and says thank you, that can mean so much! A guest saying thank you for what you do, or we appreciate you is something special to me! Because that is something that I rarely hear. It is an amazing feeling when they let you know that they care. The guests are why we do what we do. And they are why I love my job.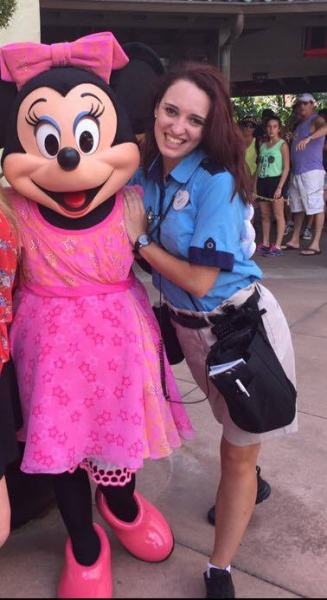 Brant N.
Disney/MGM Studios – Oscar's Super Service Shop. 1992
While working as a merchandise lead at Disney/MGM Studios, my assignment at the time was the grouping of five shops at the park main entrance. This included Oscar's Super Service which handled the stroller and wheelchair rental for the park. From time-to-time, when a wheelchair was returned, the guest could not physically make it from the shop back out to the car, so we would perform an "escort" with the guest. An escort involved rolling the guest out to their vehicle in the parking lot and securing it so they can get in their car. Then, one would return back into the park with just the wheelchair. Our procedure was whoever was free would call out "Escort" to the rest of the team and take the guest. During one particularly difficult shift, an escort was needed and I volunteered just to take a walk from the shop to clear my head. When I approached the wheelchair-bound guest and his family, I noticed he was a very young boy of no more than 10 and there was a "Make A Wish Foundation" tag on the backpack he had and on other bags the family had. This instantly told me that he was a terminally ill patient and that the trip was one if his last events in life. After cheerily greeting the entire family, I turned to the boy and asked if he was ready to roll and proceeded to push him toward the gate and parking lot. As we walked, I ignored the rest of the family and did nothing but chat up the boy asking about his day, what his favorite things were, commented on his cool shoes, and joked with him about stuff in the park. He was very engaging and we hit it off instantly. At their car, I locked down the brakes and his family picked him up and placed him in the back seat. I said an energetic good-buy and started to head back to the park. His mom called out to me and said there was something else they needed. When asking what I could do to help, she said that the boy wanted me to sign his autograph book. I looked into the backseat and said, "Really? You want me to sign your book?" The boy was beaming and nodding. As I flipped to find an empty page, the book was full of almost every character I knew of in the park and a couple I'd never seen the autograph of. I commented on his killer collection and found the last page of the book. I scribbled my first name and "The Chair Dude" and put in an encouraging sentence while trying to fight off tears. While handing the book back to him, I said thanks and that I was totally honored. His mom said the walk out was just what he needed as he was sad to leave. I just stood there and waived as they drove off determined not to bawl like a baby until I was backstage. That was the best thank-you I've ever had.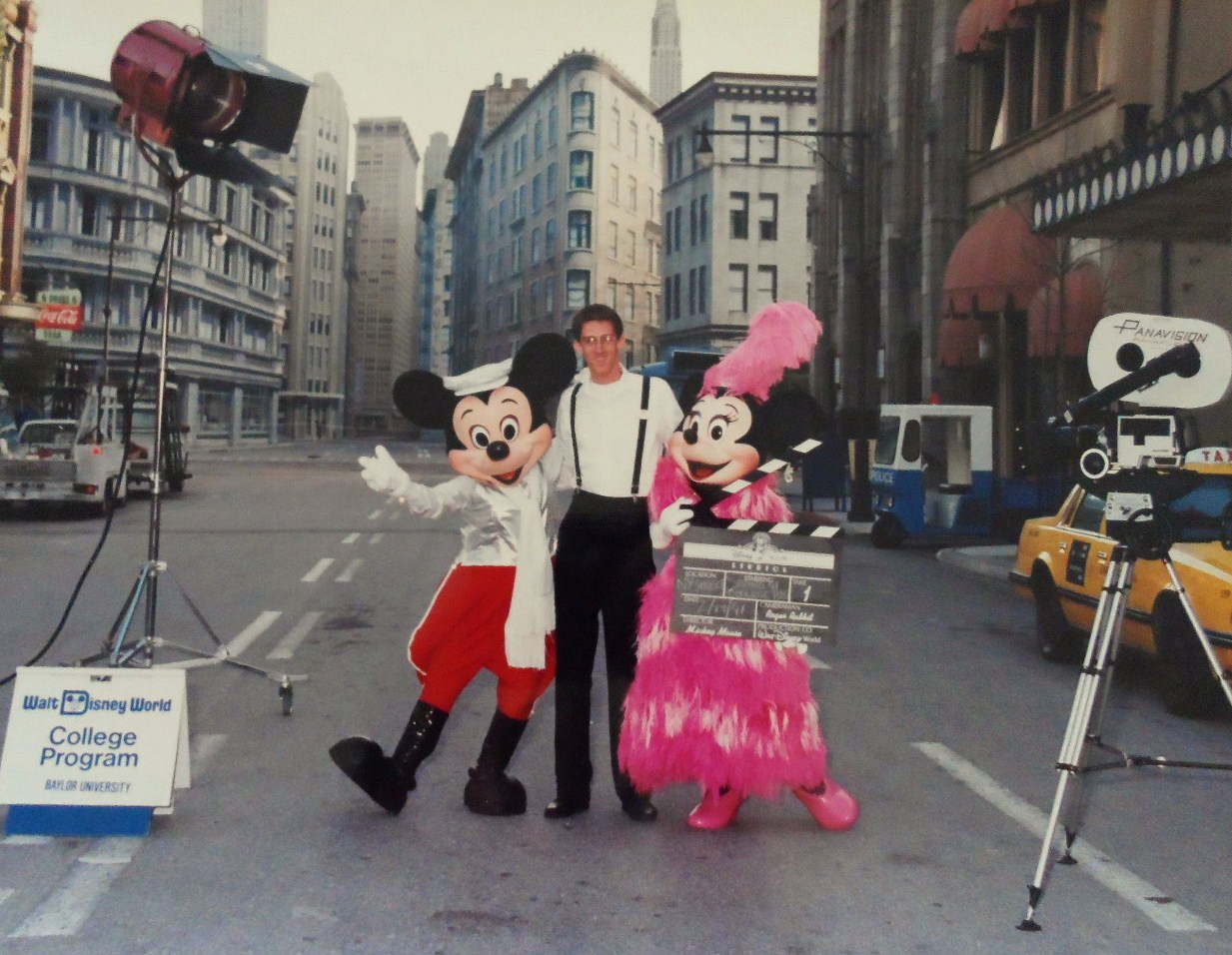 Andrea C.
Former Disney Store Cast Member
I was the receipt of the Guest Courtesy Award. This honor was given to a Cast Member who displayed exceptional service – service that prompted the guest to write a letter to the company praising the Cast Member on their service. The merit of the award was based upon the Cast Member going "above and beyond" the expected Disney level of service – meaning, just because a guest wrote a letter, you didn't automatically get the award. I wish a copy of the guests letter came with the pin/card so that I could have thanked the guest for taking the time to think what I did was so spectacular.
The other thanks that I appreciated from guests came in this form – When I relocated to a new store in the area, I would tell my regular guests "good bye" and that I was moving. Some would inquire where I was headed and then they would follow me to that location for their shopping. I thought it was such an honor to know the guest didn't just stop at that particular Disney Store location because it was convenient, but because I was a special person in their life – even if I was just a retail employee.
Tanayia L.
Current Disney Store Assistant Manager
I've worked for Disney for many years now, and guest interaction has always been my favorite part.
One of my favorite stories happened just this year. We get regular guests in the store frequently. I had a guest and her daughter approach me while I was at the front checking out a cast member as they left. She simply said "I've come in multiple times and the interactions you have with the kids is simply amazing. You make the kids feel special. Thank you for that."
I blushed and said "the kids make my day, my job is simply the best. I have no reason to complain. Thank you for the sweet compliment." It doesn't seem like much. But it's things like that that really solidify that I'm doing what I was always meant to do. I'm just grateful to work for a company that allows me to do it.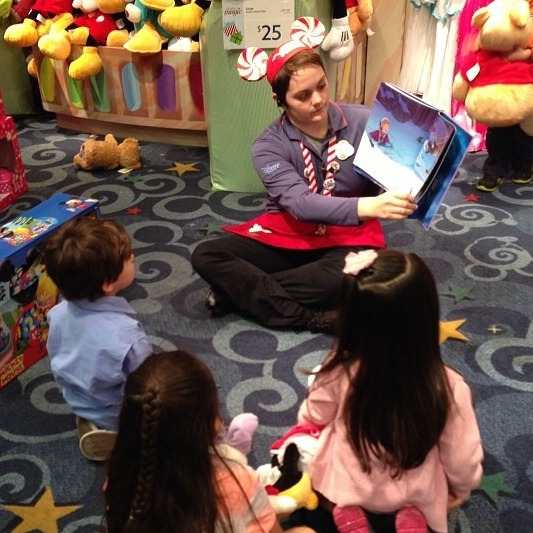 Our Special Thank You
I do have two personal stories to share, and I hope they made these young women's days.
Last summer we took our first trip to Disneyland as a family, and Connor was thrilled when he learned he could ride in the front of the Monorail. Somehow we were able to not only ride up front several times, but we also had the pleasure of riding with the same Monorail Pilot on most of our trips. Connor really enjoyed chatting with her, proclaiming that she clearly had the best job in the world. On our last night he shyly asked her if she would sign the last page in his autograph book and take a picture with him. She was so kind to him, and seemed so thrilled to be asked to sign his book. I hope she knows what a special young lady she is!
In November of last year our dear friend Laurina was a participant in the Disney College Program, where she was a Cast Member at Pirates of the Caribbean. Connor loves her, but is a bit afraid of Pirates of the Caribbean, as he has convinced himself the drop is of Splash Mountain variety. Laurina was so sweet and worked her hardest to convince him otherwise. It didnt work, but she was able to spend time playing with him in the courtyard area, which truly made his day!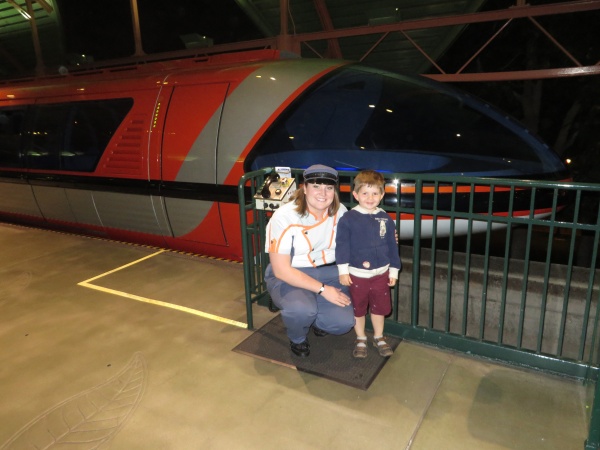 For more ways to thank Disney Cast Members,
check out the other great posts from the Blogorail!
---
Here is the map of our
Magical Blogorail Orange | Thanking Disney Cast Members
Loop: