It's finally here!  The day you thought would never come!!  The day you can finally give your kids the answer they have been waiting for.  "Yes, that's right.  Today is the day we leave on our cruise!!"  But what exactly does that mean besides standing on deck waving to all the poor souls who are stuck onshore?  There are a few things you should plan for.  Let's start at the beginning, shall we…
Port Arrival and Check-In
In part 3 we talked about finalizing your travel arrangements to actually get you to the port.  Once you arrive, whether by DCL transfer, private transfer or private car, upon exiting the vehicle the first cast members you will see are the porters.  They will take all your checked bags so to make this process go as quickly as possible make sure you have attached all the luggage tags that were included in your cruise docs.  You should have received 2 per guest so there should be plenty but in case you need more the porters can provide you with extras.  Keep in mind these cast members are not covered in your prepaid gratuities so please tip them accordingly.  (A quick note about pre-assigned port arrival times, consider them a suggestion more than a rule.  The earlier you arrive, the better for reasons I will get to in a moment).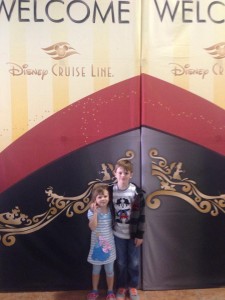 Once you have checked you bags you will be directed into the building to go through security.  Each guest will have to pass through metal detectors and all carry-on luggage will be x-rayed.  After passing through security you can continue on to the check-in counters.  There are specific counters for guests staying in concierge and suite cabins, counters for Castaway Club members and counters for all other guests.  When you get to the counter, cast members will need to see the passport/birth certificates for each guest as well as the signed cruise contract from your travel documents.  The cast member will verify all the information and provide each guest with a cabin keycard with their name on it.  You can designate which guests can have charging privileges on their card and it is very important for each guest to have their own card when boarding (again, something else I will explain more about later).  You will also receive a boarding number which you will need to listen for so you can actually board the ship.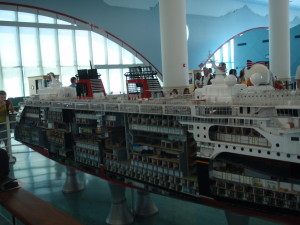 So, I bet you are wondering why I said that they pre-assigned arrival time was just a suggestion and that you should actually get there as soon as the port opens, if possible.  Why?  Upgrades!  Yes, most Disney cruises sail at a 90%+ capacity but there still could be an opportunity for an upgrade, the key word being opportunity.  Do not book your cruise expecting to be upgraded to a higher category cabin because that may not happen and if it does happen, it will not be free but it will be greatly reduced.   So as soon as you complete check-in head to the supervisor counter and ask if there are any upgrades available.  This is a manual process so don't expect the line to move very fast.
Finally, if you didn't heed my warning in Part 3 and did not sign your children up for the kids clubs, you can do that at the port while you wait, just expect a line.
Boarding
When your number is called a cast member (usually wearing an oversized Mickey glove) will direct you toward the boarding gates.  At the gates you will be asked for your keycard and every guest will have their photo taken and associated with that keycard.  This is why it is so important for each guest to have their own card. Not only will they be used to get on and off the ship in port but it is also used with the ships advanced facial recognition software so that all pictures taken onboard will be assigned to the right cabin.  And that first picture will be taken at your next stop!  There will be photographers set up with a DCL background ready to take your Welcome family picture.  If you don't want to have your picture taken, politely wave them off and proceed across the gangway.
Boarding Announcement
Because Disney is first and foremost an entertainment company, boarding your vessel would not be complete without a Hollywood style introduction.  Before crossing the threshold of the ship you will be asked for your family's name by a crew member who will then announce, "Disney Cruise Line Welcomes Aboard, The Smith Family".  If you want to have a little fun, as a family you can come up with a fake name like Royal or Dysfunctional or Adams.  Not unique but always good for a chuckle.  I actually just like listening for them as others board.
Waiting for Your Cabin
In most cases, your cabin will not be ready for you when you do finally board so you will need to find something to do while you wait.  Typically, our first stop is lunch.  There will be at least 2 restaurants open on board (the buffet and a sit down) and one of the counters on the pool deck.   After you eat, I recommend dropping off any items at Guest Services that you would like autographed, request a different dining time, schedule any activities that are only available onboard such as character teas or adult enrichment programs and, if you haven't done so yet, book your Palo dining.  If you still have time, start getting a handle on your surroundings.  Find a couple of alternative paths from the pool to your cabin that avoid the main elevators or from your cabin to the restaurants are just a couple of examples.  Or, go to the Spa for a free tour and to see what special sail away discount booking offers they may have.  About 1:30pm or 2pm you can head over to your cabin to see if it is ready.
Once in your cabin look on the desk for your dining rotation tickets which shows the days in which you will eat at a particular restaurant and what table you are assigned to.  This information is also available on your keycard, once you know what you are looking for.  If you find a conflict like Animators Palate on the same night as Palo as an example, you can head down to dining services before the muster drill and ask for an alternative rotation or reschedule Palo.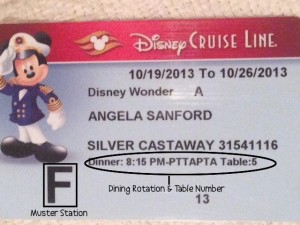 Muster
Every cruise begins with a 3:30p Muster Drill, which is the cruise safety drill where the crew members will direct you on what to do in case of an emergency while at sea.  You will find your assigned muster station on your keycard and will need to report there as soon as the alarms sound and the announcements are made.  You will be checked-in as attendance is MANDATORY for all guests in all cabins.  Once muster is complete, follow the crowds to the pool deck for the sail-away party.
Sail Away Party
The Sail Away party may be the first indication that you are on a Disney cruise; a dance party at sea in true Disney style.  Expect to see the Fab Five (Mickey, Minnie, Donald, Pluto and Goofy) on stage dancing to the music with the cruise director and activities staff encouraging everyone to dance along.  If you are one who would rather watch than participate, head up a deck for a great view of the activity below.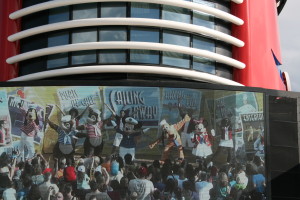 Once you hear the ship horn play When You Wish Upon A Star, you know you are on your way.  I will cover what to do during the cruise (besides eat, relax, eat, be entertained and eat some more) in Part 5 : During the Cruise.