Welcome to this month's Blogorail Blue Loop. Today we are sharing tips to for taking toddlers to the Disney Parks.
---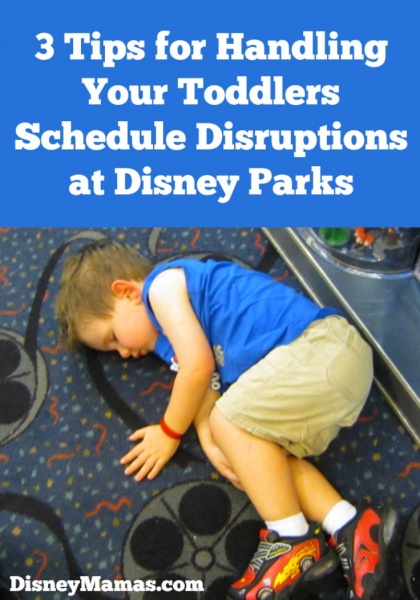 Traveling to a Disney Destination with your toddler is a rewarding experience, but it isn't without its difficulties. One of the biggest hurdles for traveling with your little one is handling the disruption to their everyday schedule. Today I'll share 3 tips for handling your toddlers schedule disruptions at Disney Parks, because let's face it, it isn't always realistic to "stick to their normal routine" during vacation.
Utilize the Baby Care Centers instead of going back to the resort mid-day.
Kids need a break or a nap mid-day? Heading back to your resort may sound like a great plan, but it doesn't work for everyone. First, factor in the time it takes to get from your location back to your resort, take a break and get back; you're looking at 3+ hours just to get a 90 minute nap in for your kids. Second, if you kids are anything like mine, they sat still just long enough on the bus or monorail back to the resort that they now refuse to take a nap and will not settle down to even just relax. Finally, maybe not everyone in your party needs a mid-day break and you are left with resentful older kiddos who just wanted to stay in the park to ride the attractions.
Luckily there are a couple of simple solutions that allow for a mid-day break or nap for those that need one without having to leave the parks.

First, each Disney Park on both coasts boasts a lovely Baby Care Center, complete with chairs, changing tables and generally a media room playing a Disney Classic and often holding books, high chairs, and more. They are free to use, and are the perfect place to get in out of the heat, let your little ones nap, watch a show, or read a book, or even just get away from all the visual stimulation for a brain break. The Baby Care Centers even sell items like formula, bottles, toddler snacks, and some soft goods if you find yourself in need. Additionally, there is nothing wrong with letting your little ones nap in their stroller while the rest of you continue to enjoy your trip! We are big fans of stroller naps, and my oldest, Connor, uses the time his brother is sleeping to play one of the many Disney Parks games like Sorcerer's of the Magic Kingdom. It's also a great time to do a little shopping, grab a snack, or just sit on a bench and relax.


Plan Dining Times for Early Meals
At most of the daycare and preschool centers in my area meals for little ones are on the early side: 7:30am breakfast, 11:00am lunch and a solid snack at 5:00pm prior to pick-up. While we as adults may not eat that early (my daily lunch is at 2:18pm…it's awesome) actually trying to work with your little ones schedule for dining has some positives. Early reservations at Disney's many table service restaurants tend to run much more on time than those later in the meal time, especially for character meals. For example, an 11:15am reservation at Tusker House will probably have you seated within 10 minutes of that time, but a 2:00pm reservation could have you waiting for quite a while as diners linger more and wait for characters. We had a 1:55 reservation in March and weren't seated until almost 2:30pm. Two hungry kids and two hungry parents waiting outside in the heat and humidity was not the most pleasant of experiences and by the time we actually sat down Logan, 18 months, was so hangry that we weren't sure we would make it through the meal. The same rule applies regardless of the meal itself so shoot for breakfast reservations prior to park opening, lunch reservations between 11:00 and 12:00 and dinner reservations between 4:30 and 5:30. This can also be applied to quick-service locations; the lines to order and receive your food are much shorter right when the restaurant opens and much longer as the meal time progresses.
Don't Get Up Early the Morning After a Late Night

My kids get up early for school and daycare, and they both go to bed at 8:30 in the evenings. However, at Disney this would mean missing all the nighttime entertainment that we love. Therefore, we go into the trip knowing there will be some significant disruptions to their schedule when it comes to sleeping. To combat this we do our best to plan early park mornings for days when the prior evening did not include a particularly late night, and we do our best to watch fireworks shows from relatively close to the park entrance. If there is nighttime entertainment that may be offered twice in the same evening, like Fantasmic! and Rivers of Light, we shoot for obtaining a FastPass or dining package for the first showing which is usually around 7:30 or 8:00 depending on the season, so that we can then try to get out of the park earlier than those seeing the later showing. Fireworks at Epcot are almost always at 9:00 so we know that will be a slightly later evening and plan to either sleep in the next day or visit a park that has a later opening time. Magic Kingdom is the most difficult to work with though, as they tend to open earliest and stay open the latest, and the nighttime fireworks time varies more than at other parks. For our Magic Kingdom days we do try to be there prior to park opening, so the night before we try to back at the resort no later than 8:00, and the next day we know we will not be at another park until closer to lunch in an effort to allow our kids to sleep in after a full day at Magic Kingdom.
For more advice on taking toddlers to Disney,
check out the other great posts from the Blogorail!
---
Here is the map of our Magical Blogorail Blue | Traveling to Disney with Toddlers Loop: