You're vacationing in Disney World, and it can't – it won't – happen to your family. But it could, and it did happen to mine. I'm talking about a family member getting sick enough to have to seek medical attention.
My daughter, Brooke, started complaining of pain on urination and feeling overall very lousy. Oh no! I knew she probably had a urinary tract infection (UTI). Most pediatricians will not just write a prescription for your child and insist they seek medical attention wherever you may be.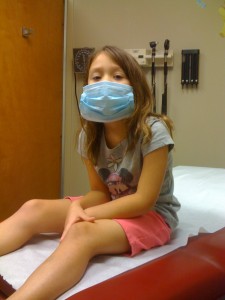 After getting a few options from concierge, I called Centra Care urgent care. They have many locations throughout the Orlando area, and we chose the location in Kissimmee on W. Irlo Bronson Memorial Highway.
They do offer to come to your resort or provide free transportation to and from their facility, but we had our own car, so I chose to drive Brooke there while my husband stayed with the boys at our resort pool. It took only a few minutes to get there. Make sure you have all your insurance card information. There will be a copay – ours was $25, which gets deducted from the cost later.
Brooke was seen very quickly. The pediatrician even noted Brooke looking not so well and checked her ears. She wound up with a double whammy – UTI and an ear infection. Lucky for her, one antibiotic would do the trick. They called the prescription into Walgreen's (which is kitty corner to Centra Care), and the prescription was ready within minutes!
Within 24 hours, Brooke was feeling much better, and I am thankful that this whole process was that easy. I would say they really know how to handle things well at Centra Care. I hope we never have to go there, again, but we are at ease knowing that any of their locations are handy. For more information on Centra Care, visit their website: http://centracare.org/