"I have an organization of people who are really specialists. You can't match them anywhere in the world for what they can do." – Walt Disney
Walt always hired the best people for his organization. He didn't look at gender, age, or race but based his requirements upon talent. One example I can think of is when he hired Tiny Kline.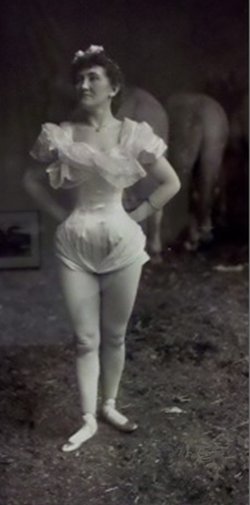 Helen Deutsch was born in Hungary and changed her name to Tiny Duchée after coming to America at the age of 14. Upon her arrival, she chose to join a vaudeville act instead of working as a seamstress. Her skills lead her to perform in the Ringling Bros. and Barnum & Bailey Circus where she met her husband, Otto Kreinbrink (stage name Otto Klein). Otto was a rodeo trick rider with an equestrian act.  Two years later, they were married. Sadly, Otto died while performing one of his tricks. Tiny took over his act and added acrobatic tricks to her repertoire. Her specialty was an "aerial iron jaw act" that she called the "slide of death", in which she would be suspended by the mouth down a long glide wire. She performed this many times over her life including sliding across Times Square – she was 42! We are lucky that it was recorded on film:
In 1958, Walt organized a concert, 'Disneyland sponsors Disney Night at the Hollywood Bowl', in which he hired Tiny to slide down the Bowl, in a harness, dressed as Tinker Bell. Three years later, in 1961, when Disneyland wanted to add Tinker Bell to its nightly fireworks show, they turned to Tiny and asked her if she would repeat her performance. Kline agreed and continued to perform as Tinker Bell (she was 71) until 1964 when she retired due to issues from cancer.
You can read more about her life in Circus Queen and Tinker Bell: The Memoir of Tiny Klein.