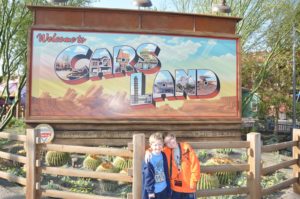 Cars Land is the newest addition to Disney California Adventure.  Cars Land just recently opened on June 15, 2012.  My children and I were very  excited to go to the newest addition at Disney California Adventure back in August of 2012.  Cars Land transports you straight onto Route 66.  As you walk into Cars Land the sounds of car motors revving and old fashion radio's playing great music.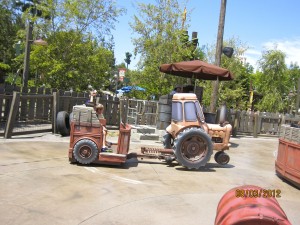 Cars Land has three rides with one of them being a major headliner ride.  Luigi's Flying Tires, is a fantastic ride where guest ride on tire-shaped bumper cars.  Mater's Junkyard Jamboree, is a ride that transport you into the amazing world of Mater.  You hop onto one of Mater's tractors and it pulls, whirls, and whips you around in the fun world of Mater.  Both rides Luigi's Flying Tires and Mater's Junkyard Jamboree have a height requirement that everyone must be at least 32" tall.  The headliner ride in Cars Land is Radiator Springs. This ride does come with a fast pass option.  The fast pass distributor is located near It's Tough to Be a Bug.  I highly recommend obtaining this fast pass right when the park opens.  When we were in the park the fast pass line at rope drop was all the way back by the restaurant Carthay Circle.  Fast passes for this ride have been known to be gone by noon.  If you are not able to get a fast pass for Radiator Springs, please be warned that the line can be up to a 2 hour wait.  While I waited in the fast pass line, the rest of my family went ahead into Cars Land to take some photo pass pictures and to ride Mater's Junkyard Jamboree. Radiator Springs,reminds me a lot of Test Track in Epcot, but with the amazing scenery of Route 66 and of course with the amazing Disney theming of the movie Cars.  The ride is a 6 person car and it drives you throughout Radiator Springs, a detail shop, and then you end up racing another car.  Radiator Springs does have height a requirement that everyone must be at least 40" tall.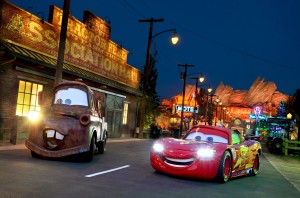 For lunch, we stopped at Flo's V8 Cafe.  This restaurant is a counter service with all of the amazing comfort foods of a diner.  It is not your traditionally hamburger in the park.  It's definitely a heavier meal, but very good. I really enjoyed my turkey breast platter and we all enjoyed their milk shakes!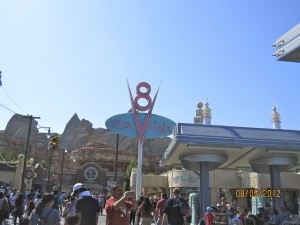 My top three suggestions for Cars Land is to measure your little ones before you go due to the height requirements, get to the parks early for a fast pass for Radiator Springs, and sit back and enjoy being on Route 66!