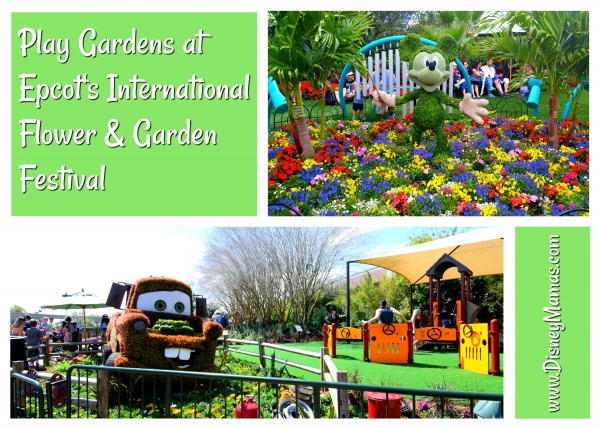 One of my families favorite things about Walt Disney World in the spring is the Epcot International Flower & Garden Festival. My husband and I love sampling the food and beverage offerings throughout the parks, and my kids love the Butterfly Garden, special events and play areas that Disney adds to Epcot specifically for the festival. Our favorite family time is often spent at the unique Play Gardens at Epcot's International Flower & Garden Festival.
Each year Disney changes it up a bit, but in our experience there is always a Feature Play Garden that is good for kids of all ages, a Cars Play Garden for little ones ages 5 and under, and one or two more generically themed play gardens scattered throughout World Showcase. The kids always have a blast, and my husband and I enjoy a nice snack while they play! It's a definite win-win situation.
The Feature Play Garden is located on the greenbelt between Future World and World Showcase Lagoon between the bridge and Canada Pavilion. The theme changes every few years, and this year was themed as " Music Garden Melodies" featuring the Fab 5 with Band Leader Mickey Mouse. This one is my personal favorite, as they have set up comfortable lounge chairs and canopies for mom and dad! Yay! Relaxation in comfort while watching the kids play! It is also all set up on a flexible AstroTurf base so there is less risk of injury, no itching for my grass-allergic oldest, and the little one can play on the grass without worry of bugs and dirt. There are slides, climbing mechanisms, a large "spider-web", smaller coves for little ones, stepping stones, and more for enjoyment. Plus, it's location near Pineapple Promenade is perfect for grabbing a spiked Dole Whip, or my personal favorite the Frozen Desert Violet Lemonade!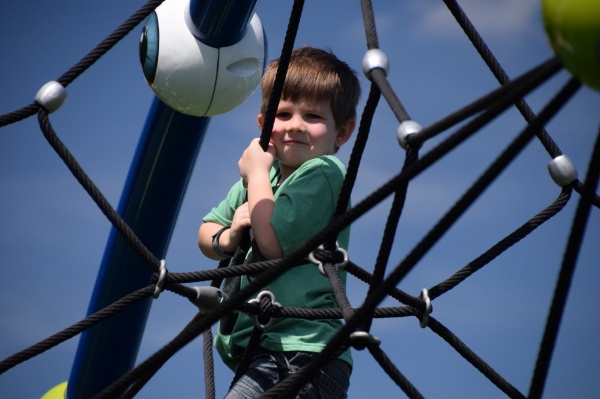 The Cars Play Garden, this year titled "Road to the Florida 500", is situated behind MouseGear on the pathway that leads to TestTrack. It is flanked my a giant Mater topiary, and this year Cruz Ramirez joined Mater and Lightning McQueen. The play garden here is definitely intended for little ones and was the perfect place for me and my youngest to spend time while we waited for my husband and oldest to ride TestTrack. The area features a small playground structure with two little slides and some climbing areas as well as some standing play areas in the outer corners. Portions of the ground are made of recycled tires, so be sure to have wet wipes handy for cleaning little hands and faces! A handful or Adirondack chairs surround the area, but parents are a little more hands-on in this playground since the kids are so little.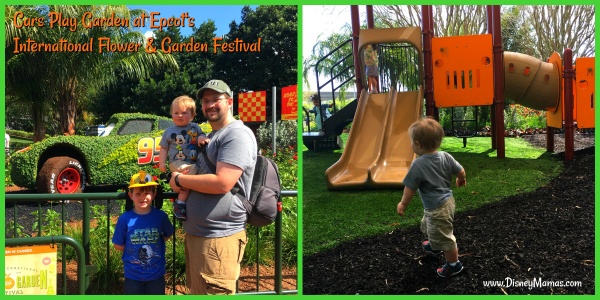 Finally, World Showcase is home to a couple smaller play gardens scattered around the lagoon. The Florida Fresh Garden, which is illuminated after dark, sits between Morocco and France and provides a perfect break about halfway around World Showcase. This smaller play garden still has adequate space for several children to play, and the play structure has activities that are appropriate for little ones as well as older children. The biggest issue with this play garden is that there isn't much seating for those adults enjoying a snack from the festival or looking to put their feet up. The primary seating is in the Florida Fresh kiosk area, which is separated from the playground. Most adults were sitting on the ground surrounding the play structure.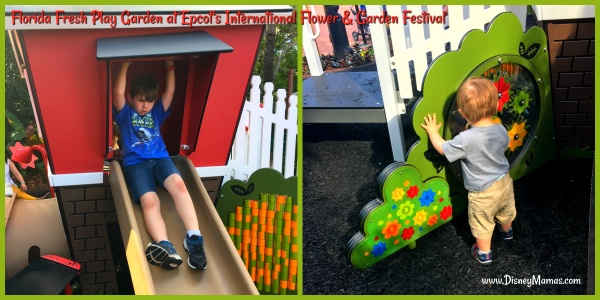 Personally, I wish the play gardens at Epcot's International Flower & Garden Festival stayed up all year round! They are great place for parents and kids to take a break, and a fantastic way for kids to blow off some energy at Epcot! I'm looking forward to seeing what the 2018 festival brings!
---
For more play areas for kids at Disney,
check out the other great posts from the Blogorail!
---