One of the things I look forward to most on a Disney Cruise is Pirate's Night.  For one fun, not to be missed evening during your cruise, you are transported into a new place where it seems like everyone is saying "Arr!"  It's a great night for the entire family to enjoy together. Most people around the ship get dressed up in their favorite Pirate gear, although my kids weren't interested in the full pirate uniform so I had a friend make some shirts for us and of course we made sure we had our bandanas. If you forget your gear, the onboard merchandise store will have some options as well. In addition there are plenty of great Pirate themed activities going on by the late afternoon and into the night all around the ship.  All the activities are listed in your Personal Navigator, which is placed in your room each evening to show you all that is going on the following day.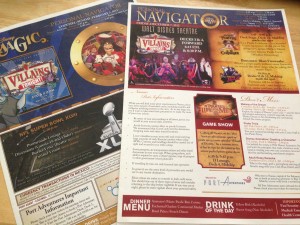 If Pirate Night ends up being on a port day on your cruise, I would recommend getting back onboard in time to get cleaned up and decked out in your pirate gear.  You don't want to miss all the happenings going on around the ship.  Entertainment schedules vary by sailing, but if 'Villains Tonight' is performing in the Walt Disney Theater on this night, don't miss it.
This evening is also one of the best opportunities to get some great photos.  There are pirate themed backgrounds set up, and your favorite Disney characters all get dressed up for the occasion as well, so make sure you have that camera ready.  Cast Members will be taking pictures with their cameras that you can view and purchase later if you prefer, but they are glad to use your camera to take a few shots as well.
This slideshow requires JavaScript.
Then, enjoy a great dinner, where your servers will greet you in their Pirate outfits and serve you some great selections from your Pirate themed menu.
Hopefully after all the fun, excitement and good food you've already enjoyed for the evening, you're whole crew is still awake, because the best is yet to come.  To finish off the evening is the greatest deck party you'll ever experience; The Pirates in the Caribbean Deck Party. Make sure to check your Personal Navigator so you know what time it starts.  The deck party takes place midship up on the pool deck, but can also be seen if you can get a good spot on the deck above, which is where I usually prefer. I try to get my spot about 30 minutes before the show starts to make sure I get a good view of the stage below. Some families with young kids like to get a spot up close by the stage. Now I don't want to give everything away, you will just have to go see it for yourself, but be ready for some music, dancing and a lot of pirate shenanigans.
This slideshow requires JavaScript.
You definitely don't want to miss this swashbuckling good time during your cruise. Make sure where ever you are for the show that you have a clear view of the sky so you don't miss the big finale, as fireworks light up the night sky above you (weather permitting).
The deck party stage show does vary between ships, so no two shows are the same.
For Alaska sailings onboard the Disney Wonder the Pixar Pals Party takes the place of the Pirates in the Caribbean Deck Party.  This event takes place inside, midship in the atrium lobby.
http://disneymamas.com/onboard-a-disney-cruise-its-a-pirates-night-for-me/