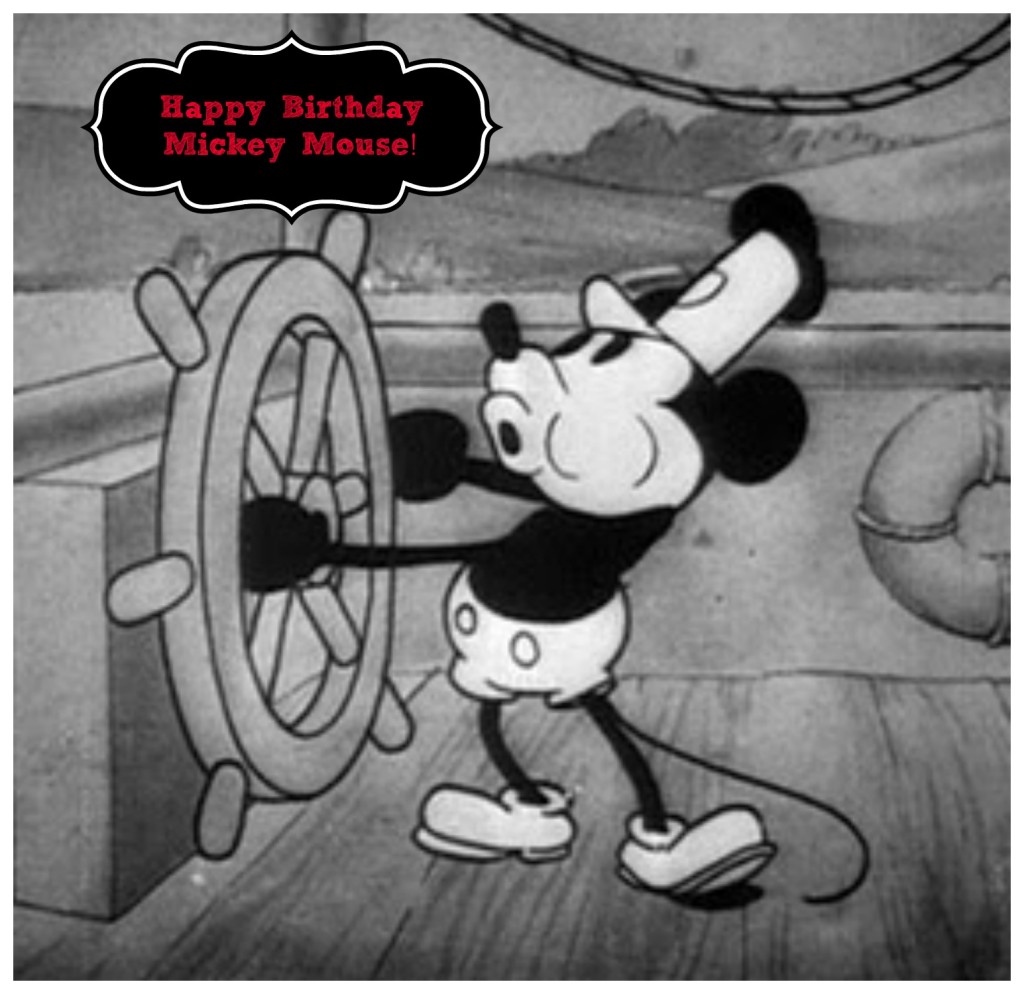 On November 18, 1928 Disney made history with the official release of the very first Mickey Mouse cartoon, Steamboat Willie.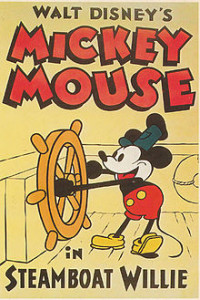 While it wasn't the first cartoon created to feature the beloved mouse, it was the first to be released in theatres, and the first to feature synchronized sound and a fully developed soundtrack.  Directed by Walt Disney and Ub Iwerks, the short feature ran just shy of eight minutes, and introduced us to Mickey Mouse and Minnie Mouse, and Pete the Cat.
In honor of our favorite mouse's 85th, we thought we would give you some information on where you can find Mickey today at Walt Disney World, onboard Disney Cruise Line and at Disneyland.
Walt Disney World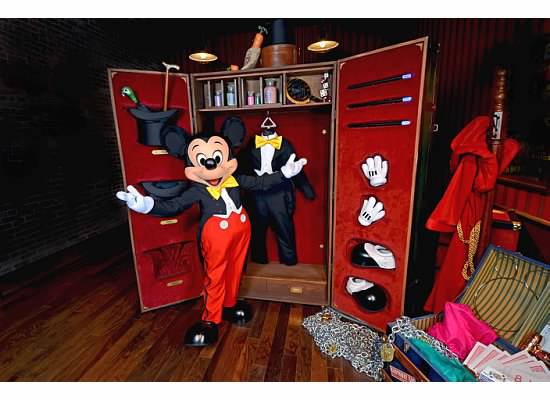 At Magic Kingdom you can meet Mickey in his dressing room at the Town Square Theatre located on Main Street.  This meet-n-greet location is full of Mickey props, costume pieces and more, and it is a joy just to look around at all the memorabilia.  Here you can meet Mickey in his tuxedo get-up, with some sorcerer robes hanging in the steamer trunk nearby.   Mickey is also featured in both the afternoon and evening parades.

At Disney's Hollywood Studios you hang out with Sorcerer Mickey in the Animation Building on the Animation Courtyard.  While the atmosphere for this meeting leaves a lot to be desired, Sorcerer Mickey is, in my opinion, the best.  You will find him in his full Fantasia garb: red robe, brown shoes, and blue wizard's hat.  Be advised, this seems to always have the longest Mickey line…  In addition to the meet-n-greet Mickey can be seen in each performance of Fantasmic!.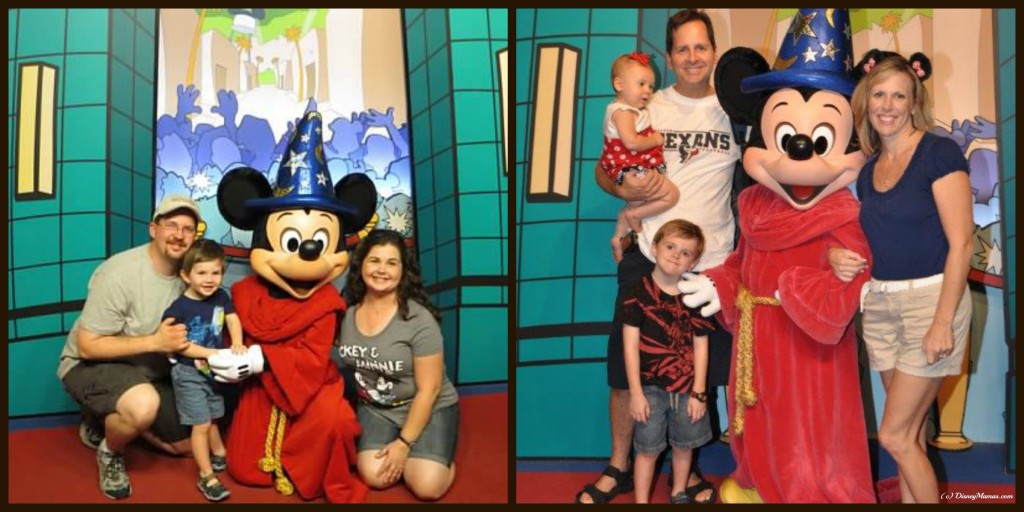 At Animal Kingdom you can meet Safari Mickey at either the Tusker House Character Breakfast or Lunch, or at his new meet-n-greet location at Adventurers Outpost on Discover Island.  Mickey will be sporting his safari attire: khaki safari shirt, brown shorts and a safari bucket hat.  Mickey also makes an appearance in the Jammin' Jungle Parade.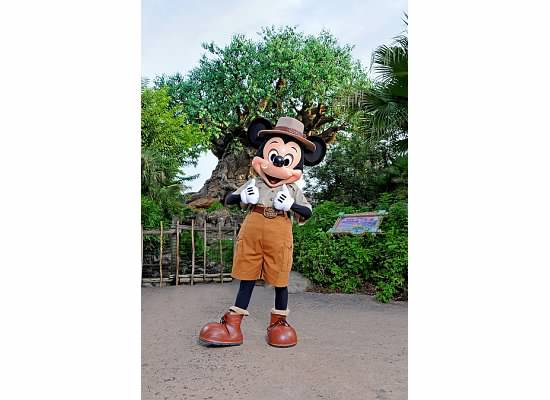 Head to Epcot's Character Spot near Innoventions West to meet Mickey in his tuxedo again.  In all honesty, if you are going to skip a Mickey meet-n-greet this is the one to skip.  The background is really cheesy (no pun intended), and you can find him in the same getup at Magic Kingdom.  You can also meet Mickey at The Garden Grill in The Land pavilion.  This time dressed as a farmer with a plaid shirt and jeans.  If you have a Disney Visa check Innoventions West to see if they are doing the special meet-n-greet with Mickey and Pluto that day.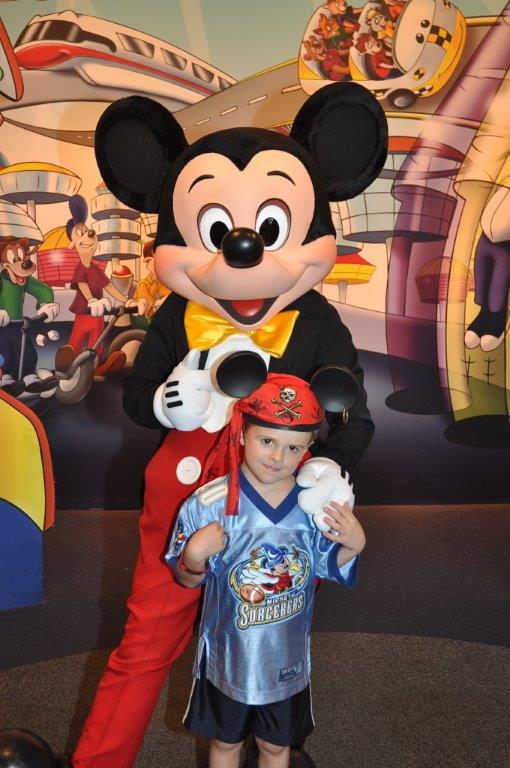 In addition to the theme parks you can meet Mickey at numerous dining locations, and during some parts of the year in the lobby of many Deluxe and DVC resorts.  Dining locations include: Chef Mickey's at The Contemporary Resort, Mickey's Backyard BBQ at Fort Wilderness, and Ohana at Disney's Polynesian Resort.  Character experiences may not be offered at every meal, so be sure to check before booking.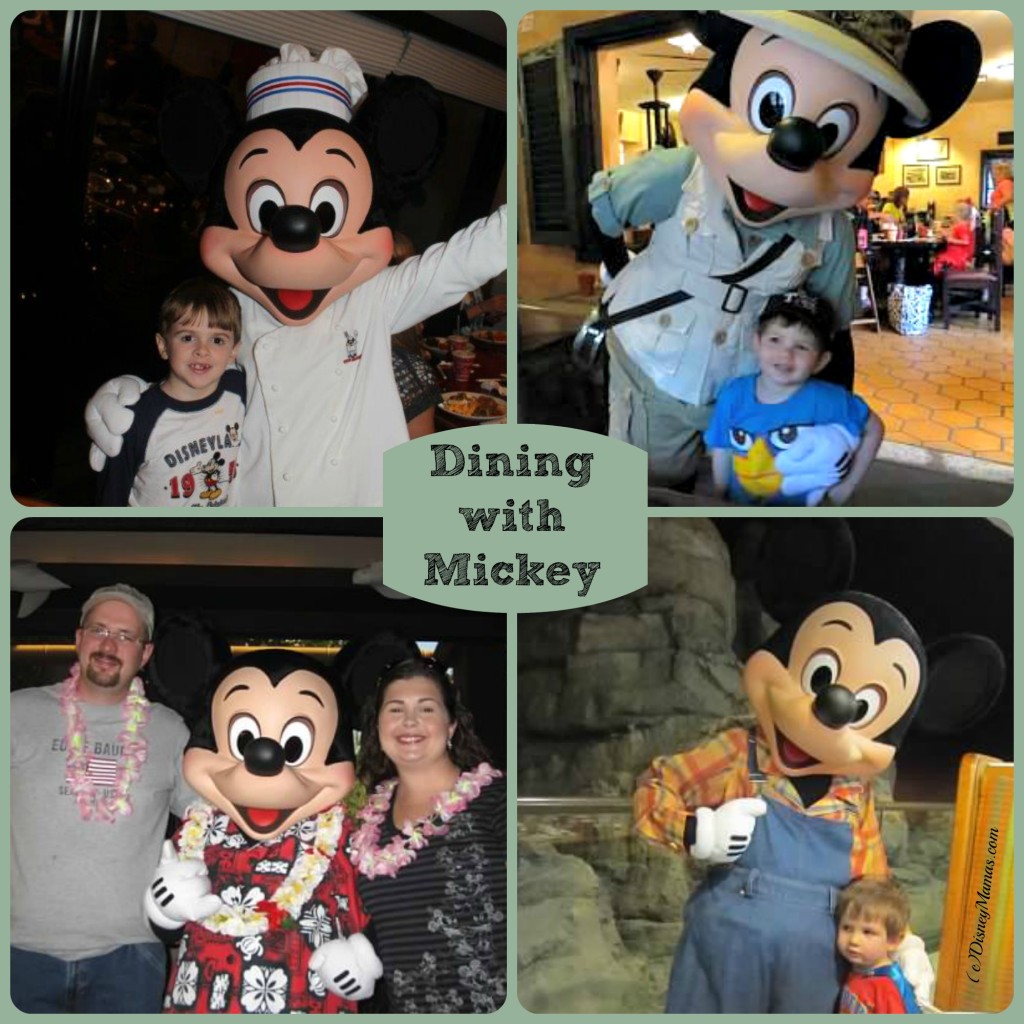 Disney Cruise Line
Disney Cruise Line is made for character meetings.  Disney characters can be found throughout the ship each day, and the daily schedule is included in your Navigator so you know where to find the each one.  Mickey is available daily, and sporting a look to go with the theme of the day.  You can find Mickey dressed in his formal tuxedo, golden tuxedo, pirate garb, captain's whites and more.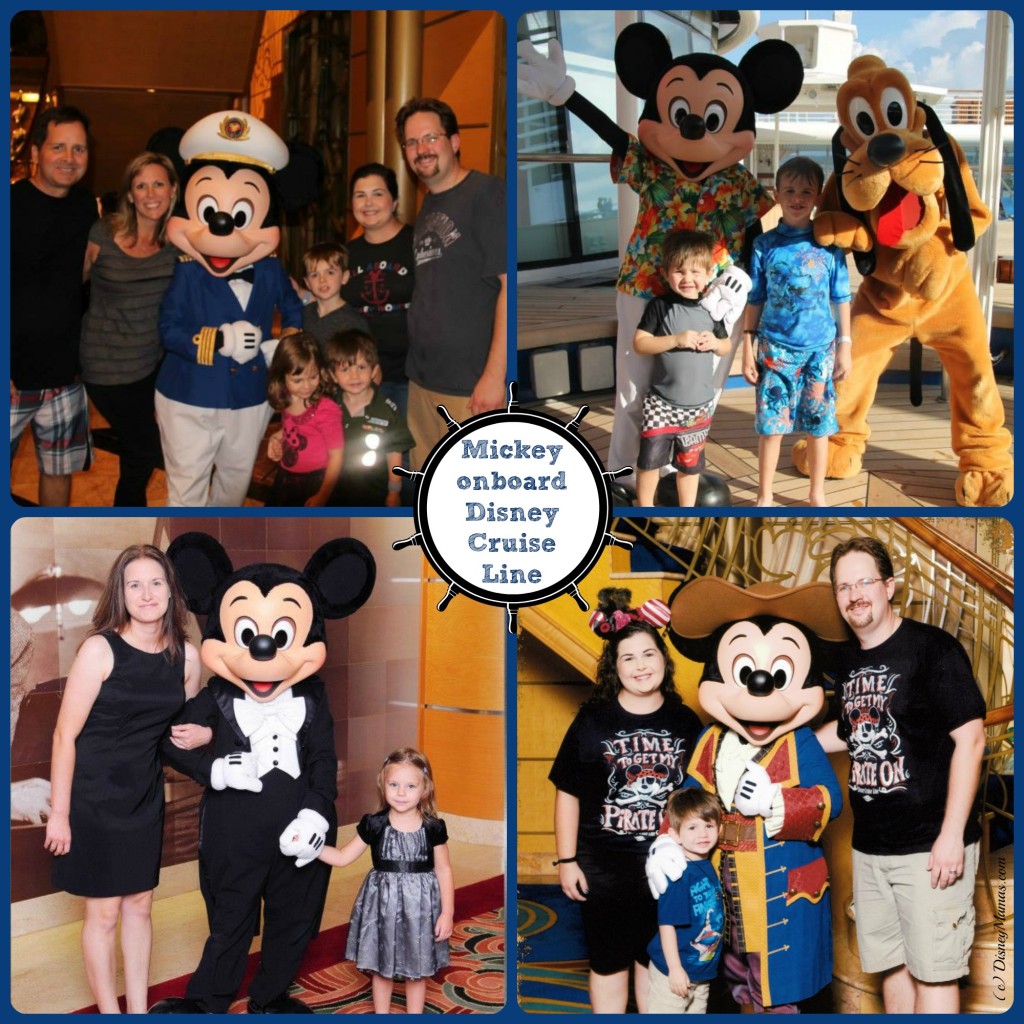 Disneyland Resort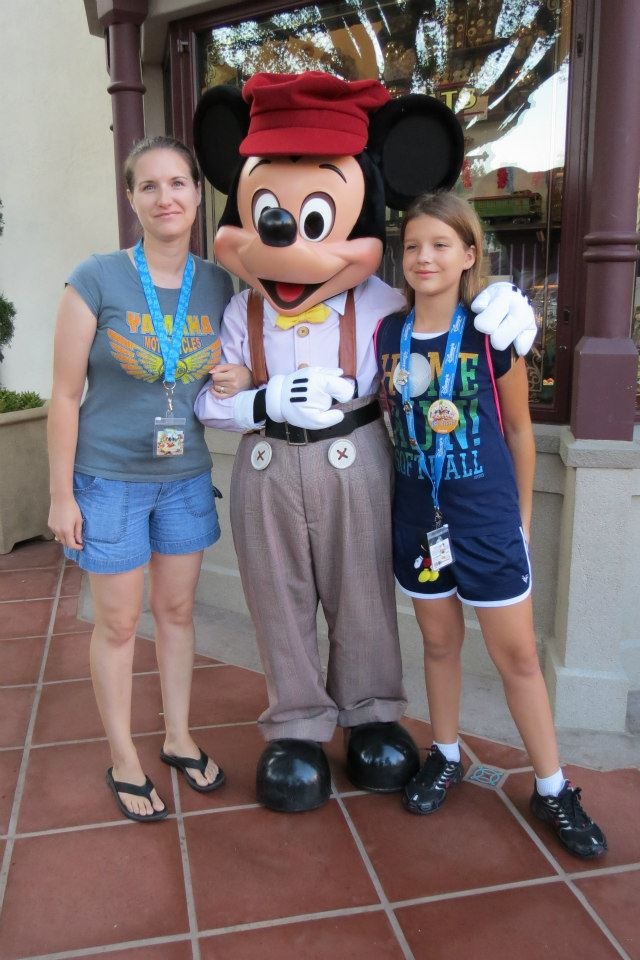 At Disneyland Park you can meet Mickey Mouse back in Mickey's Toontown.  Take a tour of his home, and then head out back to meet The Big Cheese in his Movie Barn.  Mickey will most likely be sporting his tuxedo: red pants, black tails, white shirt and yellow bowtie.
You can also see him in the stage show, Mickey & the Magical Map, nightly in Fantasmic! and in the afternoon and evening parades.
In Disney's California Adventure you can find Mickey on Buena Vista Street where he performs with the Red Car News Boys, and often sticks around to sign autographs.  Here Mickey is sporting khaki pants, a light-colored shirt with suspenders and a red cap.
In addition to the theme parks, you can also have breakfast with Mickey at Disney's Paradise Pier PCH Grill.
Mickey Through the Years
For photos of Mickey Mouse as he appeared in his early theme park days, take a trip over to Jim Hill Media.  He has a great story from back in 2011 featuring photos of Mickey from opening day of Disneyland and throughout those early days, as well as information about the evolution of the Mickey Mouse character in the theme parks.  Disney Theme Park Character Costumes Throughout the Years by Jim Hill.
Do you have a favorite Mickey?  Let us know in the comments below!