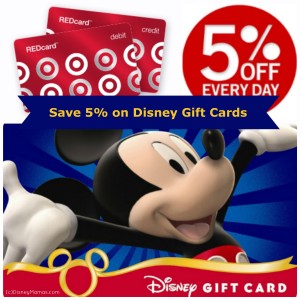 We all know that Disney can be expensive.  If you are a teacher or have school aged children, like me, travelling during the slower, more affordable times of the year can be an impossibility, and saving for Disney is even more important.  While Disney is great about having special offers available pretty much year round, there is an additional way to save money on your vacation just by taking a trip to your local Target! (And let's face it, who doesn't want an excuse to go to Target).
Target's Red Card offers users a 5% savings on Target purchases, and Target sells Disney Gift Cards at the registers.  Unlike many retailers that don't allow you to use their discount to purchase gift cards, Target does, and that means that you are saving 5% on your Disney Gift Card.
Since you can turn around and use your Disney Gift Card to pay for your Disney vacation, you can save 5% on your trip!  What a simple was to increase your savings for Disney!
Make sense?  Let's break it down.
If your total vacation package price is $3200.00, you could save $160 by paying with Disney Gift Cards purchased using your Target Red Card.  That might not seem like much in the grand scheme of things, but in this day and age every little bit helps!
Do you have any tips for saving for a Disney vacation?