I admit it.  I married a comic book fan.  Not comic books I grew up reading like The Archies, Duck Tales, Casper the Friendly Ghost, you know, the classics.  Nope.  He read superhero comics…a world I was only peripherally aware existed.  Hundreds if not thousands of superheroes exist in the comic book universe but only the big names, the "A" team so to speak, get the attention.  Well, at least until now!!  When Disney bought Marvel they realized that the most popular superhero titles were tied up in contracts with other movie studios so they searched the archives and discovered Guardians of the Galaxy, an obscure team of futuristic space superheroes that fit in well with other Marvel films including The Avengers and Thor.
An action-packed, epic space adventure, Marvel's "Guardians of the Galaxy" expands the Marvel Cinematic Universe into the cosmos, where brash adventurer Peter Quill finds himself the object of an unrelenting bounty hunt after stealing a mysterious orb coveted by Ronan, a powerful villain with ambitions that threaten the entire universe. To evade the ever-persistent Ronan, Quill is forced into an uneasy truce with a quartet of disparate misfits—Rocket, a gun-toting raccoon, Groot, a tree-like humanoid, the deadly and enigmatic Gamora and the revenge-driven Drax the Destroyer. But when Quill discovers the true power of the orb and the menace it poses to the cosmos, he must do his best to rally his ragtag rivals for a last, desperate stand—with the galaxy's fate in the balance.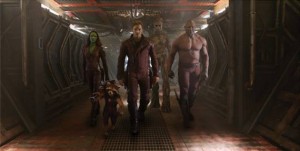 Marvel's "Guardians of the Galaxy," which first appeared in comic books in Marvel Super-Heroes, Issue #18 (Jan. 1969), stars Chris Pratt, Zoe Saldana, Dave Bautista, featuring Vin Diesel as the voice of Groot, Bradley Cooper as the voice of Rocket, Lee Pace, Michael Rooker, Karen Gillan, Djimon Hounsou, with John C. Reilly, Glenn Close as Nova Prime Rael and Benicio del Toro as The Collector.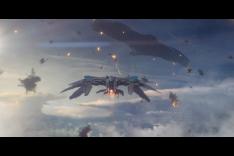 James Gunn is the director of the film with Kevin Feige producing, and Louis D'Esposito, Victoria Alonso, Jeremy Latcham, Alan Fine and Stan Lee serve as executive producers. The story is by Nicole Perlman and James Gunn, with screenplay by James Gunn. Marvel's "Guardians of the Galaxy" releases in U.S. theaters on August 1, 2014.