Henry and his Hugglemonster kin invite you and your family over for loads of fun in, HENRY HUGGLEMONSTER: MEET THE HUGGLEMONSTERS, and we have 2 copies of this brand new DVD to give away to our loyal followers! 
Henry Hugglemonster centers around Henry, a cute and huggable yellow monster with blue and yellow horns, and his monster family who live in Roarsville.  Henry is a typical 5 year old child who loves to play outside with his friends, loves his family and says whatever is on his mind.  Henry Hugglemonster is one of those rare cartoon series that focus on family in a very real way.  Certainly Henry and his family are monsters so they aren't EXACTLY like us and sure he does things or fixes problems in a way that isn't EXACTLY possible but his enthusiasm and challenges are the same.  Helping to put his brother to bed (which is much harder than it looks), understanding why it is important to keep promises, listening to your older brother when your parents are gone or helping a friend, Henry Hugglemonster addresses common family issues in a very understandable and relatable way.   The show is bright and the monsters are anything but scary and come in all shapes and sizes.  Really the only negative for this mom is the show's theme song.  It is quite catchy and will get stuck in your head all day!
This DVD includes the following episodes:
1. The Huggleflower/Monster Lullaby
2. Astrobrix/ The Sore Rore
3. Promises Promises/ Fireworks Night
4. The Hugglejuice Stand/ The Huggledance Party
5. Carried Away/ Monster in Charge
6. Monsterpet Pageant/Ivor's First Stomp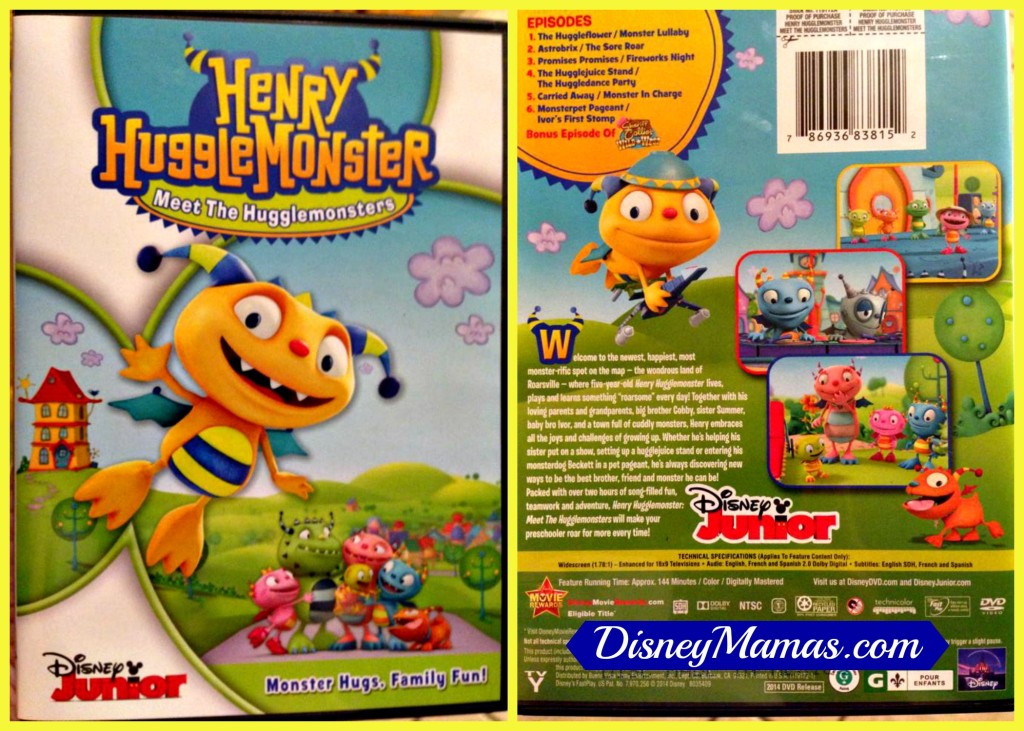 This DVD also contains a special bonus…2 episodes of Disney Junior's newest show, Sheriff Callie's Wild West.  Starring Mandy Moore (or as we like to call her, Rapunzel) as Sheriff Callie, this show brings back all the fun of the old west and is full of toe-tapping songs that your preschooler is sure to love.
For your chance to win your own copy of Henry Hugglemonster Meet the Hugglemonsters, enter our Rafflecopter contest below!  If you aren't one of our lucky winners pick up your copy of Henry Hugglemonster, available now at your favorite retailer.  Also, click the items below for some Henry Hugglemonster activities to get your child excited about Henry!  Good luck and have a very Hugglemonster day (my daughter is convinced those are the right lyrics of the title song)!!
Henry Hugglemonster Coloring Page
Henry Hugglemonster Maze
Disney Mamas was given a copy of the DVD to review and two to giveaway.  Even though this product was provided at no cost the opinions expressed above are always our own.  Thank you Disney Junior!