On Sunday, August 18, 2013, the highly anticipated Disney Infinity video game was released to the masses, and by masses I mean millions of kids and adult Disney fans alike.  So why the excitement and what exactly is Disney Infinity?
Billed as Minecraft + Skylanders = Disney Greatness, Disney Infinity is a video game that utilizes collectible characters from the Disney vault and places them in a virtual world with unlimited possibilities.  The game itself was released with 3 "play sets" or campaigns where players can complete missions in the worlds of Monsters University, The Incredible and Pirates of the Caribbean.  The Lone Ranger and Cars play sets are also available for purchase with many more to be released in the future.  But the magic of Disney Infinity isn't really in the campaigns but in what Disney calls the Toy Box.  In the Disney Infinity Toy Box, players can create worlds as vast as their imagination can take them.  Worlds where Sully is a Monster Truck driven by Captain Jack or Rapunzel and Wreck-it Ralph compete in a giant pinball game.  There are literally hundreds of options to choose from and as players complete missions in the play sets or new characters and play sets are released, additional items are added to the Toy Box which makes this game truly limitless.  And I haven't even mentioned the Power Disks that give characters and play sets additional capabilities.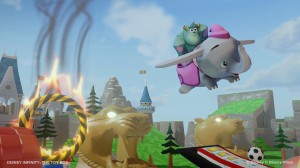 We were one of the families picking up our copy of Disney Infinity early Sunday morning along with multiple play sets and figures.  In the upcoming weeks I will be providing in-depth reviews on the Disney Infinity play experience.  There are certainly some frustrating moments but so far it looks like this game is everything we hoped it would be so stay tuned for more details.
The Disney Infinity Game Starter Pack retails for $79.99 and comes with the game disc, the power pad, and 3 figures – Mr. Incredible, Sully and Jack Sparrow.  Additional characters are available in single packs for $13.99 and multi-packs for $30.99 and new play sets are $35.99.  Power disk packs are $5.99 and come in blind packs of 2 so you won't know what you get until you get home (which opens up a whole new world of power disk trading which we will cover in a later blog).