Welcome to this month's Blogorail Blue Loop. Today we are sharing tips to survive Spring Break at Disney.
---
Spring Break is one of our favorite times to visit Walt Disney World. The weather is amazing, the crowds aren't completely insane, and there are some great experiences that make it a really special way to spend your time away from school. Here are our 5 Spring Break Must-Dos at Walt Disney World to ensure you don't miss a moment of magic during your vacation.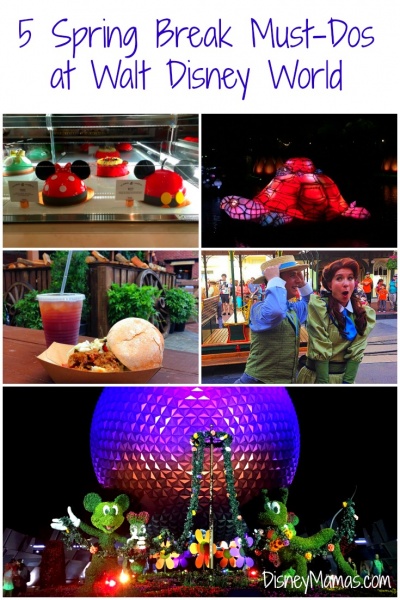 1.  Epcot's International Flower & Garden Festival
The Epcot International Flower & Garden Festival kicks off annually in early March, just in time for early Spring Breakers to take in the festival. Over the past few years the festival has developed a new life; bringing the culinary and the floracultural together against a harmonious backdrop. Outdoor kitchens combine with expertly curated plants throughout Epcot's World Showcase where they show off unique dishes and displays for each country, region or experience. A few of our favorites this year were the Pineapple Promenade (if you try nothing else, the Frozen Desert Violet Lemonade is an absolute MUST), Northern Bloom (Canada), and The Smokehouse (US).
During the weekend you can take part in talks, seminars, cooking demonstrations and more at the Festival Center, or just enjoy some additional exhibits. The Garden Rocks concert series also presents some fun evening entertainment that is appropriate for the whole family; dining packages are available. You can also book a few specialty tours that are not offered during the rest of the year, including the Royal Tea Garden Tour in the UK Pavilion.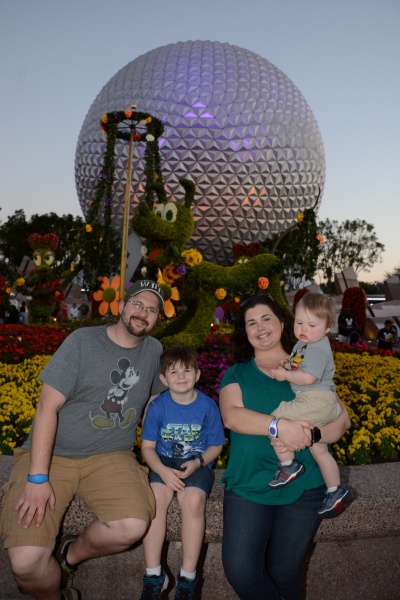 2. Flower and Garden Festival Playgrounds and Topiaries
Beyond the outdoor kitchens, concerts and seminars the Flower & Garden Festival is also a lot of fun for kids of all ages. One of the things that Epcot can be lacking during most of the year are enough attractions to keep little ones entertained (there are only so many Duffy Bears you can color), and the Flower & Garden Festival alleviates this issue with several playgrounds of various sizes, a butterfly garden and beautiful topiaries to explore.
In past years we have spent a lot of time at the larger playground located at the International Gateway. This year it took on a new theme, Musical Garden Melodies Playground, and featured Bandleader Mickey and several other "Fab 5" topiaries (past years have had a Monsters University theme). The playground is large with shade and chairs for adults to relax in while their kiddos play, and there are nearby outdoor kitchens for grabbing a quick snack. The smaller playground, which we frequented this year, is located near Test Track and features a Cars theme, this year with Cars 3 character Cruz Besouro joining Mater and Lighting McQueen in topiary style. This playground is specifically designed for guests 5 years old and under and was a great place for my 18 month old to play while his older brother was enjoying Test Track. There is an additional small play area located at the Florida Fresh outdoor kitchen.
Butterflies on the Go, presented by Go-Go Squeeze is a large butterfly house featuring plants and butterflies from different areas. It is beautiful to walk through and one of the highlights of the festival for my 7 year old. Located in Future World, Butterflies on the Go is near the International Gateway outside of Innoventions West.
And don't miss the topiaries that are all over the park! There are over 100 topiaries scattered throughout Epcot, with a few new additions this year, including Figment! They come alive at night with sparkling lights and present a whole different experience than during the day. Be sure to look up in the UK to find Peter Pan!
3. Rivers of Light at Disney's Animal Kingdom
After almost a year's delay Animal Kingdom's nighttime show Rivers of Light has finally made it's debut. Boats, live performers, floating animals and flowers and water screens light up Discovery River on select evenings. Specifically, the show takes place in the section of the river between Dinoland USA and Asia where designated seating has been constructed to accommodate viewers. We were able to see the show last week and found it breath-taking. My 7 year old says it's his new favorite and my 18 month old made animal sounds throughout the production.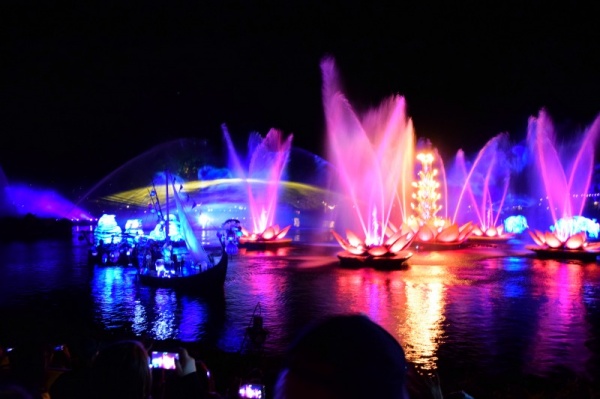 If you wish to view Rivers of Light I cannot stress enough to book the Rivers of Light Dining Package. The package is offered at Tiffins and Tusker House, and includes reserved seating to the show that evening. The seating area for the dining package is the area in front of the Theatre in the Wild where Finding Nemo the Musical is housed. We had a late lunch reservation at Tusker House on the package and are so, so glad we had booked the dining package. When we went to take our seats for the 7:15 show we passed the standby entrance, which was already passed capacity for the 8:00 show. The theatre does not seat nearly as many as the Fantasmic theatre sits, and with another large portion being dedicated to Fastpass+ reservations there is limited standby viewing. Be sure to arrive about 30 minutes prior to show time to claim your seat!
4. Magic Kingdom Main Street Trolley Show
The Main Street Trolley Show is probably not something that comes to most people's minds when listing their must-dos but it is a big deal in our family, and we really love the springtime Trolley Show. Something about the soft pastel colors, song choices and the trolley car dripping with flowers just warms my heart. We tend to stop for the show more during the spring than during any other season. It is a tradition with my oldest and something he has never outgrown, and he always says the spring show reminds him of Easter. It may not be a huge draw, but it is a must-do for our family and I hope you will take the time to view it with your loved ones as well!
5. Visit Disney Springs
Finally, Disney Springs has become a true destination in its own right and a visit is definitely a must-do for a spring time trip! We find that in the summer it can be unbearable hot with the sun reflecting off the white sidewalks but the spring is simply perfect. There are so many eateries, shops, kiosks, and entertainment performances through the area that you can make an entire day just out of a visit to Disney Springs. Spend time strolling through the shops, grab a snack at Amorette's Patisserie, lunch at Morimoto Asia, drinks and tappas as Jock Lindsey's Hangar Bar, and dinner at Raglan Road and you've spent what I consider to be the perfect Disney day
For more Disney Spring Break survival tips,
check out the other great posts from the Blogorail!
---
Here is the map of our
Magical Blogorail Blue | Disney Spring Break Survival Guide
Loop: