The Disney Legends program was established in 1987 to recognize people who have made an extraordinary and integral contribution to The Walt Disney Company. Walt seemed to have a gift of hiring the best man – or woman – for the job; and sometimes that was not traditional. Here are the women who have received the Disney Legends Award:
1988: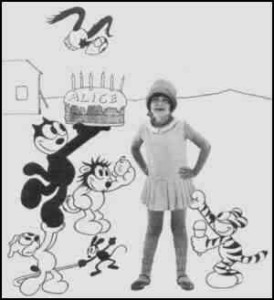 Virginia Davis began working for Walt at the Laugh-O-Gram Studio in the summer of 1924. She was hired to as Alice in  Alice's Wonderland. Disney convinced Davis' family to move from Missouri to Los Angeles to star in the series.
1991: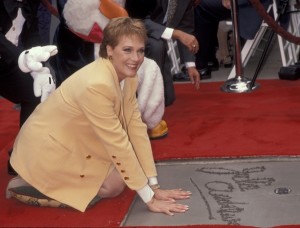 Julie Andrews made her feature film debut in Mary Poppins, for which she won the Academy Award for Best Actress. She returned to Disney in The Princess Diaries and The Princess Diaries 2: Royal Engagement.
1991: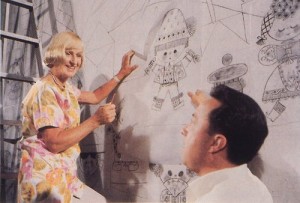 Mary Blair designed concept art for Alice in Wonderland, Peter Pan, Song of the South and Cinderella. She also created character designs for It's a Small World and El Rio del Tiempo; and murals for the Contemporary Resort and Disneyland's Tomorrowland.
1992: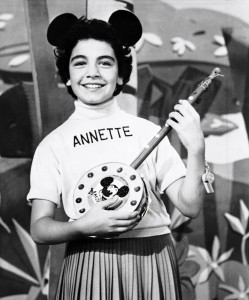 Annette Funicello began her acting career on the original Mickey Mouse Club. She continued with Disney and appeared in feature films and transitioned to a successful singing with the pop singles "O Dio Mio," "Tall Paul" and "Pineapple Princess".
1994: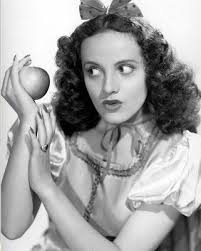 Adriana Caselotti was the voice Snow White in Snow White and the Seven Dwarfs.
1995:
Angela Lansbury was an actress who starred as Eglantine Price in the Bedknobs and Broomsticks and voiced Mrs. Potts in Beauty and the Beast.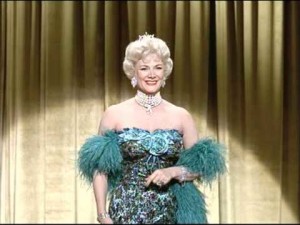 Betty Taylor starred as "Slue Foot Sue" in Disneyland's Golden Horseshoe Revue for more than 31 years.
1996: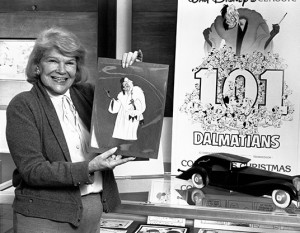 Betty Lou Gerson narrator in Cinderella and voiced Cruella De Vil in One Hundred and One Dalmatians.
1998: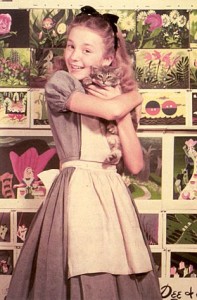 Katheryn Beaumont voice of Alice in Alice in Wonderland and Wendy in Peter Pan. She also hosted One Hour in Wonderland.
Glynis Johns starred in the films The Sword and the Rose and Rob Roy, the Highland Rogue, but is best known for her portrayal of  Winifred Banks in Mary Poppins.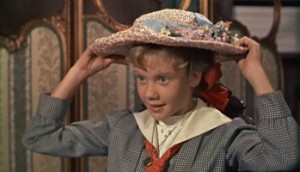 Hayley Mills began her Disney career in Pollyanna, for which she won the Academy Juvenile Award. As a child, she appeared in five more films, but is best known for her dual role as twins Susan and Sharon in The Parent Trap.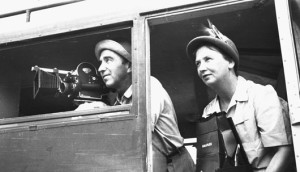 Elma Milotte is known for her work as a nature videographer for several for Walt Disney's True-Life Adventures.
1999: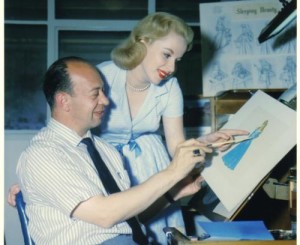 Mary Costa, a professional opera singer, was the voice of Princess Aurora in Sleeping Beauty.
2000: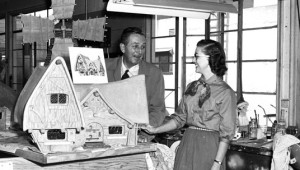 Harriet Burns was the first woman hired in the Walt Disney Imagineering department. She began as a prop and set painter for the Mickey Mouse Club designing the famed Mouse Clubhouse. WED Enterprises originally consisted of just three members: Harriet Burns, Fred Joerger and Wathel Rogers.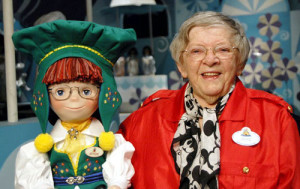 Joyce Carlson was credited with creating the idyllic universe of singing children at "It's a Small World." She began her career as an inker, working on such films as Cinderella, Peter Pan and Sleeping Beauty.
Becky Fallberg began her career with Disney as a telephone operator and ultimately worked her way up to manager of the Ink and Paint department.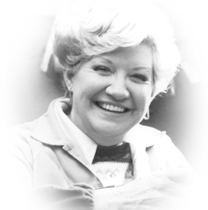 Dodie Roberts was the supervisor of the Studio paint lab, making sure colors were consistent throughout an animated motion picture.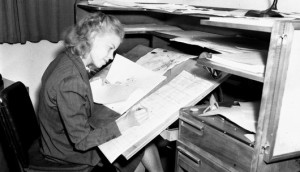 Retta Scott was the first woman to receive screen credit as a Disney animator. She worked on Bambi, Fantasia, Dumbo, and The Wind in the Willows as well as several World War II cartoon shorts. Retta appears on-screen in The Reluctant Dragon.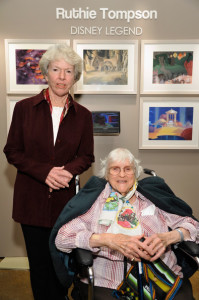 Ruthie Tompson was supervisor of the Scene Planning department at The Walt Disney Studios where she helped to establish the camera mechanics used to photograph animated scenes and background art onto film.
2003: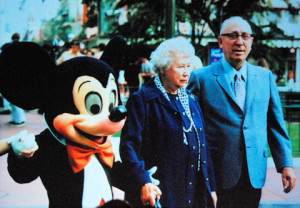 Edan Francis Disney, Roy's Wife, constantly provided enthusiastic support and sound counsel to her business-genius husband as he helped grow his brother's creative venture from a humble storefront in Hollywood to an entertainment empire that spans the globe.( Some fun stories about Walt.)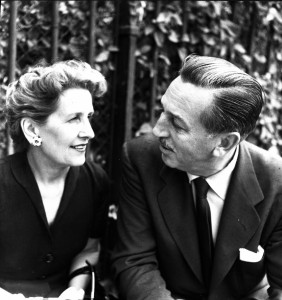 Lillian Disney, wife of Walt, was originally an ink artist on the film Plane Crazy. She is also credited with having named Mickey Mouse.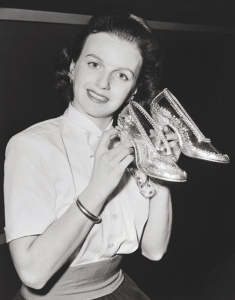 Ilene Woods was the voice of Cinderella.
2004: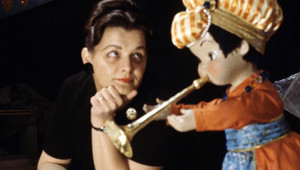 Alice Davis, costume designer, is most famous for her work on Disney films, television, and theme parks. Alice earned a reputation within the fashion community for her pattern-making skills and her expertise with different types of exotic fabrics. During the "small world" project, Alice established an figure costume manufacturing area, quality control system, and refurbishing techniques that are still used today by Imagineers and maintenance staff at the Disney theme parks worldwide.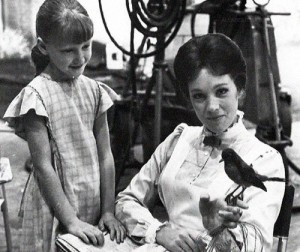 Karen Dotrice is known for her role as Jane Banks in Mary Poppins. She also appeared in The Three Lives of Thomasina and The Gnome-mobile.
2005:
Mary Jones served as Disneyland Park's secretary. She is responsibile for Disneyland Community Relations,the Community Service Awards, Operation Christmas Program, and the Community Action Team.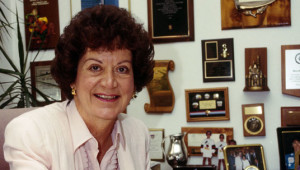 Mary Anne Mang began her career in the sales promotion department at the Disneyland Hotel. She moved to Disneyland and worked in the Convention & Tour Sales department, where in 1972, she became the first woman to be promoted to the position of manager.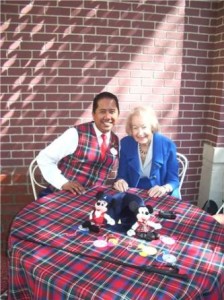 Cicely Ridgon began working at Disneyland in 1957 as a ticket seller. In 1959, she joined the Tour Guide Department and was responsible for initiating its growth and development. Then, as supervisor of Guest Relations she was responsible for Walt's apartment above the Main Street Fire Station, and was therefore known as the "Keeper of the Keys." Cicely led and developed the Disneyland Ambassador Program.
2006:
Ginny Tyler was a voice actress whose voice work appears in Son of Flubber, The Sword in the Stone, Mary Poppins, and Winnie the Pooh and the Honey Tree.
2007: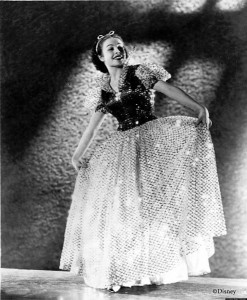 Marge Champion, dancer, choreographer, and actress, was hired as a dance model for Snow White and the Seven Dwarfs and the Hyacinth Hippo in Fantasia and modeled for the Blue Fairy in Pinocchio.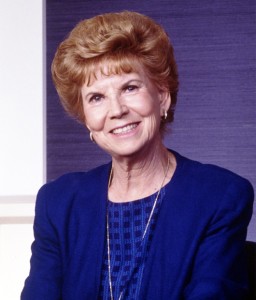 Lucille Martin started in the studio's secretarial pool, was immediately sent to work for Donovan Moye in Publicity, then moved briefly to work for the vice president of Labor Relations. In early 1965, she was called to report to Walt's office then worked for Ron Miller and was eventually promoted to vice president and special assistant to The Walt Disney Company Board of Directors.
2008: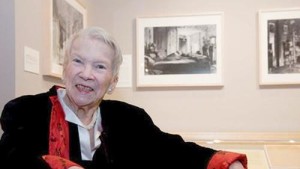 Dorothea Redmond was an illustrator and production designer hired by Selznick International Pictures in 1938 as the first woman to work in the "heretofore exclusively male field" of motion-picture production design.  She helped design Fantasyland at Disney World, portions of Main Street, mosaic murals in the archway of Cinderella Castle, and Walt's apartment in New Orleans Square.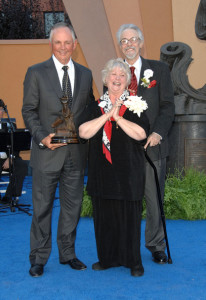 Russi Taylor, voice actress, whose "cast of characters" includes newborn infants, Muppet Babies, children, grown-ups, a menagerie of animal and fantasy personalities. Russi has been the official voice of Minnie Mouse since 1986.
Barbara Walters joined ABC in 1976 as the first woman to co-host the network news.
2009: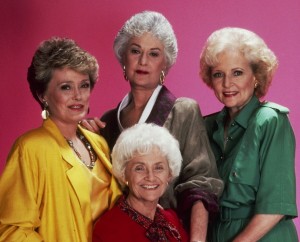 The "Golden Girls" – Beatrice Arthur, Estelle Getty, Rue McClanahan, and Betty White.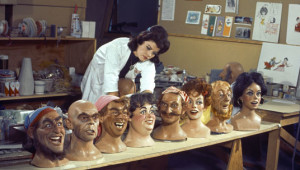 Leota Toombs appears as Madame Leota in the Haunted Mansion. She began her career in the Ink and Paint department, then moved into the design of attractions for the 1964 World's Fair as well as Pirates of the Caribbean and the Haunted Mansion.
2011: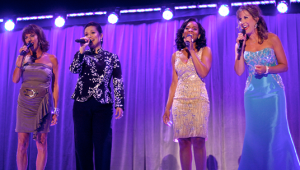 Disney Princess Voices – Jodi Benson (Ariel & Barbie), Paige O'Hara(Belle), Lea Salonga (Singing voice of Jasmine & Mulan) Linda Larkin (Jasmine), Anika Noni Rose (Tiana)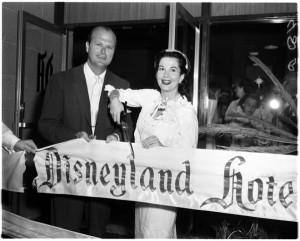 Bonita Wrather was an American film actress and television producer and wife of Disneyland Hotel's original owner Jack Wrather.
Looking forward to hear the next inductees at the D23 Expo this fall!