I remember sitting in a darkened theater when this breathtaking music began. Soon words starring moving across the screen  – but, I was too young to read them. The music turned softer and the words changed into outer space which was swiftly enlivened by spaceships flying overhead. It was the summer of 1977, and George Lucas magically turned "a long time ago…" into the most glorious "once upon a time" for this 6 year old little girl. My heart still skips with excitement when I view the words Star Wars with its musical accompaniment.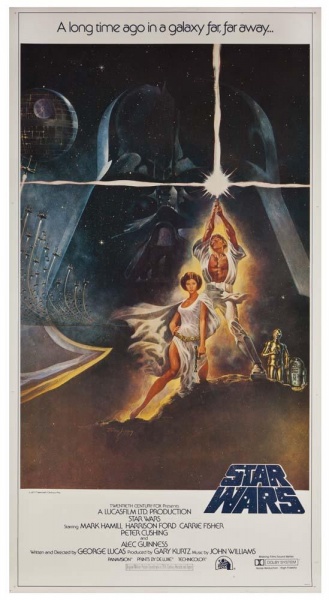 The weekend of May 25-27, 1977, Star Wars opened in 43 theaters nationwide. I didn't realize how privileged we were to live in the Dallas area and be among the first to view this monumental film. Written by George Lucas as a fairy tale that just-so-happens to be set in outer space, he describes the film to, "have an ethereal quality, yet be well composed and, also, have an alien look." Star Wars cannot be referenced to a specific time or space, but is inhabited, used, and old – quite the opposite of previous shiny, white space adventures we had grown accustomed to. In order to achieve the groundbreaking visual effects, Lucas founded Industrial Light & Magic for the film (yes, the parent company of Pixar). Star Wars received 10 Academy Award nominations, including Best Picture, and won 6. It was selected to become part of the United States National Film Registry by the Library of Congress in its first year of opening as being "culturally, historically, or aesthetically significant"; and it was the only film from the 1970s to be chosen. Star Wars was also the first film to feature Dolby Stereo.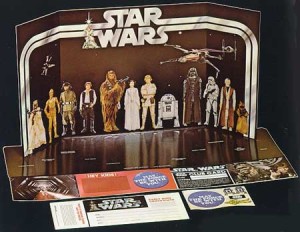 I only remember a few scenes from the initial viewing of the film, but what I walked away with was the knowledge that Princess Leia was the princess of my daydreams. And that being said, I remember as a child how hard it was to find Star Wars toys. Only Kenner Products had accepted licensing offers, and responded very late to the demand by selling vouchers in its "empty box" Christmas campaign. The "Star Wars Early Bird Certificate Package" could be purchased and the voucher later redeemed for four action figures between February and June 1978. That was almost a year after the film opened! These little boxes became the most coveted empty boxes in the history of retail.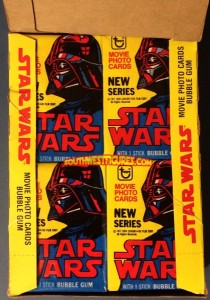 I had two Star Wars related hobbies. One was collecting Topps trading cards. (Topps is still the official producer of Star Wars trading cards in the United States.) Each series was comprised of 66 cards and approximately 11 stickers – and a lot of stale bubble gum. I would walk over to the local grocery store and use my allowance to grow the collection. My collection was an almost complete set of series 1, 2, and 3 – which was all lost on fateful day when my bicycle had an unfortunate slide into the storm drain on Dogwood Street in Frisco, TX. I stopped collecting after that. 🙁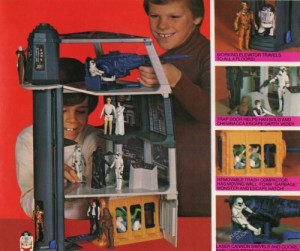 The second hobby consisted of role play with my friend Jason and his action figures. The coolest playset he owned was the Death Star set that included the trash compactor and its monster.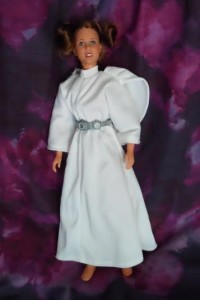 My prized possession is from 1978 – a Princess Leia doll. Although there are a few missing pieces, to me she's still just as beautiful as the day I got her.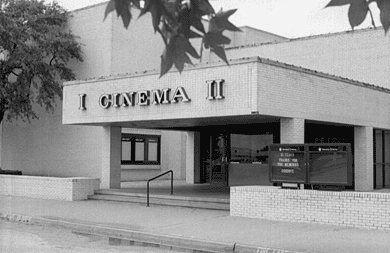 And a little bonus about Northpark Cinema I & II in Dallas:
The theater was open from 1965 until 1998, and the building demolished in 2001. It was one of the first three theaters in the nation to be equipped with Lucasfilm Ltd's THX and was personally done so by Tom Holmin. Northpark never had a presentation flaw in its 33 year run – the projection team would even reject lab spliced reels.
Many studios had offices nearby which lead to screenings at the theater and visits from celebrities. Harrison Ford sat in the back rows during "Blade Runner". Carol Channing passed out tissues during "E.T". Benji pressed his paws in cement in the forecourt. Rumor has it that George Lucas once said it was his favorite place to show his films.