Our friends at Theme Park Tourist published an article in June 2013 where they interviewed several Disney Cast Members and asked what some of the most common questions they received were.  The responses made me chuckle so I thought it would be fun to share a few of my favorites here.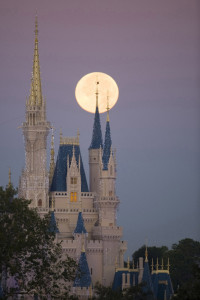 "Many busy families probably have a limited amount of time to plan their vacations, which is how these little mishaps happen. Some other questions Cast Members have heard aren't nearly as easy to explain. One question that pops up time and again is "Why is it raining?" Other less common variations include "Can't you control the weather here?" and "I thought there was a weather dome over Disney World." If you find yourself contemplating the great mysteries of the weather in Orlando, here's a comprehensive summary of what the Cast Members can tell you:
No, there is nothing in, over, or around the parks that can do anything to control the weather. There are, however, lightning rods strategically placed throughout Walt Disney World so the weather that we have absolutely no control over probably won't include a lightning strike to the top of your tall tour group flag.
It is raining because the warm air has cooled slightly causing the water droplets in those clouds overhead to condense and become larger. Those droplets of water are too heavy to stay up in the air and are therefore falling down and disrupting your vacation.
It rains almost every day in Central Florida during the summer – usually in the afternoon. Hurricane season lasts from June 1 through November 30. Florida gets more storms than other state in the US. Don't be surprised when if it rains while you're here. Be surprised if it doesn't.
Rainy days aren't the only times when guests find themselves looking to the sky. One guest noticed the moon on a particularly clear night and demanded to know how it was done. Alas, Disney magic does not yet extend to the moon."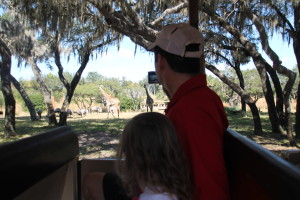 "Some guests at Kilimanjaro Safaris want to know how the animals look so real. This answer's very simple. They look real because they are."
"Guests have complained that Cast Members at the Haunted Mansion look like they hate their jobs with comments like "If you can't smile, you should just quit." Well, they can't smile…but that's not because they don't want to. It's simply part of the elaborate theme of the attraction."
The full article can be found here: http://www.themeparktourist.com/features/20130508/13338/cast-member-stories-strange-things-seen-and-heard-walt-disney-world-cast-mem

Have you ever heard an interesting or funny question asked while you were visiting the parks?  Are you a cast member (or former) that have a funny story?  Share them with us in the Comments!!